Sarah sent me a mailer though my I Buy Junk Mail program and she elected to donate the money I was going to send her to Americares. Thank you Sarah.
Let's take a look at the mailer and start with the envelope.
First off I have to call BS on the printed return address part of the envelope with the "2nd Attempt" line.
The address listed for the nondescript Benefits Department is 5910 Cortez Road West, Bradenton, FL 34210.
So off to Google we go to take a look. Here is what the address looked like in May 2016.
You will notice the mailer lists no suite number so who knows which suite, if any, is linked to the mailer.
However, one company at that address does offer debt relief services. Financial Integrity Group is in suite 120 at that address.
As they say on their website, "The best option is Financial Integrity Group, LLC offering debt resolution as we get you out of debt in half the time and for half the money compared to the other options; please see the Forensic Accounting Report via this link http://www.americanfaircreditcouncil.org/press/regan-report-press-release/ and direct your attention to page 18 showing that you can expect to realize $4.56 in benefit for each dollar in fees paid – and page 32 which compares your various options illustrating that our debt settlement solution saves you more money and time than any other." – Source
According to the State of California the Financial Integrity Group is registered as Finney & Associates, Inc. whose address is listed as 5910 Cortez Road West, Suite 170. James Finney and Melissa Finney are listed as officers. – Source
But Financial Integrity Group says that their registered agent is Finney & Associates which appears to be some sort of accounting/business firm.
Financial Integrity Group lists the LLC manager as Sandra McClean from Greensburg Indiana as the LLC Manager. – Source
While the mailer doesn't say Financial Integrity Group on it, I'm proceeding that it is the most likely candidate at the address given. At the time of publication I had not heard back from them regarding the mailer.
What is interesting is that while the Financial Integrity Group website says they "we use our leverage and expertise to negotiate a discount on what you owe under federal guidelines to which you are entitled" they also say their program consists of Global Client Solutions and Consumer Justice Center (Consumer services offered by Financial Integrity Group_new) they are actually registered with the State of Florida as a legal support services company and not a debt relief company. – Source
In my opinion it looks like Financial Integrity Group might be a newbie in the debt relief field. Maybe they hooked up with some mass mailer who said the mailer would be "killer."
But I've got to question a company that calls themselves a group with integrity and then they publish the program comparison chart below. – Source
Where is Bankruptcy?
Where is the column comparing bankruptcy to the other options? This just comes off as a sales chart. But I guess a column that says most people can get rid of all their secure debt in about 90 days for less than $2,000 would not help to close the sale.
On the same page they say, "Debt Negotiators will hold your hand and produce results using our leverage and expertise under federal guidelines that you would not be able to achieve on your own." So you can see why I get the impression they are new at this: "federal guidelines" and "would not be able to achieve on your own" seem like very problematic statements. We know consumers often get proactive offers from their creditors that can be pretty terrific.
Let's turn to the mailer in the envelope which connects the dots and lists the same telephone number of the Financial Integrity Group website. Mystery solved.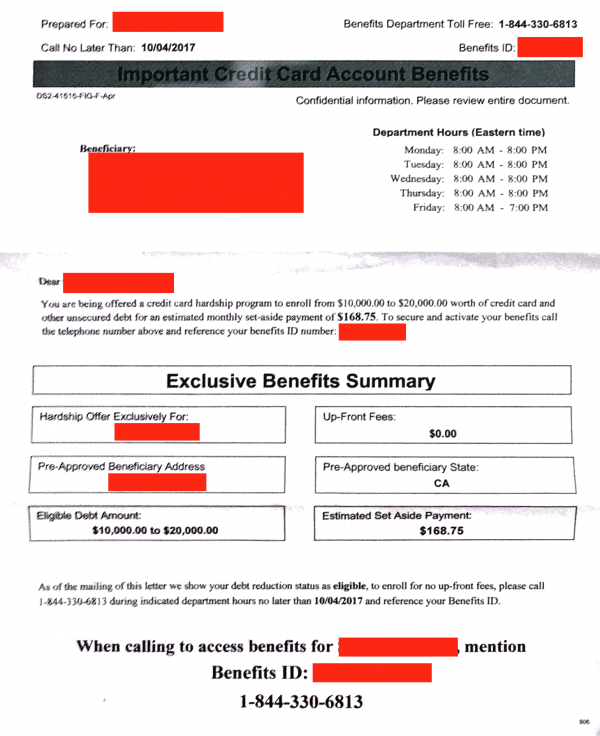 The examples given in the letter have to just be laughable. The eligible debt amount is listed as a $10,000 range and the estimated monthly payment is the same? The letter says the consumer who received this lives in California but just one problem, there is no company named Financial Integrity Group LLC that is registered to do business in California.
So what does the letter really tell us? Not much. Even though the letter uses the Financial Integrity Group toll-free telephone number it doesn't mention the company name. Why?
What do you think, does it even barely comply with the FTC debt relief marketing guidelines?
From Yelp, here is the proud FIG group apparently cutting a ribbon with some really big scissors. Looks like they are moving in to their new offices.
The most we are able to learn from the Yelp listing is there are two guys who work there, Ron Sturgill and Tim Shelby. They have their names with their pictures in the listing. – Source
Can someone please give this company a hand in getting things together?
Latest posts by Steve Rhode
(see all)