It cannot be fun times at Freedom Debt Relief right now given the number of actions that have placed them in the crosshairs.
It looks like the bad times are continuing. While I was checking on any updates regarding the suit by the Consumer Financial Protection Bureau against Freedom Debt Relief (more here and here) I found some more recent federal court actions. I can't imagine what might be happening in state or local courts as well.
April 26, 2018
On April 26, 2018, a bankruptcy trustee in Ohio filed an Adversary Proceeding against Freedom Debt Relief in an effort to recover money paid to Freedom Debt Relief prior to the bankruptcy filing of the Hamilton's.
The Trustee seeks to recover "monetary damages, attorney's fees, the Estate's costs in this action." – Source
It is alleged, " Freedom Debt Relief convinced The Hamiltons that bankruptcy was not in their best interests, the truth is quite the opposite. A study from February 23, 2015 by the New York Federal Reserve Bank shows that individuals who file for bankruptcy fare much better financially and see a sharp increase in their credit score as opposed to consumers that do not file." You can read that paper here.
The Trustee alleges, "Freedom Debt Relief illegally seeks to charge a fee of 23% of the "enrolled amount" of a particular settled debt, which results in Freedom Debt Relief receiving a fee in excess of the maximum amount permitted under Ohio law."
The complaint goes on to say:
"The Hamiltons made $4,932.00 in payments to Freedom Debt Relief and received nothing substantive in exchange.
Freedom Debt Relief made various misrepresentations or non-disclosures in an effort to induce The Hamiltons to enter into a contract, including but not limited to:
a. that they could settle their debts for significantly less than the balances owed;
b. that attempting a debt settlement program would be better for them financially than other alternatives, such as bankruptcy; and
c. that they would receive substantial value in return for the money paid.
On August 17, 2017, The Hamiltons filed for Chapter 7 bankruptcy protection."
March 16, 2018
Chester Graham sued Freedom Debt Relief, Freedom Financial Network, Andrew Houser, and Bradford Stroh for repeated violations of the Telephone Consumer Protection Act (TCPA). The suit says between January 1, 2004 and March 8, 2018 "there have been 44 cases filed against Defendants for alleged violations of consumer protection laws."
The suit says the Defendants made telemarketing calls using an artificial or prerecorded voice on a number of occasions to his phone to apparently attempt to sell debt relief services. The Plaintiff says the number displayed on his phone was not a working number and masked the actual number calling.
March 1, 2018
The Moore's filed suit against Freedom Debt Relief and made a number of allegations against the company. The complaint states:
"At all relevant times, Defendant was in the business of providing debt reduction services to consumers, claiming to be an alternative to bankruptcy, credit counseling, or debt consolidation.
Defendant represents through its advertisements that "[a]s the leader in debt negotiation . . . [o]ur affordable program could help you resolve your debt in 24-48 months."
"Defendant directs consumers to speak with its sales representative, which it deceptively refers to as a "Certified Debt Consultant," despite these individuals holding no specialized certifications in debt management. Defendant's Certified Debt Consultants are misrepresented as neutral providers of information, when in fact they are sales representatives who actively promote Defendant's program and hold no special certification other than employment with Defendant.
Defendant claims the "Certified Debt Consultant" is an "expert on your side" who is part of a "team of highly trained debt professionals [that] are your partners every step of the way." Defendant's Certified Debt Consultants provide counseling and advice to consumers to "help you determine which strategy is best for you" claiming to do so in the consumer's best interest. Defendant's website also claims that "[w]hether or not you enroll in our program, [our certified debt consultants] do whatever they can to empower you to reach your financial goals." – Source
On April 15, 2018 the case was voluntarily withdrawn after " discussions with FDR's counsel, Plaintiffs initiated Arbitration with the American Arbitration Association."
March 1, 2018
Another TCPA suit was filed by Todd Bank against Creditguard of America, Freedom Debt Relief, Freedom Financial Network, and Freedom Financial Network Funding."
This suit provides a transcription of the alleged prerecorded call made to the Plaintff.
This is Jennifer with consumer services calling in regards to your current credit-card account. There are no problems currently with your accounts. However, it is urgent that we speak with you about your eligibility for reduced interest rates on your current accounts. Press "1" now to speak to a live operator and –
The complaint says "The live person described in the preceding paragraph transferred Bank to a person who identified himself as Ken Wright with CreditGuard of America."
"Mr. Wright told Bank that Mr. Wright's telephone contact information is 800-838-7132, extension 569, and that CGA is a non-profit credit-counseling and debt-management company."
"Bank told each of the above-identified individuals that Bank's name was Thomas LaRasche."
"Moments after Bank and Mr. Wright completed their telephone conversation, Bank conducted a conference call (the "Conference Call") between Greg Townsend, of FDR and FFN, and a person who identified himself as manager of CGA named Peter."
"During the Conference Call, Peter and Mr. Townsend confirmed that FFN routinely transfers potential customers to CGA."
"During the Conference Call, Peter confirmed that Bank had been so transferred."
"During the Conference Call, Mr. Townsend stated that CGA was an "affiliate" or "partner" of FDR and FFN."
"On February 1, 2012, the Internal Revenue Service of the United States Department ofthe Treasury issued a final adverse-determination letter revoking, retroactively to January 1, 2002, the status of CGA as a tax-exempt organization under 26 U.S.C. Section 501(c)(3)." – Source
February 19, 2018
"What Plaintiff seeks freedom and relief from isn't debt. It's Freedom Debt Relief itself. Accordingly, Plaintiff, individually and as class representative for all others similarly situated, brings this action against Defendants for sending robotexts and robocalls in violation of the Telephone Consumer Protection Act." – Source
"On February 14, 2018, Plaintiff received a text message out of the blue.
The caller ID was (409) 359-9066.
The message said, in its entirety: "Dêbt-Help: Need to pay $10,000 + in cc bills? We're here to help! We can save you a ton of money. Call for more info. Respond no to quit" [sic]."
"Within an hour, Plaintiff received a phone call from the same caller ID, (409) 359-9066.
Plaintiff answered. No human promptly came on the other end of the line. Instead, an artificial or prerecorded voice told Plaintiff to press "1" for more information. He did. A male with an American accent promptly came on the line.
The male claimed to be calling from a company with two names: "Freedom Financial Network" and "Freedom Debt Relief."
The purpose of the call was to advertise the goods or services of Defendants.
The male stated that he was in Phoenix, Arizona.
Phoenix borders Tempe.
Plaintiff said that, should he wish to learn any more about Defendants' products, he preferred to call them—rather than vice versa.
The male stated that his name was "Cody Longfield" and that his phone number was (602) 732-3664.
Plaintiff asked how Defendants had obtained his phone number. Mr. Longfield stated that Defendants had purchased it from a lead generator for the purpose of cold-calling him."
February 8, 1018
And here we head back to Ohio for another Bankruptcy Trustee seeking to recover money from Freedom Debt Relief. – 140148041263
The complaint says, "Freedom Debt Relief received approximately $1,500.00 from Mr. Fritz within the two years prior to the filing of his bankruptcy case for its purported services. Mr. Fritz was insolvent as of the time of the transfer or, alternatively, was rendered insolvent by the transfer of the funds. Despite having paid $1,500.00 to Freedom Debt Relief for its services, Mr. Fritz had to file for Chapter 7 bankruptcy."
January 16, 2018
Freedom Debt Relief was sued by another Trustee along with Crossroads Financial Technologies, and National Litigation Law Group.
The complaint stated: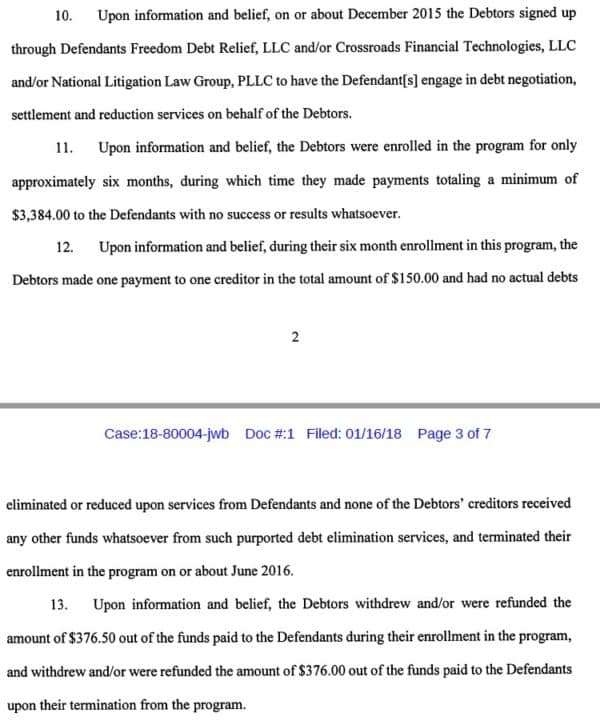 "On March 26, 2018, Plaintiff Trustee Jeff A. Moyer and Defendant Freedom Debt Relief, LLC filed a document entitled "Settlement Stipulation Resolving Adversary Proceeding No. 18-80004 as to Defendant Freedom Debt Relief, LLC". Trustee served the motion pursuant to LBR 9013. Trustee has also submitted an affidavit of no response pursuant to that local rule.
Under the terms of the settlement stipulation, the Plaintiff Trustee and Defendant Freedom Debt Relief, LLC agree that the Defendant will turn over a one-time lump sum amount of $1,826.61 (the "Settlement Amount") to the Trustee and estate within 15 days of entry of this Order approving the settlement stipulation in full satisfaction of any and all claims the estate may have against the Defendant. The Plaintiff Trustee agrees to dismiss the Adversary Proceeding as to Defendant Freedom Debt Relief, LLC with prejudice upon receipt and honor of the settlement payment from Defendant Freedom Debt Relief, LLC." – Source
Latest posts by Steve Rhode
(see all)