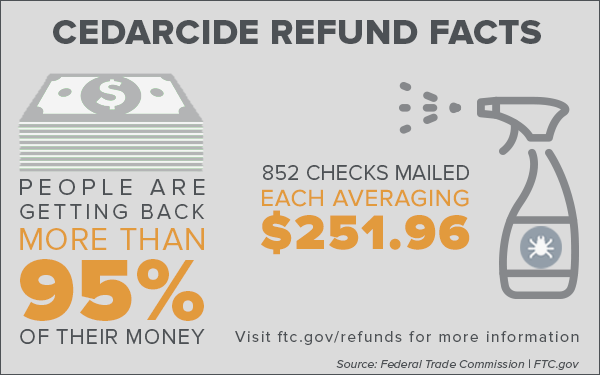 The Federal Trade Commission is mailing 852 refund checks, totaling more than $214,000, to consumers nationwide who bought bed bug treatments that claimed to use cedar oil to stop and prevent bed bug infestations. Each check recipient is receiving 95% of the amount they spent on these treatments. The average check amount is $251. These checks must be cashed within 60 days of the date they are issued or they will become void.
The refunds stem from a January 2018 complaint against Chemical Free Solutions LLC (CFS), the seller of Cedarcide Original, a line of products deceptively marketed as effective at stopping and preventing bed bug infestations. In its complaint, the FTC alleged that the company violated a 2013 Commission order barring it from making scientifically unsupported claims.
Under the modified court order announced in January, CFS admitted it violated the 2013 order, was banned from selling bed bug eradication products, and was ordered to pay money to refund consumers.
Rust Consulting, Inc., the refund administrator for this matter, will mail refund checks to eligible consumers starting today. The checks must be cashed by August 31, 2018 or they become void. The FTC never requires anyone to pay money or provide financial information to cash a refund check.
Consumers with questions about this refund program can call Rust Consulting at 1-877-906-1610.
This article by the FTC was distributed by the Personal Finance Syndication Network.
The post FTC Sends Refund Checks Totaling More Than $214,000 to People Who Bought Deceptively Marketed Bed Bug Treatments appeared first on Personal Finance Syndication Network.