When you ask the average person if paying $90,000 for a two-year degree in an entry level field like web design makes any sense they'd hopefully question the logic of that.
But when you add a salesperson in the mix promising all sorts of magical things, it's not surprising an average consumer might fall for it.
Shaun Joyce fell for the sales pitch at the Art Institute of Charlotte, now closed.
While he signed up for a 4-year degree in web design he says he was constantly worried his loans were going to run out before he could complete the degree. CNBC reports "Shaun Joyce used to sit at his desk at The Art Institute of Charlotte in North Carolina, on edge. That's because a staff member could burst into his classroom at any moment and lead him on the "walk of death."
That was when students would be summoned to the for-profit school's financial aid office and told they'd "run out" of loans, Joyce said. Then the student would be informed that he or she needed to borrow more money immediately, or else leave the school."
Joyce later had to convert to a two-year program and walked away with an Associate's degree in web design because he could not afford any more loans.
"To make matters worse, Joyce has been unable to find a job in his field to repay that huge debt. During enrollment, Joyce claims that Art Institute employees had promised him they'd find him work, related to his studies, yet when he reached out to the school's career services department, a woman just sent him back job links on Craigslist."
The Department of Education has not pushed schools like Art Institute to be very forthcoming about the cost and results of the investment for education.
However, if you dig a bit on the Art Institute site you can find some date on gainful employment. The currency and accuracy of the data are muddy.
Since the Charlotte location Joyce attended is now closed, the Art Institute website no longer lists data for that campus. So let's pick another, Pittsburgh.
According to the website of the Art Institute, the data they provide is scant at best.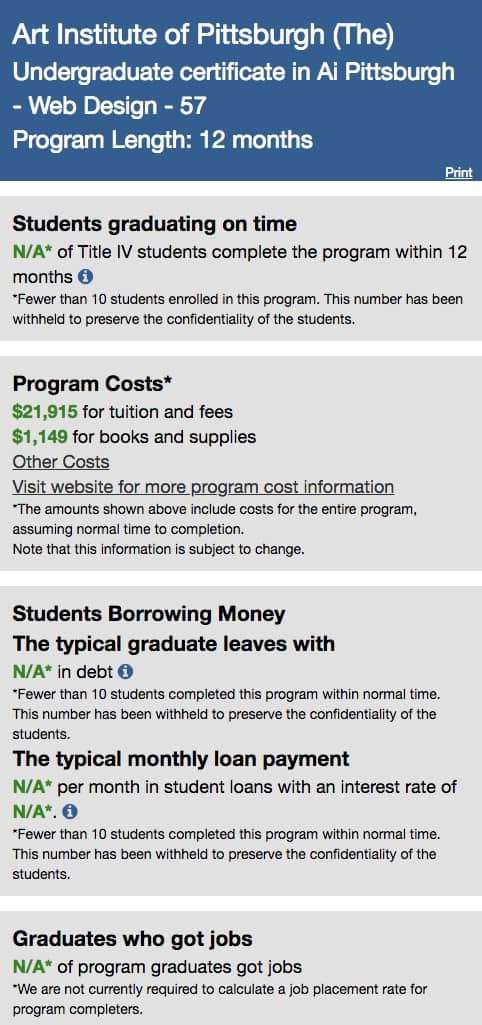 From what they offer as a window sticker on costs there really isn't enough data there to make an educated decision if attending is going to be a good investment.
The same CNBC article also reports that a student Brandon Schultz wanted to become a graphic designer. Schultz, "was just one class shy of graduating with his associate's degree in graphic design, he said when he received a troubling call from someone at the Art Institute. He was told he was out of loans."
Schultz says he has more than $80,000 in student loans for a degree that left him unprepared for real work in the field, CNBC reports, "Schultz went on interviews for graphic design positions, but said he was unprepared for the common job tests these employers assign."
The situation that Schultz and Joyce experienced is something I've heard before.
Under the Obama Department of Education, there was a program to help students with federal loans deal with schools who may not have been accurate or honest with them when they encouraged them to enroll. The Borrower Defense to Repayment gave students a way to deal with deep debt from suspect schools. The Trump Administration has gutted that program and left students stuck.
It seems as if the prevailing point of view at the moment is to victim shame the students and their parents who believed the marketing and hype of schools who drained them of student loan accessibility.
Granted, the students and their parents also played a role in this mess but those folks are probably the least sophisticated in this transaction and now trapped in primarily federal student loans.
It's just sad.
And just to compare, The University of North Carolina at Chapel Hill, a leading recognized college, offers an intensive 24-week web developer program for just $10,000.
When it comes to student loans, poor choices can have dire conseqiuences.
Latest posts by Steve Rhode
(see all)