A reader sent in this mailer from Fresh Start Advocates. In the past, I've published other mailers from them.
My initial reaction was the sales piece is laid out like an IRS looking correspondence. Especially when it says "Tax Year" on the top.
Take a look at the mailer below and you decide for yourself.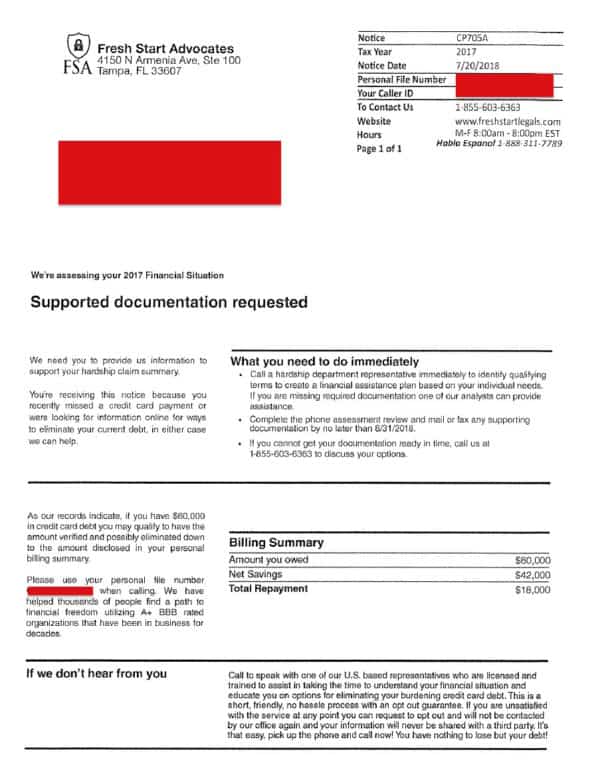 What do you think? Post your comment below.
On February 5, 2018, an Aniko Hutchison registered with the State of Florida for a fictitious name of Fresh Start Advocates. The registration form says Fresh Start Advocates is a name owned by Aniko Pecan Holdings, LLC at the same address on the Fresh Start Advocates mailer.
Aniko Pecan Holdings is a Texas LLC. – Source The State of Texas says they first registered in 2012 and Aniko L Brown is the Director and Member.
The mailer says consumers can call and talk to "one of our U.S. based representatives who are licensed" but the only thing I can think they may be "licensed" for would be as a telemarketer.
Sure enough, ANIKO PECAN HOLDINGS holds a Florida telemarketing license which says they are also known as Fresh Start Legals. – Source

The BBB says the company has no rating and Fresh Start Advocates is also operating as Fresh Start Legal Advocates, Aniko Pecan Holdings, and FSA Hardship Department. They also say the managing member is Aniko Brown, the general manager is Isaiah Hope, and the president is Robert Hutchison. – Source
If we go back to the actual mailer it says, "We have helped thousands of people find a path to financial freedom utilizing A+ BBB rated organizations that have been in business for decades." Given the fact Fresh Start Advocates BBB listing says the company has no rating and has been in business for only seven years, they must be referring callers to other unspecified organizations.
Since the mailer says these organizations have been around for "decades" I wonder what 20+ year organizations they are using to send consumers to?
As always, I invite all consumers to do their own research on any debt relief company they are considering using. My free guides are below.
Latest posts by Steve Rhode
(see all)