A fantastic reader sent in a debt relief mailer from Freshstart they received as part of my I Buy Junk Mail program.
The mailer appears to be well designed and based on another mailer I received from the same reader, appears to be targeted as well. In fact, the hard to read print on the back says the consumer was targeted as the result of some public record.
The smallest amount of investigation raises some interesting questions about who is behind the mailer. People can do their own investigation by following these free guides.
As you can see from the envelope, there is no indication where the company is located.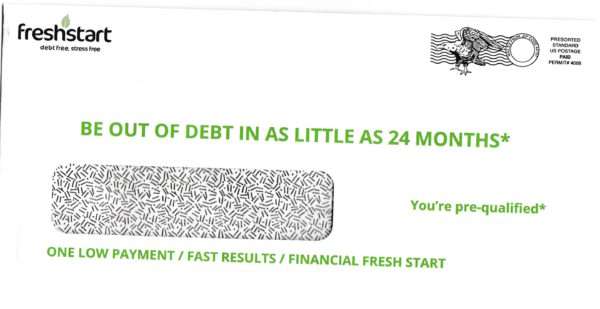 Let's go to the back of the included advertising page first. In very hard to read type on the back it says, "Consumer may be referred to a Non-Profit of For-Profit Company upon detailed analysis of current financial state." It goes on to say, "This offer is not associated with bankruptcy, debt consolidation loan. It has been specifically designed to assist consumers with financial education."
The mailer seems to contradict itself when it appears to both promise a lower payment but also say it is about "financial education."
The asterisk disclaimers on the back also appear to lead nowhere for clarification. And the claims made about how long it will take to get out of debt seem dubious as well since the logical conclusion is this is a mailer to generate referrals to both non-profit and for-profit debt relief companies. I wonder if the marketer has gathered performance information from their referrals or is this just an educated guess?
Keeping in mind the back of the mailer says the program "has been specifically designed to assist consumers with financial education" it is hard to square that with what appears to be obvious claims of a debt settlement program on the front. It actually says, "Settle your debts for less than you owe."
And keep in mind this is a mailer from a marketer or referral agency, so how do they have "relationships with over 100 creditors" or make claims about a program they apparently don't deliver?
I'd love to hear your opinion on this mailer. Please post your feedback and comments below.
Does anyone have any information on who the company is behind this mailer? Where are they located? Who are they?

Latest posts by Steve Rhode
(see all)