The State of Maryland has enacted the Financial Consumer Protection Act of 2018.
For debt relief companies the new law significantly increases the potholes and penalties if the company is found to be in violation of the act.
The new law expands the net that companies may be caught in. In the past, the focus was on unfair or deceptive trade practices but now it also includes business activities which may be viewed as abusive.
Legislative notes say, "An unfair or deceptive trade practice under MCPA includes, among other acts, any false, falsely disparaging, or misleading oral or written statement, visual description, or other representation of any kind which has the capacity, tendency, or effect of deceiving or misleading consumers."
Penalties resulting from violations of the act have increased from $1,000 to up to $25,000 per violation for bad actors.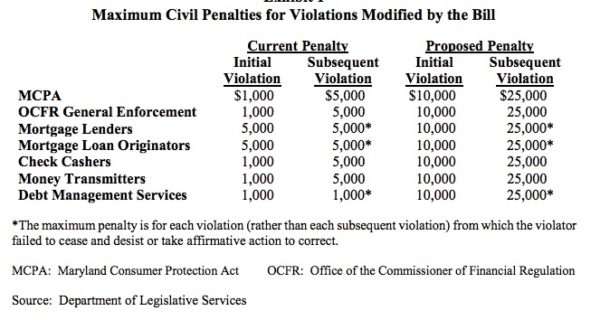 The new law also subjects unlicensed entities to the same compliance and consumer protection provisions as licensed entities by explicitly stating that such laws apply "regardless of whether the person is actually licensed." This change provides a foundation for state regulators to pursue unlicensed companies that have previously attempted to evade state laws. The law specifically makes mention of debt collectors and loan makers but it seems pretty clear what the intention is for all under the law.
One new feature of the legislation is the creation of the office of the student loan ombudsman. The ombudsman's office will "receive, review, and attempt to resolve any complaints from student loan borrowers and to assist student loan borrowers in understanding their rights and responsibilities under the terms of student education loans."
Maryland is stepping up its actions against companies who they feel have taken advantage of consumers. It's something worth paying attention to and make sure you've got your licensing in place.

Latest posts by Steve Rhode
(see all)