The Public Service Loan Forgiveness (PSLF) program has been in a freefall for several years now.
Politico is reporting, "Only about 1 percent of the teachers, nurses, public defenders, military personnel and other public servants applying for student loan relief under the nation's Public Service Loan Forgiveness program are succeeding." That is somewhere a disgrace and pathetic.
Consumer embarked with life changes and efforts to meet the requirements of PSLF. It has taken a decade for the first crop of eligible consumers to be in the first class of forgiveness. The Trump Department of Education seems to be doing everything they can to thwart the promise Congress made to public servants.
The PSLF program was made law after being signed by Republican President George W. Bush.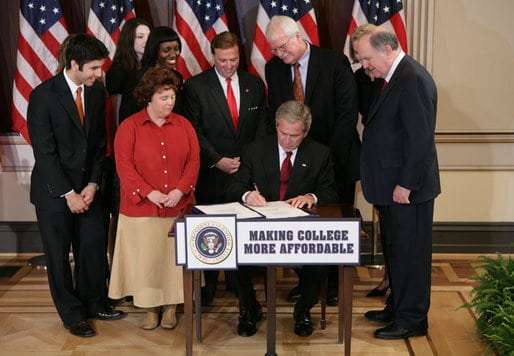 President Bush said, "The bill also takes important steps to put higher education within reach for more of the men and women who wear our nation's uniform. I want to thank the Congress for answering this call. I appreciate your hard work on this piece of legislation and I'm looking forward to signing the bill." And he thanked a number of prominent Republicans in Congress for getting the bill passed. – Source
Not only did the College Cost Reduction and Access Act of 2007 include laws for the PSLF, but also Income-Based Repayment. Section 401 is the one to pay attention to.
The law says, "After the conclusion of the employment period described in paragraph (1), the Secretary shall cancel the obligation to repay the balance of principal and interest due as of the time of such cancellation, on the eligible Federal Direct Loans made to the borrower under this part."
Public service eligible consumers were defined as: "The term public service job means—
(i)a full-time job in emergency management, government, military service, public safety, law enforcement, public health, public education (including early childhood education), social work in a public child or family service agency, public interest law services (including prosecution or public defense or legal advocacy in low-income communities at a nonprofit organization), public child care, public service for individuals with disabilities, public service for the elderly, public library sciences, school-based library sciences and other school-based services, or at an organization that is described in section 501(c)(3) of the Internal Revenue Code of 1986 and exempt from taxation under section 501(a) of such Code; or
(ii)teaching as a full-time faculty member at a Tribal College or University as defined in section 316(b) and other faculty teaching in high-needs areas, as determined by the Secretary."
And now, it is reported that North Carolina Republican Representative Virginia Foxx has called the program "a Democratic "socialist plank " and has sided with the Trump administration in its unsuccessful push to kill it altogether."
That is either laughable or uninformed considering it was President Obama in 2015 who wanted to scale back maximum forgiveness for new students to $57,500. Congress did not approve that change.
As it stands now, the people being hurt the most are those public servants who trusted the law Congress enacted and now that forgiveness is due, Congress is trying to back out of the promise made.

Latest posts by Steve Rhode
(see all)