A reader sent in a mailer they received from a company named Punch Associates that says they are located in Lafayette Colorado. – Source
While there are some legitimate questions to ask if this mailer might instead lead to a consumer being offered a debt settlement program instead of a loan, issues arise. We will actually discover this could lead to just about any use of your personal information.
My quick investigation of this and other such mailers isn't rocket science. In fact, I tell everyone how to research any company they may be thinking about using.
A quick search of the State of Colorado could not locate any company registered to do business under the name Punch Associates.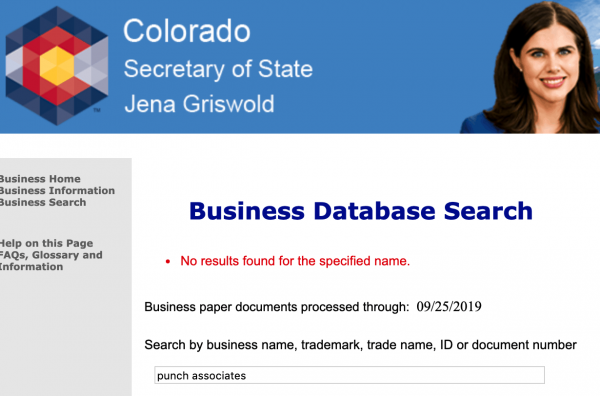 While Punch Associates seems to be offering the consumer a debt consolidation loan, their website says, "Punch Associates is not a lender in any transaction and does not make loans, loan commitments, or lock rates" and "Punch Associates is not an agent of you or any lender. Punch Associates services are only administrative. Punch Associates is a paid marketing lead generator." – Source
So Punch and Associates is not a lender or agent of a lender but instead just a paid lead generator. So what can a representative tell you when you call since it seems like they have no control over any loan you think you might get?
It is not clear from the mailer how a consumer would know that Punch Associates is just a paid lead generator. Nor is it clear where the leads are sold or who to.
And while the mailer seems to say the average interest rate is 3.92% the website of Punch Associates says, "All credit decisions, including loan approvals, and the conditional rates and terms you are offered, are the responsibility of the participating lenders and will vary based upon your loan request, your particular financial situation, and criteria determined by the lenders to whom you are matched. Not all consumers will qualify for the advertised rates and terms."
I certainly applaud them if they are able to offer the average person a 3.92% interest rate loan but I find that claim to be suspect.
This mailer was sent to me through my I Buy Junk Mail program. If you have junk mail you'd like to sell, click here. To see other mailers, click here.
The mailer goes on to say the following.
I also find it odd that for a lead generator that says they are not a lender, the consumer is told: "simply call…to receive a check that you can use to pay off your high interest rate credit cards in just a few weeks."
Why would you have to wait weeks to pay off credit cards using a check you get as a result of the mailer?
If you get this mailer or one similar to it, be a smart consumer and do your research before you hand over any personal information.
Latest posts by Steve Rhode
(see all)