A reader sent in the mailer they received from Centurion Financial that mostly appears to be for an unsecured loan except for something they say on their website.
Centurion Financial says, "We do not assume or pay any consumer debt, or provide tax, bankruptcy, accounting or legal advice or credit repair services. Debt Settlement programs do not make monthly payments to creditors. Not available in all states. Please contact a tax professional to discuss tax consequences of settlement." – Source
The mailer also uses the typical marketing debt payoff figure of 48 months that you see with settlement programs.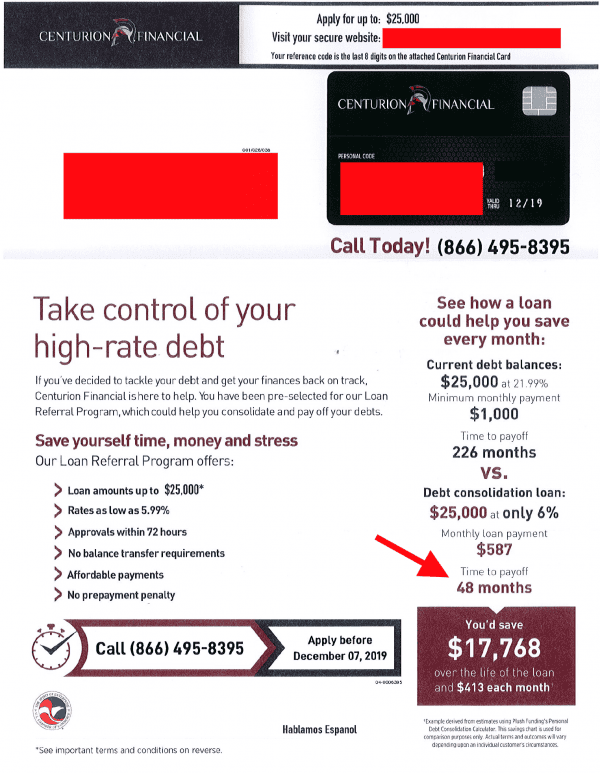 On the Centurion Financial website they say they are Centurion Financial US, LLC and operate out of 610 Newport Center Drive, Suite 340, Newport Beach, CA 92660. – Source
The State of California does not show a company by that name registered to do business in California.
The BBB says the company is actually a Wyoming company.
The State of Wyoming does not have a listing for a company named Centurion Financial US.
My advice is if you are thinking of using this program, check them out and make sure you are comfortable.
This mailer was sent to me through my I Buy Junk Mail program. If you have junk mail you'd like to sell, click here. To see other mailers, click here.

Latest posts by Steve Rhode
(see all)