I recently wrote about a Centurion Financial mailer that offered a loan but can lead to a settlement plan. See this post.
Here is another mailer in that I wanted to point out some additional things to look at.
This mailer was sent to me through my I Buy Junk Mail program. If you have junk mail you'd like to sell, click here. To see other mailers, click here.
As you can see, the outside of the envelope is very sparse. It uses what some may see as an "official" postal permit mark. All we know from the outside is it comes from PO Box 86, Plano, IL 60545.
The inside mailer then uses what someone might misidentify as a government logo but it is actually the logo for the Chamber of Commerce. If you compare this mailer to the last one, the telephone number is different. Finally, in the small print under the financial example, it says the numbers come from a debt consolidation calculator from Push Funding. I have no clue who they are.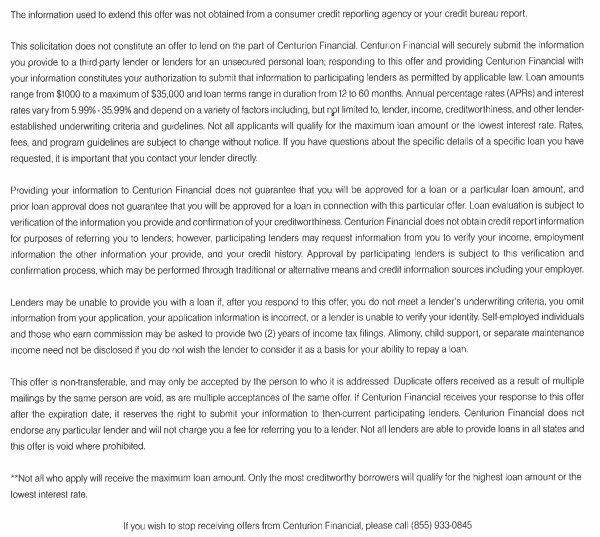 The terms on the back of the mailer paint a different picture of what this really is. Centurion Financial is not a lender but they say they will "submit the information you provide to a third-party lender or lenders."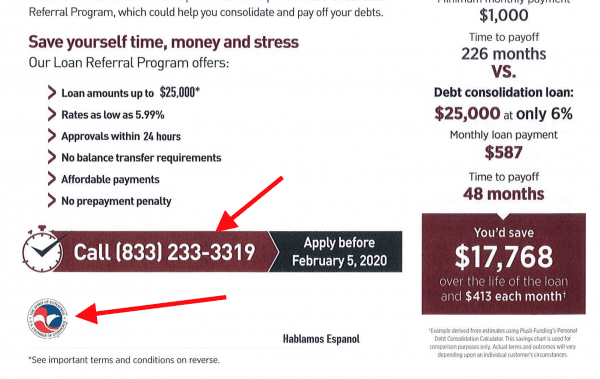 I would recommend that anyone considering using such a company should read the following free guides.

Latest posts by Steve Rhode
(see all)