American Financial Benefits Center (AFBC) was sued by the Federal Trade Commission. Company head honcho Brandon Frere objected to case filed in February 2018.
In the original action, the FTC said they had "charged a student loan debt relief operation with bilking more than $28 million from thousands of consumers throughout the country by falsely promising that consumers' monthly payments would go towards paying off their student loans." – Source
The FTC also said, "According to the FTC, consumers were tricked into believing their monthly payments were going toward paying down their student loans. Although consumers were sending money to the defendants, none of those payments went toward paying off their student loans, and in some instances the consumers' loan balances instead accrued interest. The defendants often refused to provide refunds, or returned substantially less than what people paid."
While industry players know that the FTC can be somewhat toothless since a majority of funds are often hidden or sent offshore, and the FTC does not have the authority to pursue criminal charges, in this case, they took a different path.
The FBI became involved specifically because of the student loan business, according to court documents. The criminal complaint said: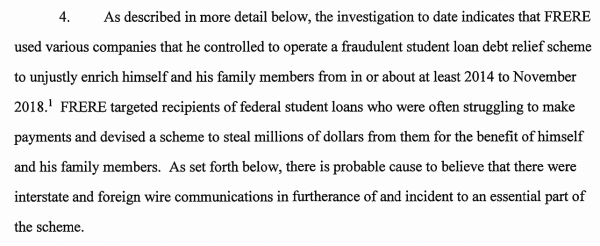 After the FBI became involved in this case they wound up arresting Brandon Frere as he left the U.S. for Mexico. – Source
According to recent court filings by the attorneys representing Brandon Frere, "On December 20, 2019, Defendant Brandon Frere entered a plea of guilty to one count
each of wire fraud and money laundering."
He is due to be sentenced on March 27, 2020. It is unclear how much jail time Frere will have to serve.
This approach of the FTC teaming up with the FBI may be significant for others in the debt relief space if this type of cooperation continues.
Loading...
Taking too long?
Reload document
|
Open in new tab
Latest posts by Steve Rhode
(see all)