The same reader that received a fake government check loan offer also received an offer from Big Picture Loans.
I'm jumping ahead to the fine print on the back. Big picture Loans "is a wholly owned subsidiary of Tribal Economic Development Holdings, LLC, a wholly owned and operated economic arm and instrumentality of the Lac Vieux Desert Band of Lake Superior Chippewa Indians ("Tribe"), a federally recognized Indian tribe, created for the benefit of the Tribe and operating pursuant to Tribal law."
Tribal lenders are not subject to the same consumer protections afforded to people that take out non-tribal loans.
This mailer was sent to me through my I Buy Junk Mail program. If you have junk mail you'd like to sell, click here. To see other mailers, click here.
But Here is the Issue That Leaves Me Scratching My Bald Head
The BBB says the company is not accredited, has an A- rating and a 1.5 star rating. They've had 162 complaints in the last three years.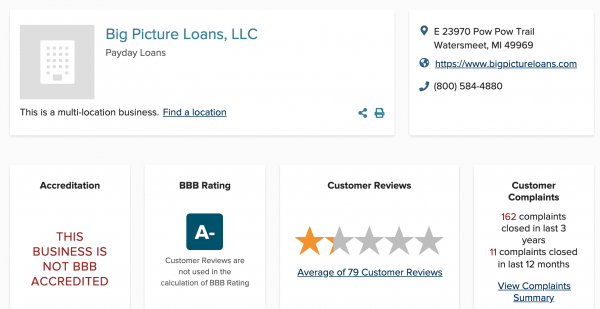 The vast majority of these complaints are about billing and collections.
Yet on Trustpilot and on the Big Picture Loans website the company has a 4.7 star review with relatively fewer negative reviews out of 10,042.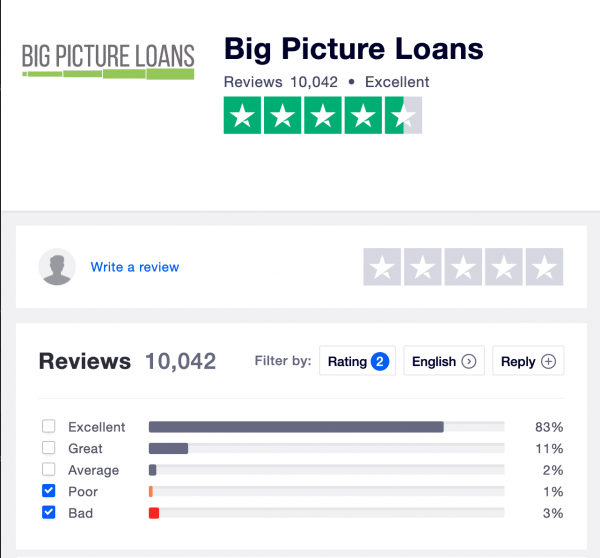 The Big Picture Loans mailer even tells people "The laws of your resident state may have interest rate limits and other protective laws that are more favorable. If you wish to have your resident state law apply, you should consider taking a loan from a licensed lender in your state."
So I've told you and they've told you to look to a licensed lender in your state, that is not a tribal lender if you want the state or federal consumer protections.
The Consumer Financial Protection Bureau has 1,157 complaints on the company.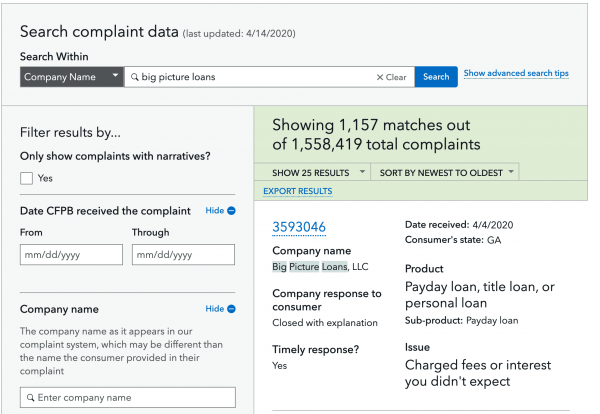 So you see why something is not adding up for me. The BBB gives the company an A- rating but a 1.5 star rating. Trustpilot gives then 4.7 out of 5 stars but few negative complaints and the CFPB has 1,157 complaints on file.
A smart consumer would do more research before leaping for a tribal loan offer.
I would recommend that anyone considering using such a company should read the following free guides.
Just be as informed as possible and then make the best decision for you.
Here is the CFPB experience with some tribal lenders. They said, "The Think Finance Entities, the Bureau alleged, made deceptive demands and illegally took money from consumers' bank accounts for debts that consumers did not actually owe because the loans were either partially or completely void under the law of 17 states."
The Federal Trade Commission has had its own experience with tribal lenders. The FTC said, "The FTC charged that defendants illegally tried to garnish consumers' wages without a court order, and sought to manipulate the legal system and force borrowers to appear before the Cheyenne River Sioux Tribal Court in South Dakota, which did not have jurisdiction over their cases."
Latest posts by Steve Rhode
(see all)