At last, our journey through financial history has reached a point where we recognize dollars and credit.
From Massachusetts, a 1729 Judgment to make payment or be thrown in jail.
During the early years of the United States, up to the mid-1800s, you could get tossed in prison for failing to pay back your debts. Not only were you expected to come up with the money to pay back what you owed, but you also had to pay for your imprisonment!
List of debtors in Washington jail, March 29, 1802.
Notice that Charles Neal is imprisoned for a debt of $1.68.
Many people died in the debtor gaols (pronounced jail – hey, it's the English language. What can I say?). Gaol comes from an old, northern French word, gaole, which comes from caveola, a diminutive form of the Latin term cavea, which means cage. Gaols were also used for criminals and the mentally ill, but they were often kept on separate floors and/or in cells of different sizes.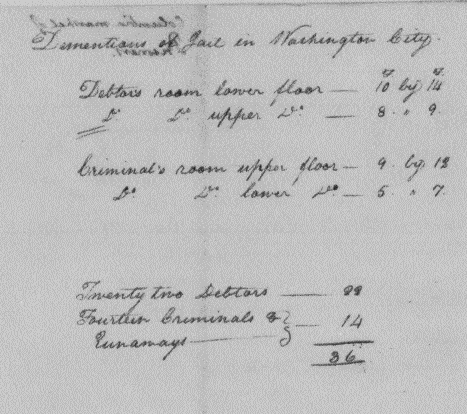 From the papers of Thomas Jefferson, a March 29, 1802 document with
the dimensions of debtors and criminals cells in the Washington jail.
It was not a very pleasant environment. On the contrary, the public gaol was a place of discomfort. The rooms were unheated, small, and cramped and would generally be overcrowded. "Gaol fever," probably typhus, broke out from time to time.
In Maryland, a committee in 1736 described the local Annapolis jail where debtors were held as "a place of Restraint and confinement has also been a place of Death and Torments to Many Unfortunate People." In 1766 the same jail was described as "so filthy and nasty that it is excessively Nauseous." Some prisoners in nearby jails were held, under these conditions, for debts as little as fifty cents.
Samuel Johnson wrote in 1758, "It is vain to continue an institution which experience shows to be ineffectual. We have now imprisoned one generation of debtors after another, but we do not find that their numbers lessen. We have now learned that rashness and imprudence will not be deterred from taking credit; let us try whether fraud and avarice may be more easily restrained from giving it."
Imprisonment for Debts Has Been Eliminated, or Has It?
In 1833 the practice of imprisonment for debts was eliminated at the federal level. Most states followed suit.
Today, it is still possible to be thrown or remain in jail for debt. Debts of fraud, child-support, alimony, or release fines can land you in jail or prevent you from being released from it.
Gaol Pictures
Philadelphia County Prison, Debtors' Wing, Reed St. &
Passyunk Ave., PHILADELPHIA, Philadelphia County, PA.
Debtors' Prison, State Rt. 764, Accomack County, VA

York County Gaol, 4 Lindsay Rd., York County, ME
History Moment:
Famous Americans in Debtors' Prison
Charles Goodyear
1800-1860
While visiting France to help promote rubber to new markets, Mr. Goodyear is tossed in prison for four days due to back payments owed by his distributors in Paris.
Robert Morris
1733-1806
Would you believe one of our countries more important citizens, a signer of the declaration of independence, a former government official, and a man who lent money to George Washington to fight the Revolutionary War, would be in Debtors' Prison?
Robert Morris, a principal founding father of the United States, financed the American Revolution. Then, in late 1776, George Washington called upon Morris to help raise cash to continue his fight. But, unfortunately, Washington had thousands of troops without supplies – clothing, food, guns, ammunition – and there was no U.S. Treasury to turn to help from at the time.
The Continental Army was in a state of severe deprivation because of a shortage of capital and the failure of several of the colonies in paying for the war. So Morris loaned $10,000 of his own money to the government, who used the cash to provision the desperate troops at Valley Forge. Those soldiers went on to win the Battle of Trenton and changed the course of the war.
Morris emptied his own pockets to allow Washington to move the troops to Yorktown Heights, then borrowed against his assets – his bonds and property – to continue to finance our war. He also helped in negotiating loans from France.
Indeed, Robert Morris became the chief financier of the American Revolution and, in 1781, was appointed by Congress as the first superintendent of finance.
Unfortunately, he was not as astute with his own finances. In 1798 he was arrested for debt resulting from his land speculation and confined to the Prune Street prison, Philadelphia, from February 1798 until liberated by the passage of the national bankruptcy law in 1802.
Morris and his North American Land Company partners also speculated on property in a growing Washington, D.C. Area. They would purchase newly created city lots with the hope of selling them at auction.
John Nicholson, his partner in the North American Land Company, which also owned six million acres of land in Pennsylvania, North Carolina, South Carolina, Georgia, and Kentucky, was also imprisoned for debt and died in prison on December 5, 1800, leaving a wife, eight children, and more than four million dollars in debt.
By the time he was released, his property and fortune had vanished, his health had deteriorated, and his spirit had been broken. He lingered on in poverty and obscurity, living in a simple Philadelphia home on an annuity obtained for his wife by fellow-signer, Gouverneur Morris.
The late William B. Wood stated after seeing Robert Morris in the Prune Street Jail: "His dress, a little old-fashioned, was adjusted with care; he returned my salutation in silence; he continued his walk, dropping from his hand, at a given spot, a pebble on each round, until a certain number which he had in his hand were exhausted."
His will, made in I804, stated: "Here I have to express my regrets at having lost a very large fortune acquired by honest industry, which I had long hoped and expected to enjoy with my family during my own life, and then to distribute it among those of them that should outlive me. However, fate has determined otherwise, and we must submit to the decree, which I have endeavored to do, with patience and fortitude."
By 1880, Robert Morris and his sins had been forgiven by the United States. Below you can see the 1880 $10 silver certificate his portrait appeared on.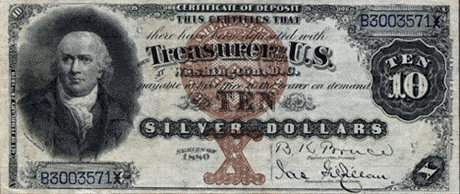 Latest posts by Steve Rhode
(see all)