Before organized consumer credit, there were five major lending sources: pawnbrokers, illegal small-loan lenders, retailers, friends and family, and mortgage lenders.
Indebtedness was common prior to the 1800s. Unfortunately, it was hidden from view in the grocer's book and the pawnshop ledger, in the butcher's tab and the memory of friends.
Early levels of national consumer debt were measured in 1858, when it was estimated the nation's total household debt load was 1.5 billion dollars. By 1890 the level of consumer debt had risen to 11 trillion dollars.
The 1890 census discovered the average household had about $880 of debt and only $475 in annual income. Compare that to 1998 when family debt was $33,000 and annual income was $32,800.
Between 1896 and 1916, short-term household indebtedness increased at rates as high as 15 percent a year, averaging an annual rate of 9.3 percent. From 1995 to 1999, consumer debt increased at an annual rate of only 7.78 percent.
Lending, borrowing and credit were ramping up towards the turn of the century. At the same time, lending by family and neighbors was vanishing in relation to lending activity from other sources. However, without organized sources of credit, the local pawnbroker and finance companies were the average man's best source.
Pawning has been around since 1462, when Franciscan friars in Perousa, Italy established the "mont-de-pietes" or "Banks of Pity" to enable struggling people to obtain small, collateralized loans. The Italian word "Monte" has several meanings: "mount, mountain", and "heap, sum". In the Middle Age the term "Monte" was currently used to indicate "goods or money collected or polled by one or more persons for trading."
Pawning was very common in America but was viewed differently than the negative image it has today.
Typical items that were placed on deposit in exchange for cash were shawls, bonnets, undergarments, dresses, suits, shoes, jewelry, bedding, musical instruments, clocks, tools, guns and furniture.
In 1803, New York City pawnbrokers were legally recognized and by 1898 the use of pawnbrokers was so common that in Pittsburgh it is estimated that pawnbrokers made one loan for every 11.6 city residents. In a 1907 survey of residents in the Bowery of New York City it was estimated that almost the entire population held at least one pawn ticket at all times.
Was pawning bad?
During those years people had very few places to turn for cash for emergency needs or to pay off creditors. Pawnbrokers were known as the "poor man's banker." Large numbers of people routinely used the pawnbroker to get much-needed cash. Many were longstanding, repeat customers.
The interest rates pawnbrokers charged could reach as high as 300 percent. Was this excessive? Part of the reason for such high interest rates was the need for the pawnbroker to make a profit on predominantly small loans, usually five dollars or less.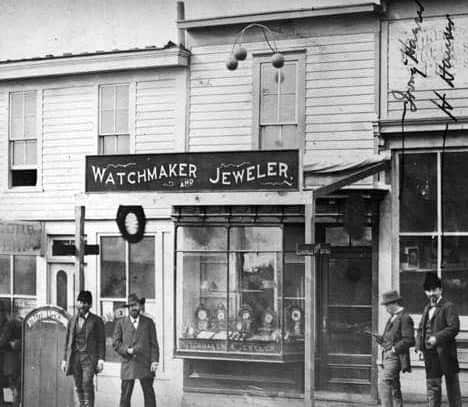 1880 Leadville, Colorado — View of businesses on Chestnut Avenue in Leadville,
Colorado; shows storefront windows and signs: "Watchmaker & Jeweler,"
"Leadville Loan Office," "Stratton & Mead, Mining Engineers and Surveyors,"
"S.M. Newcomb, Assayer" and "Jolin Headquarters, Drinks, Wines, Liquors,
Cigars, and Tobacco etc. etc. J.H. Willard, prop." Irving and Herman Hauser
pose; pawn broker's balls hang from the false fronts.
Description of New York Pawnbrokers
We are fortune that history has preserved such a graphic description of pawnbrokers. In 1849, George Foster wrote "New York in slices: by an experienced carver." Excerpts from that text are exceptional. Take a few minutes to carefully read his words.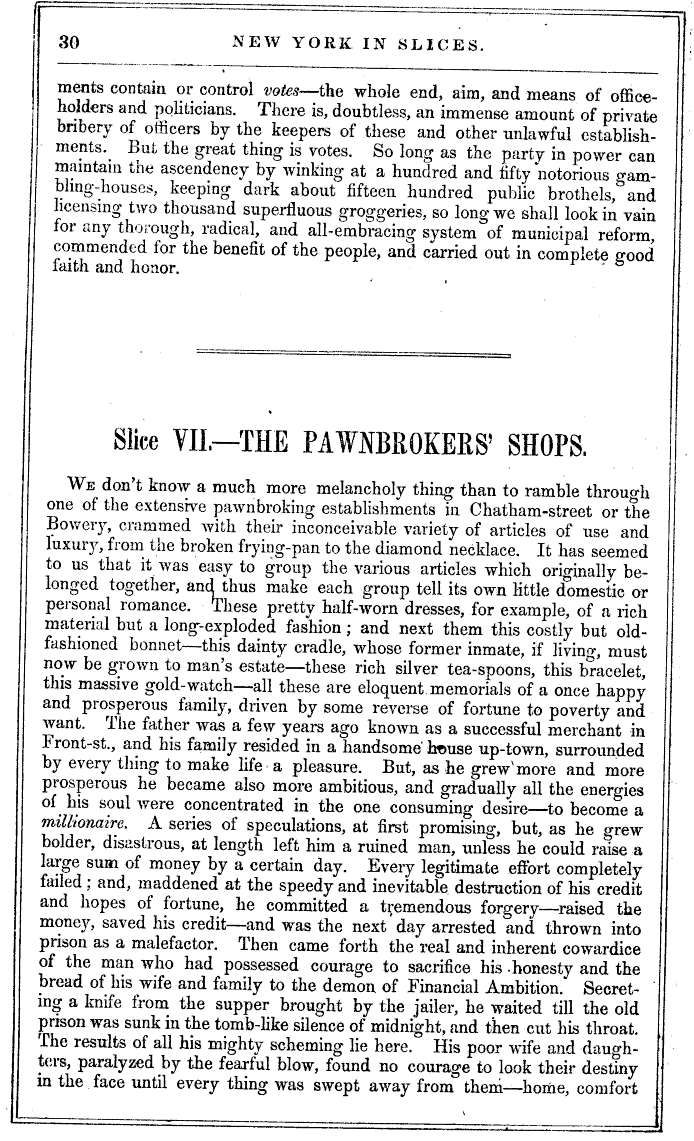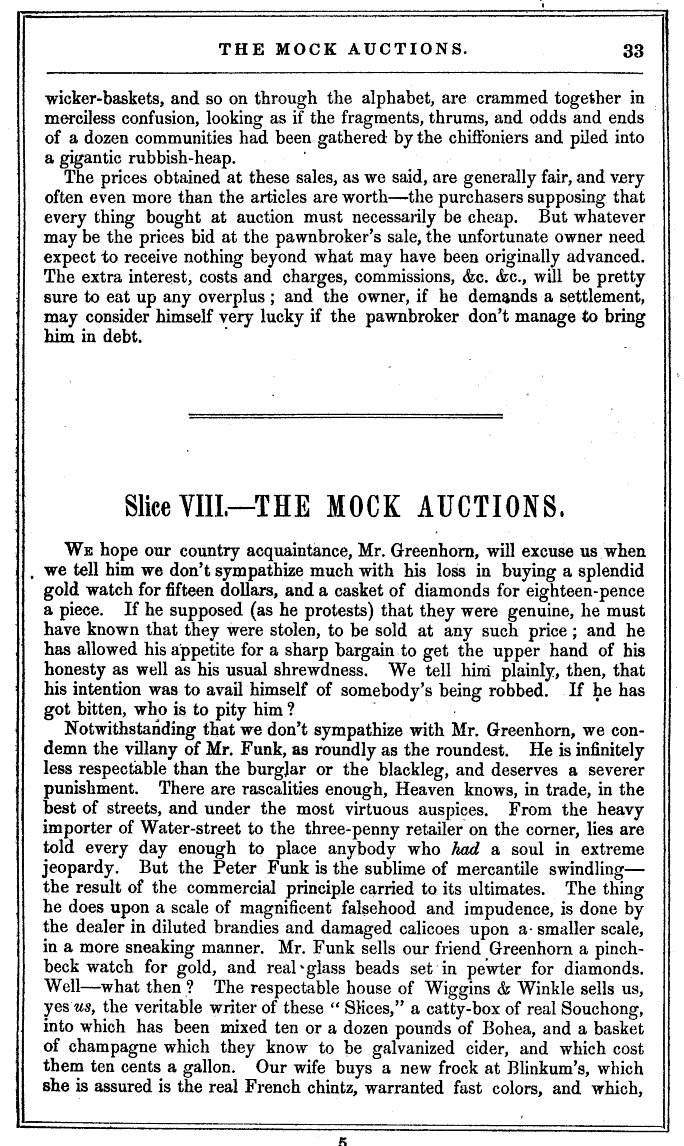 Early Americans and Pawning
"I thought no more of the matter afterwards, until a gentleman with whom I have no acquaintance, coming from and going to I know not where, at a tavern I never could get information of, came across this sword (for it is presumed to be the same) pawned for thirty dollars; which he paid, left it in Alexandria, nine miles from my house, in Virginia, with a person who refunded him the money and sent the sword to me."
George Washington to John Quincy Adams, September 12, 1796
Twentieth Century Pawn
As you can see from this 1938 picture on Douglas Street in Omaha, Neb., times had not changed much. Note the clothing signs in the windows.
Pawning In "Pop" Music
Did you know that the children's song, "Pop! Goes the Weasel" is about pawning?
POP GOES THE WEASEL
All around the mulberry bush,
The monkey chased the weasel.
The monkey thought 'twas all in fun.
Pop! goes the weasel.
A penney for a spool of thread,
A penney for a needle.
That's the way the money goes.
Pop! goes the weasel.
Up and down the City Road,
In and out of the Eagle,
That's the way the money goes.
Pop! goes the weasel.
Half a pound of tuppenney rice,
Half a pound of treacle,
Mix it up and make it nice,
Pop! goes the weasel.
Definitions
Pop means "to pawn," and is still common slang today in some areas. Weasel is cockney rhyming slang for coat (weasel and stoat = coat).
The City Road is a main road leading from London's eastern suburbs to the center of London's business district and the Eagle is a tavern on that road. People today say there is more talk in the Eagle of commodity trading than pawning.
Tupenney rice is rice that costs "tuppence" or two pence (plural of penny) per pound.
Treacle is British for molasses.
Latest posts by Steve Rhode
(see all)