Question:
Dear Steve,
I had several revolving credit cards and had trouble making monthly payments. Looked for a debt consolidation company.
Received in mail flyer from Option[] 1 Legal.
The salesperson made everything sound legit. I have paid them over $6000 dollars in 15 months.
They have negotiated with 2 of the creditors and are only paying around $50 a month to settle.
Next card company has sent me a court summons which they were supposed to take care of.
2 companies they have not even negotiated with.
I asked how much I needed to pay to get the program finished up.
I was sent a request for the amount agreed on at the start of the program minus $400.
I asked where the $6233 went. Yes I know they charged fees but on my schedule of payments, the total settlement should have subtracted the $6233.
They promised to handle all the problems that arise. I am a full-time caregiver and work long hours with no compensation for a family member.
This was the reason for having them take control.
Is there a way to cancel this contract and if so how?
How do I negotiate with the creditors? Can I get my money back to pay the creditors?
I feel this company is a scam. Was willing to pay their fees but now they want more than the original debt or do I just follow their original agreement and pay minimum monthly hoping that the total on the signed contract stays the same?
Beth
Answer:
Dear Beth,
Being a full-time caregiver is so very stressful. Many people may not appreciate how difficult it can be both physically and emotionally.
I understand why you may have hired Option 1 Legal to represent you when the messages you were told aligned with what you wanted or expected to hear.
Labeling Option 1 Legal a scam is a tough fact to state. For example, they may have delivered the service that is actually stated in your written client agreement that you agreed to. Typically such agreements contain language that whatever the salesperson said, is not binding and can't be counted on.
That's not something Option 1 Legal might have in their client agreement, which I have not seen, but it is a very common part of many debt relief agreements I have reviewed from many companies.
I have a very comprehensive guide on how to resolve any issue you might have with the company you hired. See How to Get Your Money Back From a Debt Relief Company if You Feel Like You've Been Scammed.
What you will find in my guide is that I layout a very logical and reasonable process that allows the company to deal with your issue before you go nuclear on them.
In a previous post about Option 1 Legal, I presented a number of facts about the company. I would urge you to see other posts here.
I would love for Option 1 Legal to post an update comment on your situation or on this other post to show everyone how much they value their customers and can provide exceptional customer service.
Option 1 Legal Insight
As part of my typical research on a post, I took a quick look around and found that there was an active court case concerning Option 1 Legal aka Gardner Legal.
That case against Option 1 Legal and Gardner Legal alleged, "The plaintiffs Chapter 13 case was filed with United States Bankruptcy Court for the Middle District of Tennessee, Columbia Division on February 28,2020.
On or about May 11,2019, the Plaintiff entered into an agreement with the Defendant. This agreement required the Plaintiff to remit monthly payments to the Defendant who would use that money to "negotiate" settlements with the Plaintiffs creditors. The Plaintiff knew he could not pay his credit card debts in full due to the interest and fees being assessed each month and placed his confidence in the defendant's stated ability to assist him with his financial situation. The agreement is attached as "Plaintiffs exhibit 1″.
The Plaintiff remitted a total of approximately $4,649.19 in funds to the Defendant in monthly installments from June, 2019 to February, 2020, relying on the defendant's representations that his contributions would go towards the settlement and litigation of defending his debt's. The Defendant misled the Plaintiff into thinking these payments would go towards the settlement and litigation of defending his debt's.
The Defendant did not negotiate the Plaintiffs debt and instead applied the funds toward the Plaintiffs retainer fee's, administration fee's and monthly service charges, as attached as exhibit 2.
Following a letter providing proof of the bankruptcy and requesting that Plaintiff s money be returned, the Defendant applied all of the monies with the exception of $500.69 to their fee's and refunded the Defendant the $500.69, as attached as exhibit 3."
This case was brought during a bankruptcy case in Tennesee. When I looked closer the court documents did have a client agreement. I'm not sure if the one you signed was similar.
In looking at case documents I was very surprised to see a copy of budget Option 1 Legal used for the client. It only has two expenses on it.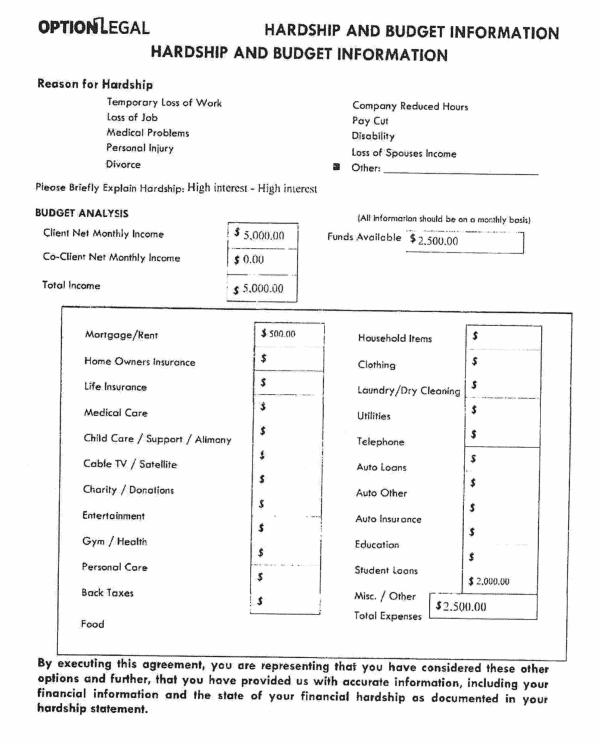 When you compare that to the income and expenses listed on the Chapter 13 bankruptcy filing of the consumer, they are not close.
The Option 1 Legal client agreement starts with advice that promotes bankruptcy filing. Bankruptcy is the fastest way to eliminate your debt for less than $2,000.
The agreement also contains an agreement for Global Client Solutions as the escrow money that is debiting your account and collecting funds from you.
Given the fact there is a statement from someone that visited the consumer it appears they are labeling the service as an attorney model of debt settlement where they can collect advance fees.
And the case includes a fee schedule that appears to indicate fees may be collected before settlements have been obtained.
There is also a statement of how fees were obtained from the consumer in the court case.
Your client agreement does appear to give you an option to terminate the agreement and you would have to contact Option 1 Legal to determine how much they have already withdrawn from your Global Client Solutions account for fees.
And here is a part of the client agreement that seems would cover what I mentioned about what salespeople say, does not matter.
Sincerely,

You are not alone. I'm here to help. There is no need to suffer in silence. We can get through this. Tomorrow can be better than today. Don't give up.
Do you have a question you'd like to ask me for free? Go ahead and click here.

Latest posts by Steve Rhode
(see all)