Address:
984 Southford Rd
Middlebury, CT 06762-3234
(203) 758-1177
Financira Services INC.
P.O. Box 5700
San Antonio, TX 78201
Telephone: (866) 382-DEBT
Financira Services Inc.
6655 First Park Ten Blvd. Suite 228.
San Antonio, TX 78213

Website:
Financira.com
Administrative Contact:
Teixeira, Manuel support@financira.com
Financira Services Inc.
6655 First Park Ten
suite 228
San Antonio, Texas 78213
I could not find any information on the site that disclosed the negative consequences of debt settlement. No warnings about credit impact or potential for being sued. In fact I'd have to label the statements they do make as misleading at best or an outright lie at worst.
Generally, debt settlement is both the fastest and least expensive option for a person to pursue.
People who choose debt settlement can settle their debts relatively quickly. – Source
Description:
Debt settlement company. They appear to have started in CT but reincarnated and moved to San Antonia, TX.
Management
Manuel G. Teixeira, Manny Teixeira – mannyteixeira@gmail.com
Contacts
Michael Sykes – National Sales Manager & Sales Trainer
Michelle Tallman – Debt Specialist
Relationships
Elimidebt – Was a former director in 2001-2002.
RapidScoreSystem.com – Credit Repair Company. Not sure if same one but really, how many different Manny Teixeira's can their be in the debt world?

MGT Media, LLC – He processed accounts for Clearadebt who was shut down by the IRS. (CT) – Source
MLC Debt Management – Supposed to be a NY corporation at 734 Walt Whitman Rd, Melville, NY, but no record in NY corporate records.
Financira Services Inc – Owner
FINANCIRA SERVICES INCORPORATED
6655 FIRST PARK TEN BLVD STE 228
SAN ANTONIO, TX 78213-4304
Registered Agent is listed as Fillipe Goncalves who appears in videos as Vice President of Financira
Interesting Points
Does not appear to have a presence on the web at all.
Tony Kindred
v.
MANUEL G. TEIXEIRA
MICHELLE TALLMAN
FINANCIRA, LLC
Source

1. Plaintiff seeks relief pursuant to the Fair Debt Collection Practices Act ("FDCPA"), 15 U.S.C. § 1692; Consumer Collection Agency Act, Conn. Gen. Stat. § 36a-800 and regulations issued thereunder or the Connecticut Creditor Collection Practices Act, Conn. Gen. Stat. § 36a-645 and regulations issued thereunder; or the Debt Adjusters Act, Conn. Gen. Stat. §36a-655 and regulations issued thereunder; and the Connecticut Unfair Trade Practices Act ("CUTPA"), Conn. Gen. Stat. § 42-110a.

2. The Court has jurisdiction. 15 U.S.C. § 1692k; 28 U.S.C. §133l, § 1367.

3. All defendants are located in Connecticut, with an address of 984 Southford Rd, Middlebury CT.

4. Beginning in 2006, Defendant Teixeira directed, operated, dominated, and controlled the policies, finances, business practices and procedures of defendant Financira and supervised defendant Tallman.

5. Defendant Tallman acted as a "debt specialist" for Financira.

6. Defendants operate a debt settlement business which purports to directly or indirectly collect debts asserted to be owed or due another, by receiving payment from consumers and distributing amounts to creditors.

7. Defendants open a bank account for their customers into which consumers are required to deposit funds. The plaintiff's account was identified as Tony Kindred f/b/a Financira LLC. Defendants used such accounts as accounts from which creditors are paid and service fees are taken.

8. Defendants directly or indirectly represented that Financira, LLC, would negotiate with plaintiff's creditors in order to obtain a reduced settlement amount with creditors. Defendants had no intention of doing so.

9. Defendants directly or indirectly represented that plaintiff's information would be kept in the strictest confidents by Financira, LLC. Defendants had no intention of keeping plaintiff's information in confidence and in fact disclosed it to an unrelated third party.

10. Defendants do not disclose, and did not disclose to plaintiff, that certain creditors, such as Citibank, refuse to deal with debt settlement companies.

11. Defendants have been the subject of complaints about their failure to live up to their debt settlement promises and representations.

12. Defendants' experience with their debt settlement customers is that customers pay their fees until they realize that defendants are doing virtually nothing but collecting fees.

13. Defendants' experience with Financira and Clearadebt, Inc. is that they can collect fees until the consumer realizes what is going on, and benefit from the fees without needing to perform any services.

14. Beginning in May, 2007, defendant Financira benefited from a monthly administrative fee distributed from plaintiff's account, without performing any services for him.

15. After plaintiff began being sued by creditors he had listed with defendants, he realized that they were just taking his money and not performing any services.

16. Accordingly, in March, 2008, plaintiff requested refund of his money. 17. Defendants Teixeira and Financira refused several refund requests. 18. Defendants' operation has no license from the Connecticut Banking Department and their activities violate civil and criminal law.
Complaints
This is a 'debt management' company who promised to settle my credit card debt for half or less than what I owed. I am retired and unable to work, and got overloaded before I realized it.
They claim none of the 3 credit card companies will accept any offers they have made.
I have paid more than $3000 to receive nothing in return.
This "debt management" should be against the law…they know in advance that the creditors will not settle, yet they say they will.
It is a rip-off of the worst kind! – Source
Video
[flashvideo file=/wp-content/uploads/4.flv /]
Listen to video for debt settlement pitch.
Picture of Web Site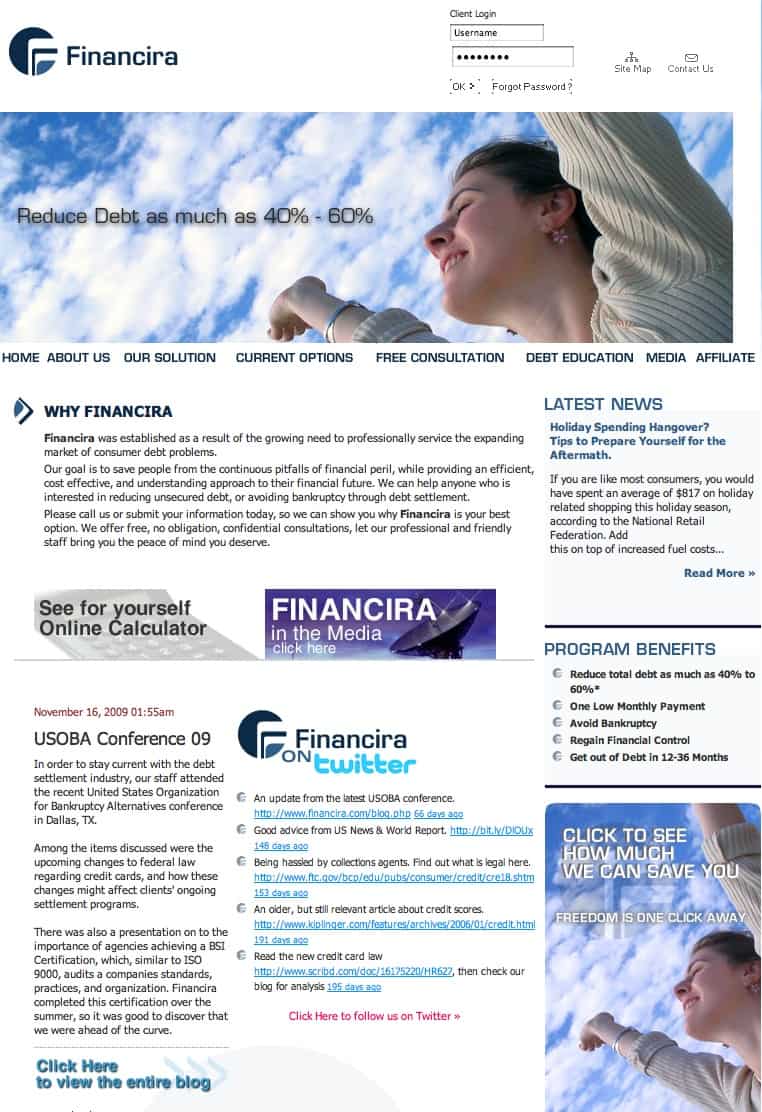 Is This Your Company?
If this is a review is about your company and you would like to respond to the information I've presented here to possibly put it into a broader context or make a correction, please feel free to post your response in the comments section below. I invite you to read my Debt Relief Company and Site Review Policy first.
Latest posts by Steve Rhode
(see all)