A recent study of college students preparing to graduate found that students suck at trying to estimate income and make plans for life after college.
Respondents in this study felt confident their starting salary was going to be $103,880 but the average salary was actually $55,260. Oops.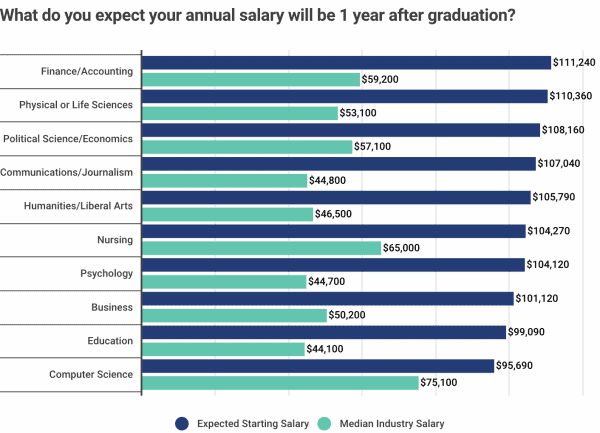 Of the students surveyed, 31 percent felt they would not make enough money to live comfortably. Of course, the reality is that number should have been much higher, but people tend to overestimate income and underestimate expenses. Always have.
Of the people that felt they would not make enough money, their biggest fears were:
Inability to afford basic expenses (30%)
Inability to do "fun" things (29%)
Having to work a second job (29%)
Inability to pay off student loans (29%)
Taking on credit card debt (29%)
More and more companies are dropping the requirement for a college degree, making the pain and expense of investing in a degree less relevant.
An argument you hear is college grads earn more than people without degrees. That statement is used to justify the exploding cost of attending college. But the reality moving forward is that specialized knowledge will far out-earn many college degrees.
Another study had this great line in it.
Jobs do not require four-year college degrees. Employers do.
Do You Really Need a College Degree?
But when job openings far exceed applicants, something is going to have to give. And it is.
"The U.S. labor market is facing a number of challenges that are motivating employers to adopt skills-based hiring. The accelerating rate of technological change is reshaping skills requirements faster than providers can respond," said the report from the Harvard Business Review and Emsi Burning Glass.
Once you get your foot in the door with an employer and continue to build your specialized knowledge and grow what you know, the sky is the limit for your career future.
I predict the wave of employers setting aside a college degree as a requirement will continue to grow. College degrees in the past were used to filter applicant pools, not necessarily hire the best workers.
"Removing barriers that allow more aspiring workers to qualify for good-paying jobs without investing four years in a degree is an essential step in reducing inequity in the American labor market. Decreasing degree requirements will open opportunities for a more diverse and inclusive workforce, especially in the middle-skills positions, which many non-degree holders are well-qualified to occupy through experience, said the Harvard study.
Do Students Help to Support This New Trend?
Back to our original survey of students. After attending college, "Fewer than half (48%) of students believe college is worth the debt and 40% regret attending."
Nearly 30 percent of those students graduate with $50,000 or more in student debt.
A stark realization among students was to attend college to earn higher wages in their careers (33%), compared to 30% who say they want to study a subject they're passionate about.
Going deep into debt for hoped higher wages is not a smart move. However, students had some other ideas about going to college as well.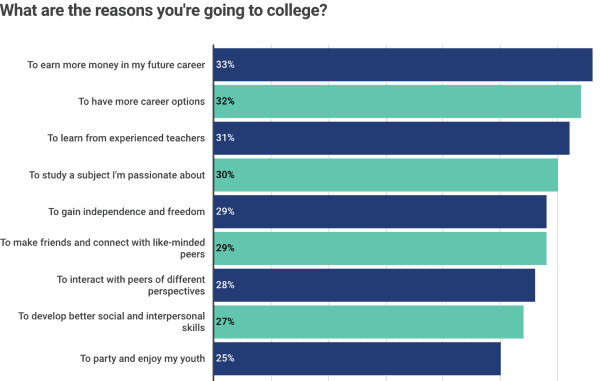 Go to College With a Plan and Not Assumptions
The survey found 85 percent of students graduating this year don't have jobs yet.
I'm not saying someone should not go to college as a rule, but I am clearly stating that the assumption college is an intelligent move needs to be questioned.
In highly technical fields, skills and time in the field can beat out heavily indebted older college grads.
If you have a career you feel passionate about, I suggest you spend as much time interviewing people already working in the field as shopping for a college. Talk to people already doing what you dream of doing and ask about alternative paths into the field.
You might find a different path that will save you time and money.
Latest posts by Steve Rhode
(see all)