Address:
PO Box 271961
Fort Collins, CO 80527
This is the official address they list on their website.
970-282-0037
888-386-7703 – Fax
There is no business named Freedom Financial Law or Christian Debt Law registered to do business in Colorado.
1621 Hotel Circle South.
#E320
San Diego, CA 92108
619-429-1244
This address is also associated with them. It's a condo.
Freedom Financial Law
P.O. BOX 420907
San Diego, California 92142
There is no business named Freedom Financial Law or Christian Debt Law registered to do business in California.
Website:
Description:
Christian debt consolidation, better known as debt negotiation or debt settlement, can save you from bankruptcy. Our Christian debt settlement services are designed to eliminate your debt (all fees included!) for about 65% of what you owe, sometimes even less. (eg. credit cards, medical bills, personal loans, etc.) Follow-up credit counseling will help quickly rebuild your credit profile, financial strength, and your future.
I think I want to puke after reading that.
Management
Dominic J DeSandro, Esq. – Owner – debtfreelaw@yahoo.com, Dominic@ChristianDebtLaw.com
The Colorado Bar Association does not show a registered lawyer with the last name of DeSandro.
The California Bar Association does not show a registered lawyer with the last name of DeSandro.
Kansas says he was licensed under the name Dominic DiSandro, a different spelling. His license in Kansas is suspended for failure to take CLE credit classes.
Contacts
Lisa Bell – Director of Operations / Client Counseling – Lisa@ChristianDebtLaw.com
Larry McGrew – Director of Enrollment – Larry@ChristianDebtLaw.com
On 12-16-2010 Larry asked me to remove his name. He says he is no longer affiliated with this company.
Relationships
Dominic DeSandro
Kangen Health Financing
11003 Camino Playa Carmel
San Diego, CA 92124
Source
Interesting Points
Here is a copy of what is labeled a 2006 debt settlement agreement from Freedom Financial Law.
According to the Christian Legal Sociaety Dominic DeSandro is a non-attorney in California. – Source
It certainly appears that Dominic DeSandro is holding himself out as an attorney for debt settlement. See ad below.
From all that I can see Freedom Financial Law and Christian Debt Law holds itself out as doing business in either California, Colorado, both or neither. Frankly, I don't trust a thing they say and they can say they are as Christian as they want but if Jesus was running a debt settlement company I seriously doubt this is how he'd do it or how he would hide the truth in advertising it.
Marketing Material From Freedom Financial Law
YOU HAVE FOUR OPTIONS: Examples
1. DO NOTHING: Struggling to make minimum payments will cost over 300% of your principal of $20,000 over 10+ years ($60,000), or "sink slowly in the quicksand" with never-ending interest, late fees, over-limit fees, collection fees, lawsuits, judgments, executions and liens that must be paid before a home is bought or sold.
2. BANKRUPTCY (Chapter 7) Legal fees, forfeit property, depressing, court hearing, NO CREDIT, "Life sentence" of higher interest rates, affect on employment.
BANKRUPTCY (Chapter 13) Same as Chapter 7, plus you pay what the court orders over 5 years and your case may be dismissed if you miss a payment!
3. CCCS (Consumer Credit Counseling Service)
(or any of the thousands of non-profit "debt consolidators")
Pay 100% of principal ($20,000), Interest (10% avg), fees $25 per/mo.
$ 460.00 monthly payment (usually 2.3%of total amount owed)
___ 60_ months to plan completion (5 yrs.)
$ 27,600 total paid (debt X 140%)
ALSO: credit score effected for 5 years; late fees can still occur; dropped from program (no emergency flexibility) for missing a payment with all interest added back
4. COUNSELING & NEGOTIATION (Dominic DeSandro d/b/a FFL)
$ 400 monthly "program deposit" (2% of total owed)
___ 33 months to plan completion (33 months)
$ 13,200 total paid (debt X 66%), possibly less!
DURING PROGRAM
Immediate increase in available spending money
Collection calls handled by negotiation agent
Program designed to avoid litigation and/or judgments
Have "emergency flexibility" of payments during program
After settlement, negative entries on credit report (like lates, charge-offs, etc) are replaced with "Paid-Settled" entry on report
AFTER PROGRAM you will have established savings habits and …
Freed up income to save for emergencies and purchases,
Have "Credit-worthiness" (ability to repay) and prime rates too
Have a higher FICO (credit score) than you started with
"Trying to hang on is not possible, BANKRUPTCY is not desirable, and a "non-profit" program may not even be do-able or will cost over twice as much. The "pro-active" choice is to pay 2% per mo. for 33 mos. ($13,200), get debt free, and use our credit restoration services and budget advice to further build financial strength.
HOW DEBT NEGOTIATION & SETTLEMENT WORKS
This program uses NO "NEW" MONEY. We efficiently use the money you have been trying to pay debt with. We eliminate your debt for 66% (or less) of the amount you owe, in three years or less, & improve your credit in the process.
Due to hardship, you have had to choose to not make payments on time, and are not able, in the future, to pay the creditors as agreed. Neither you or the creditor want you to go bankrupt, but the creditor wants to recover something.
Alternatively, you choose to not pay anybody, but choose to negotiate a lump-sum settlement with everybody. All the income you had been using for "debt service" you choose to accumulate monthly in a "settlement account".
We consult with you about your hardship, review your debt, establish a monthly budget, and determine what you can commit to your debt program. We establish a monthly "settlement deposit" (target of 2% of principal owed).
Each month you put a "settlement deposit" into a separate trust account ("settlement account"). Your consultation and retainer fees (for starting representation) are paid from a portion of your "settlement deposits".
"Freedom Financial Law" (FFL) is your new financial agent, and letters of representation are sent to each creditor when they start calling, to get them to call us. You must cease using all non-business credit cards. A low-limit business credit card, paid off monthly and carrying no balance, may be OK.
FFL plans a negotiation strategy of which creditors to call first, and when. FFL stays aware of your settlement deposits. When enough money has accumulated, negotiations begin. If you are able, additional monies can be deposited (at any time) into your settlement account to accelerate the program.
When a good written offer from the creditor is negotiated AND approved by you, FFL pays the creditor the lump-sum settlement from your trust account. You pay FFL a "negotiation fee": 15% of the savings from negotiations. Example: A $1000 debt is settled for $400 = $600 savings(x15%)= $90 neg fee Total cost to settle account: $400+$90= $490 (Account settled for 49%).
As money accumulates, accounts are negotiated over 36 months (or less). The creditor is satisfied. Your credit report shows all your accounts as "ZERO BALANCE – PAID SETTLED", and you have achieved financial liberty !
Complaints
Picture of Web Site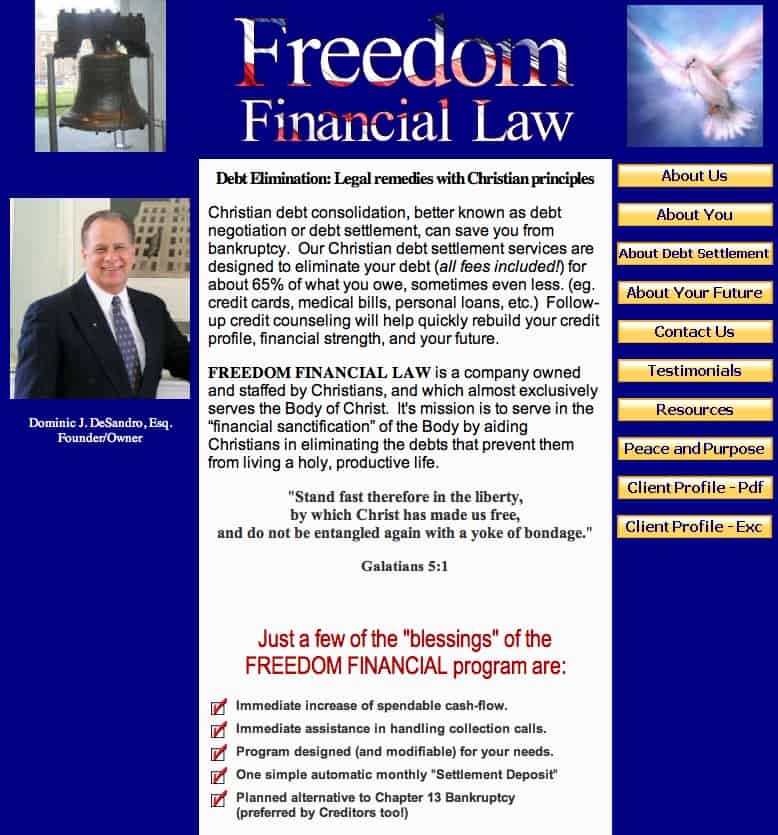 Click to enlarge graphic.
Is This Your Company?
If this is a review is about your company and you would like to respond to the information I've presented here to possibly put it into a broader context or make a correction, please feel free to post your response in the comments section below. I invite you to read my Debt Relief Company and Site Review Policy first.
Latest posts by Steve Rhode
(see all)