California has been tough on loan modification companies and in fact passed laws to prevent upfront fees. One of the companies that recently came under attack was a company I wrote about, Liberty Law Firm.
After my piece KTLA did their own investigative report on Liberty.
According to an confidential source, that contacted me at click here, the reporting lead to Liberty folding up shop for the most part, leaving a chain of ex-Liberty Law Firm affiliates floating about. I was told there are some that continue to do business in Ontario, California under the old business model and there is the Liberty Law Group nearby that was never involved in the loan modification issue to begin with. Poor guys.
I am told that Liberty Law was an outgrowth of a company called Noah Savings, located at 17 Goodyear, Suite 125, Irvine, California and owned by Tuan (Tom, Thomas) Duong.
According to the State of California, Noah Savings Mortgage, Inc was related to a Thomas Dinh Duong. – Source. Duong also owned a company called TD Capital Lending as well. – Source
I was told Duong is not an attorney and has a background in brokering sub-prime mortgages. It is alleged that Duong hooked up with attorney Brian J. Colombana to be the front man, in the Liberty Law operation to make it seem like it was a real law firm. My source assures me that it was not.
Apparently the Liberty Law loan modification services ran off the tracks not only because of the investigative reporting but also because of affiliates running amuck and making unrealistic promises to consumers.
In 2009 California passed SB 94 that was supposed to prevent loan modification companies from charging any upfront fees.
On October 11, 2009, Governor Schwarzenegger signed Senate Bill 94 (Calderon), and the legislation took effect immediately upon his signature. Thus, California law now prohibits any person, including real estate licensees and attorneys, from demanding or collecting an advance fee from a consumer for loan modification or mortgage loan forbearance services affecting 1 – 4 unit residential dwellings. California SB 94.
I am told that after the quick discarding of Liberty Law, Tom Duong moved rapidly to open a new company called Provident Law Group and found a new attorney to front that organization, Jeffrey Cancilla – Source.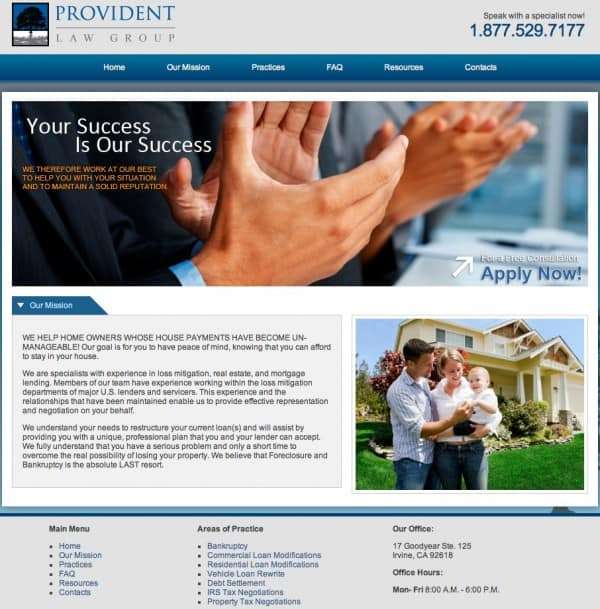 Provident Law Group advertises they are located at 17 Goodyear, Suite 125, Irvine, California. – Source. You will noticed that is the exact same suite and address that Liberty Law and Noah Savings were located at.
The ProvidentLaw.com domain name was registered on March 29, 2010 and Provident Law Group was registered on April 1, 2010 and the agent of service is Jeffrey Cancilla, 1748 W. Katella Avenue, Suite 112, Orange, CA 92867. – Source
I am told that Provident Law Group is thinking of relaunching the Liberty Law product of $995 telephone loan modifications. It is alleged that the Liberty Law target market for this service were hispanic and blue-collar consumers that were less likely to understand what they were being sold.
The telephone loan modifications that might be adopted by Provident Law were advertised under Liberty Law as a loan modification that is obtained after the consumer goes into the office, goes through some qualification process and then, while in the office, a call to the lender is made and if a positive response is received the consumer pays $995. But apparently what the consumer does not understand is that any approval by the lender is not a modification but merely an acknowledgment that the consumer would be eligible to submit a modification application to the lender.
I was told by an current Liberty Law franchise employee that "the actual percentage is less than 20% for all homeowners getting permanent modifications."
The response of the insider seems to support the allegation that the telephone loan modification service is not in fact a real loan modification. The inside employee said "We assist in getting consumers QUALIFIED for a modification and assist consumers in putting financial information and hardship information together and submit for consumer to Bank."
The emphasis on qualified was as the employee said it and appears to understand the consumer is not getting a loan modification but only qualified to submit a request for a trial or permanent loan modification.
ProPublica recently reported that the trial modifications were not meaningful.

""Being in a trial modification if you don't get a permanent modification is worse than having not been in a trial modification. Period," said Diane Thompson, an attorney with the National Consumer Law Center.

Last year, a million Americans were given trial mortgage payment modifications by banks and other companies that service mortgages. The Treasury Department has in turn provided financial incentives to the banks. But the Treasury Department encouraged banks to start trials quickly, causing banks to make trial offers to people without fully vetting their eligibility, and ultimately letting in many homeowners who were destined to fail. After lingering for months awaiting final approval, thousands of homeowners are now being dropped from the program as banks eventually decide they don't qualify.

Lauten made the reduced payments for seven months, but was told in March that she'd been denied a permanent modification, after the bank seems to have decided her income wasn't sufficient. The difference between the regular payments and reduced payments accrued during the trial period, meaning Lauten now owes $2,200 on top of her payments, which have returned to more than $900 a month. According to a letter Wells Fargo sent Lauten, the bank gave her one month to pay back the $2,200, or else the bank would begin the foreclosure process." – Source
And without some confidence that loan modifications are going to work out, any trick or tactic to collect money from a consumer as income before that permanent loan modification is granted, if at all, in my opinion, seems to violate the spirit of loan modification fee restrictions and certainly SB 94 in California.
Here is How the Advance Fee Loan Modification is Alleged to Circumnavigate the California Advance Fee Ban
I am told by an inside source that the way around the ban on advance fees uses an escrow company to accept the funds from the consumer instead of the company taking the funds directly.
But rather than the permanent loan modification being approved, the company still takes funds quickly from the escrow account and I am told that while this skirts SB 94 some feel it looks defensible in court and feel confident this does not violate the law.
Here is how this approach is said to unfold. The consumer is sold a loan modification program that costs as much as $3,500. The consumer may pay this fee in a few installments but is encouraged to pay as much as possible in the first payment.
Rather than the escrow account sitting there for the permanent loan modification to be accomplished, the escrow account is charged for hurdles or milestones that occur quickly, typically within two weeks. For example, opening the file is a 20% charge against the original escrow account balance, calling the lender takes 20% of the escrow account, sending in the application is 20%, and it is alleged that eventually 90% of that escrow amount is gone within weeks while a permanent loan modification, if ever obtained might take six months to a year or more.
I was told that only 25% or less of consumers paying for a loan modification will actually receive a permanent loan modifcation. And when the loan modification is not obtained the consumer is eligible for the remaining 10% left in the escrow account.
Good Guys Wandering Into a Troublesome Area
While both Tom Duong and Jeffrey Cancilla, Esq. might have good intentions, in my opinion the new Provident Law Group seems to be ramping up as a marketing entity for loan modification services to circumnavigate the upfront fee ban. While the loan modification services might be approached with professionalism, the bottom line is that the vast majority of people are having their escrow accounts drained despite no reasonable expectation that a meaningful permanent loan modification will be obtained.
If consumers are gladly paying $3,500 for a 1 in 5 chance, or less, of getting a permanent loan modification and are aware of those long odds, that's one thing. But if consumers believe the investment in the loan modification services has a very likely chance of being accepted and the company knows it won't be, then that's an entirely different matter.
I emailed both Tom Duong and Jeffrey Cancilla for comments on information contained in this report. After waiting three days for a response, they have not responded by the time this article was published.
Update: June 11, 2010
I just discovered this employment advertisement that was placed by Provident.
Date: 2010-05-19, 9:54AM PDT
Reply to: job-zamgd-1748890486@craigslist.org [Errors when replying to ads?]
About us: We are a leading Nationwide Loan Modification Company that has been serving various markets throughout the country. We pride ourselves on closing sales, retaining clients, rewarding our staff and providing a strong and opportunistic platform for our associates to succeed.
What we are looking for: A success driven individual who has the skills to back it up. This position requires making several calls and for those who are go getters and hungry to make large commissions, we have the tools to allow you to see $100,000+ while working full-time. In addition, we also require these basic skills and characteristics: One year loan modification or mortgage sales experience; Full-time availability, basic computer skills, high moral ethics and the ability to work in a structured environment.
What we offer: We offer the best exclusive marketing leads, the largest commission splits, [Wouldn't this be legal fee splitting?] and a professional working environment which is unique within the industry. While you work diligently to assist our clients on a daily basis, we offer you training and support from team members who have closed hundreds of sales, a management team who genuinely cares about your career path, a competitive salary, days off, a flexible schedule to meet you challenges and a business casual dress code.
Why you should apply? Are you tired of hearing about the recession and how difficult it is to earn in this market? Are other companies luring you with flashy ads and a promise of things they cannot deliver? Are you sick and tired of letting your valuable skills go to waste, while waiting for the economy to turn? Stop waiting and seize the moment. This position has a tremendous amount of potential to grow both in terms of salary and scope.
Look at the straight facts.
Last month, we SAVED hundreds of homeowners across the nation from losing their residence and credit. You probably know at least five people who are in danger of foreclosure. Isn't it better to do something about the problem, rather than waiting for someone else to clean up the housing mess? Make a difference today in this thriving industry.
Take the first step to financial freedom and call to set up a private interview.
Don't wait any longer; call today to start working in a booming field!
Hiring Organization: PROVIDENT LAW GROUP – (949) 415-7368
Location: Irvine, CA
Compensation: 75K
Principals only. Recruiters, please don't contact this job poster.
Phone calls about this job are ok.
Please do not contact job poster about other services, products or commercial interests.
PostingID: 1748890486 – Source
I also found this person identifies himself as the Director of Legal Affairs of Provident Law Group.
Latest posts by ProPublica
(see all)