Martin Sher of AmSher Receivables Management in Birmingham, Alabama has recently made a huge step in the debt collection industry with "The Collector's Pledge".
Sher, with over 30 years experience in the credit and collection industry was named as the president of ACA International (the Association of Credit and Collection Professionals) for 2010-2011. Sher co-owns AmSher Receivables with his brother, David, and they have taken a venture to clear the name and perception of debt collectors and the industry across the board. – Source
The Sher brothers have written and enforced a vow to treat all debtors with dignity and respect called "The Collector's Pledge" within their company.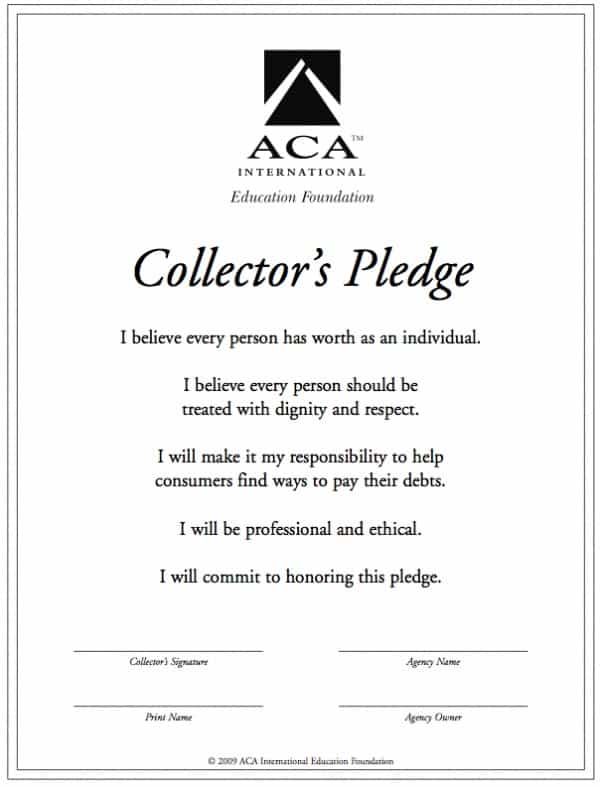 – Source
AmSher, who's website proudly claims "We won't lay a hand on anything but the telephone. Promise" was a pioneer company with this movement, being the first in the collection industry to require signatures from its employees for the pledge. The pledge, modeled after "The Birmingham Pledge" a vow to help end racism requires a signature as well.
Now, as President of ACA International, Sher plans to take this pledge to the next level and aspires to have over 150,000 signatures by the end of 2011.
Stephanie Rauterkus, an assistant professor of finance at the University of Alabama at Birmingham, thinks it will be a difficult task in improving the image of debt collectors, however believes that debt collectors can be seen as a trustworthy person in a difficult situations. "Just as citizens should trust law enforcement representatives as those who can protect and serve, consumers shouldn't live in fear of debt collectors" she commented. – Source
According to a released publication by ACA International, over 15,000 collectors have signed the pledge thus far and the movement is growing. The ACA publication states, "By taking the Pledge, individual collectors help refute the negative and untrue stereotypes often associated with the industry. At the same time, these collectors are living out the credo each day that all consumers deserve to be treated with dignity and respect." – Source
At the dawn of 2009 Sher announced and rolled out his "DebtZero Revolution" within AmSher. The revolution is a program designed to help AmSher's own debt collectors on top of their bills and make things more manageable. "The premise: If collection agents are able to manage their own debts, they can do a better job of convincing folks to repay money owed to the firm's clients." – Source
The goal is to develop a plan for each individual to get out of debt," Martin Sher said. "We will track expenses, develop a spending plan, tear up our credit cards, use cash only, start a daily savings plan, list our debts in order from smallest to largest, and pay them off one at a time until they are all paid out. – Source
It will be interesting to watch and see the progress of both movements. It brings hope that there are debt collectors out there willing to turn a new leaf, a less abrasive leaf, and want to make a positive difference and effort in the debt collection industry. Only time will tell.
While a valiant effort, it is important to remember that regardless of this pledge debt collectors already have a code of conduct enforced by the government that they must follow. If you are not familiar with the rules please familiarize yourself with the Fair Debt Collection Practices Act. If a collector is harassing or threatening you in any way shape or form, regardless of this voluntary pledge, report them and stop this action.
Latest posts by Amanda Miller
(see all)