"Dear Steve,
My 86 year old mother has always been terrible in managing money and found herself fairly deep in debt (mostly credit cards). Her only income is social security. She worked out a plan with Apex debt solutions and we thought that she was on her way to getting things paid off. Now, she has received some puzzling information and when she tried to contact Apex, she cannot get anyone on the phone.
Is Apex still in business? Who can she turn to find out the status of her account?
Bill"
Dear Bill,
That's horrible. First off, she should have never been allowed to enroll in a debt relief program. The first stop for her should have been bankruptcy.
I asked a friend to drive by the registered address of Apex Debt Solutions, Inc. in California. The address is listed as 18 Technology Dr #146, Irvine CA 92618.
The president Apex Debt Solutions is listed as Mohammad Ghafarinia.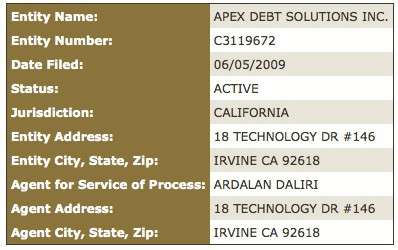 It appears that the business at that address has moved. Here is the picture my friend took for you of the sign in the window.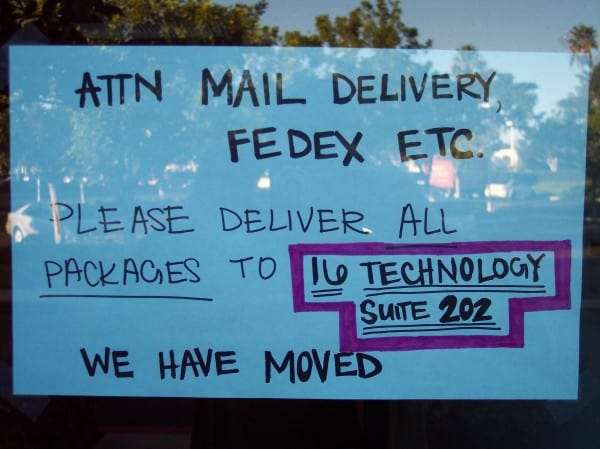 My friend stopped in at the new office and was told by the lone employee there that the company in suite 202 was just moving in and did mortgages and real estate stuff. My friend reported there were some visual clues that might connect the two entities but nothing specific was seen that said Apex Debt Solutions.
So, based on the information above and your inability for you to reach the company I would suggest that first, you help your mother to file bankruptcy.
You can click here to find a local bankruptcy attorney and if you'd like a second opinion about your situation or a personal consultation by another debt coach, please feel free to contact Damon Day.
Second, you should immediately proceed in attempting to recover your money from the corporation that is still in existence. Others have found success by following my refund process, click here.
Please post your responses and follow-up messages to me on this in the comments section below.
Latest posts by Steve Rhode
(see all)