I had heard from multiple tipster (send in your tips here)s over the past ten days about an alleged raid on one or more office in Florida related to some action against U.S. Mortgage Funding.
Here are the details of the FTC action against US Mortgage Funding, Debt Remedy Partners, LowerMyDebts.com, David Mahler, John Incandela, and Jamen Lachs that was filed on 2-8-2011.
The FTC alleges the companies included violated the Telemarketing and Consumer Fraud and Abuse Prevention Act and the Telemarketing Sales Rules.
The FTC complaint states US Mortgage Funding (USMF), Debt Remedy Partners (DRP), and LowerMyDebts.com (LMB) all sold loan modification or foreclosure relief services. It also states that David Mahler was a manager of USMF, John Incandela, Jr was a manager of LMD and USMF. Jamen Lachs is a director of USMF. And that USMF, Debt Remedy and LMD operated as a common enterprise. The companies had a common office location, common officers, directors, managers, or employees. They also are alleged to have commingled funds and "have participated in a common scheme to deceive consumers."
The FTC action alleges that since at least 2009 there has been an effort to sell loan modification and foreclosure relief services to consumers. Consumers were marketed to using direct mail and outbound telemarketing campaigns.
The sales pitch is said to have been that loan modifications will "make the consumers' mortgage substantially more affordable. It also promises to reduce monthly payments, interest rates, or convert adjustable rates to fixed."
Consumers were allegedly told that USMF representatives frequently claimed that 95% to 100% of clients received loan modifications.
Fees for services ranged from $1,500 to $2,600 and consumers were directed to pay usually half up-front. But not to worry, if a modification could not be obtained a 100% refund was promised.
The suit says that the USMF website represented that hiring them was risk-free because their loan modification and foreclosure relief services are backed by a guarantee to fully refund all fees paid by the consumer.
But the FTC claims that in "numerous instances, Defendants fail to answer or return consumers' telephone calls or provide updates." They also say, "Consumers who do not obtain loan modifications usually encounter difficulty in obtaining refunds or are refused promised refunds."
You can read the entire complaint here.
It appears the FTC acted fast and went for a temporary restraining order to freeze the assets of the Defendants', turn off the websites, and stop all marketing. It was filed on 2-9-11. – Source
A receiver was appointed and issued an initial report. – Source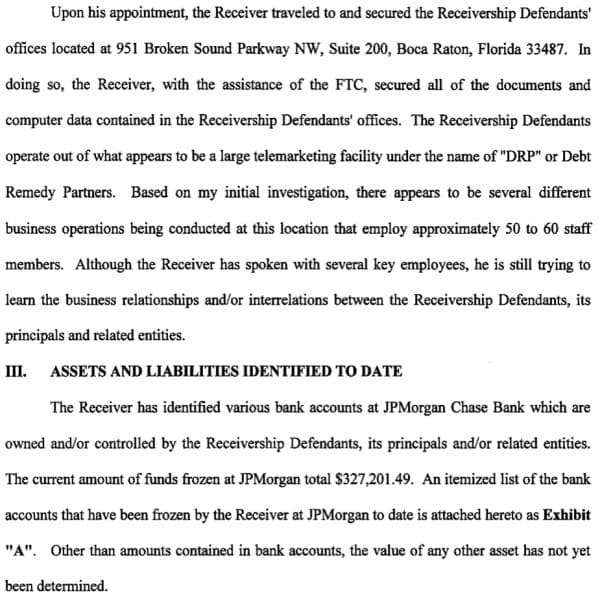 It was interesting to see some names included in that receiver report I've seen elsewhere: Accurate Reliable Marketing, Accurate Response Marketing, Blue Water, Procorp Debt Solutions, and Reliable Response Marketing.
I can always use your help. If you have a tip or information you want to share, you can get it to me confidentially if you click here.
Latest posts by Steve Rhode
(see all)