A reader sent in an email and wanted me to see the following statement by a site called NetDebt at NetDebt.com.
The issue they wanted to point out was the statement the site made.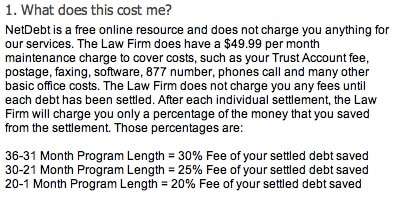 The NetDebt.com site makes other statements the solution involves a law firm but I could not find any mention on the site who the law firm is.
The site lists their address as:
NetDebt Customer Service
27651 La Paz Road Suite 100
Laguna Niguel, CA. 92677
The domain name is registered to NetDebt, LLC at:
27631 La Paz Road, Suite C
Laguna Hills, California 92677
The contact is Dan Sparks.
Daniel Sparks is also the president of HireLive.
Dan says that his role with NetDebt is not one of owner but that he is the national sales manager of NetDebt, which is part of the staffing and recruiting industry. – Source
He also says:
The Law Firm [NetDebt] work[s] with averages 40% settlement for their clients. Also has the only 100% online sign up for the industry.
So it appears NetDebt is not the actual provider of services.
The part of the website that caught my eye when I first looked at it was the savings calculator. Below you will see what was shown when I plugged in $100,000 for the amount of debt.
So in this episode of Do They Comply in which we look at a debt relief site, my question to you is are the fees charged permitted under a non-loophole model and do the statements about results comply with the FTC TSR rules on claims.
What do you think? Post your comments below and vote.
[poll id="1576″]
Sincerely,

You are not alone. I'm here to help. There is no need to suffer in silence. We can get through this. Tomorrow can be better than today. Don't give up.
Do you have a question you'd like to ask me for free? Go ahead and click here.

Latest posts by Steve Rhode
(see all)