You might have seen the commercials on television for QuiBds.com hyping iPads for $23.74 or Apple MacBook laptop for $24.15 so I thought I'd take a look at the company to see if it's something you should be careful of.
QuiBids is located in Oklahoma and search of corporate records located two companies names QuiBids, all having different registered agents.
QuiBids, LLC
Formed in August 2009.
The registered agent is listed at:
MATT BECKHAM
2200 N CLASSEN APT 2002
OKLAHOMA CITY OK 73106
The address comes back to an apartment complex. – Source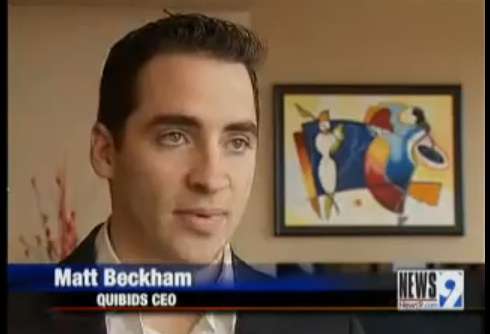 QuiBids Holdings, LLC
Registered in Oklahoma since July 2010. A Delaware corporation.
Registered agent is:
JEFF GEURTS
1601 NW EXPWY STE 1500
OKLAHOMA CITY OK 73118
Geurts is reported to be the CFO for QuiBids, LLC as well.
The address for QuiBids Holdings appears to also be used for Zenex Communications Inc. – Source
QuiBids.com now lists their current address as:
QuiBids Holdings LLC
4 NE 10th St, Suite 242
Oklahoma City, OK 73104-1402
The QuiBids address comes back to a UPS store according to Google.
According to the BBB QuiBids.com has been an accredited business since 9/22/2010 and in the past 12 months has received 361 complaints. The BBB reports:
Of the complaints processed by the BBB since opening its file on QuiBids, nearly all of the disputes result from misunderstandings concerning the site's "bid to buy" policies that could have been avoided if the bidders had read and understood the auction site's design and policies. The BBB urges consumers to read and understand all of the site's policies before becoming involved with an auction or purchasing bids. Consumers should also understand that the times reported by the site during the auction and real time may not match, especially at the close of an auction; this is not a deceptive action on the part of the site, but rather a function of computer software that may create apparent delays in processing information across the internet. Such delays may be caused by anything from the company's servers to the consumer's own online connection and computer's abilities and do not necessarily mean that the company is cheating the public.

The Better Business Bureau has processed a number of complaints from consumers questioning a $60.00 debit charged to their accounts after signing up for the company's services. On the same web page in which users enter credit or debit card data, the sign-up form shows three times that the initial starter package includes $60 of bids. By completing the sign-up form, the user is purchasing those bids and whatever card is listed is authorized to be debited that amount. It should be noted that, also displayed on the same page is a "100% guarantee" promising satisfaction with the website and its services. Prospective users are encouraged to read and understand any company's policies and guarantees prior to signing up for services or surrendering personal banking information. – Source
So it appears people didn't pay attention to the terms and conditions. The odd thing about the BBB statement above is that it does not sound as if it was written by the BBB but supplied to them. A little too much of a spin if you ask me.
The QuiBids.com lists the following testimonials. – Source. I thought I'd examine them more;
The first testimonial attributed to Wired magazine is not representative of the actual article. Here are excerpts from the actual article.
They are a combination of bingo night, the Home Shopping Network and a slot machine addiction. For most players, the payoff isn't nearly as good as the promise — and, for the site owners, it's not even a particularly good business to be in. So what's the appeal of penny-auction sites? To anyone?

For buyers, maybe it's the promise of getting name-brand merchandise for a song, with a little of that game-show-like buzzer-beating thrill tossed in. For the site owners, maybe it's a steady income — if you can come up with what can be pretty hefty startup costs and then fight off the trolls and the (sometimes unfair) competition.

It's a tough business — at least one site whose owner spoke to Wired.com went under before this story was published — more of a low-paying job than part of the glitzy web 2.0 startup entrepreneur game that gets all the headlines.

In a penny auction, site owners control the items up for bids. Just like a traditional offline auction, bids prolong the action by anything from 10 seconds to two minutes. But unlike other auctions, penny auction bids cost money — before you can bid, you must buy what amounts to 50 to 100 times the one-penny increment each bid represents.

And that's where this business model gets its juice: An unsold item whose current high bid is $5 has already lined the pocket of the site owner by as much as $500, but you could win that item for a single "penny" bid that's really as much as $1 — but no more.

That's the value proposition, anyway. Like those essay contests where a $25 entry free can get you a house, the lure is getting something whose value is indisputable for pennies on the dollar. And, like with those one-armed bandits, a lot more of your coins are likely to go in than you ever get out.

"Without a doubt, this is controlled gambling," says Gary Fowler, a big bidder on penny-auction sites.

Meet Gary Fowler — an energy consultant who works from home. At the time that Wired.com spoke with him, he claimed to have won $39,000 worth of retail on these sites, having spent $18,000 to get it. He sent me the spreadsheet of all of his successful bids. It's four pages long, and compares the total cost including bids and shipping against the retail value for every conquest. [Note: Nothing in the Wired story says Fowler's quote was about QuiBids.]

The success of a winning strategy like Gary's depends on less aggressive bidders chipping in earlier and driving up the price of an item. Gary's like a top predator on the food chain, feeding off the phytoplankton on up through the small-mammal-level bidders. The system can only support so many big winners. – Source, Source
The testimonial attributed to the New York Times comes from a story that appeared August 16, 2009, just ten days after QuiBids, LLC registered to begin business.
In fact the New York Times article is not about QuiBids at all. It is in fact about an entirely different company, Swoopo in Germany.
Here are excerpts from that article.
Remember the testimonial QuiBids uses is "The auctions are fun and challenging while offering the possibility of a killer deal."
The complicated machinations behind Swoopo and its online imitators are drawing attention from critics who say they prey on human foibles, like the tendency of people to overlook the small increments of money they spend to pursue alluring discounts.

These critics also say that players face long odds in Swoopo's auctions, where they must compete against people in the United States, Britain and Germany. And they say that Swoopo is making a nice profit on each item when all the bidding fees are tallied.

Competing bidders spent a cumulative $2,337 in their losing effort to buy the $1,498 refrigerator, for example.

"In aggregate, consumers trying to obtain these products are overpaying," said Glen Whitney, a mathematician and a former quantitative analyst at the hedge fund Renaissance Technologies, who was asked to evaluate Swoopo. "Unless you have an edge over other people who are bidding, and you can get them to subsidize your purchase, you shouldn't do it. It's a chump's game."

Executives at Entertainment Shopping, the German company that runs Swoopo, counter that the auctions are fun and challenging while offering the possibility of a killer deal. [Note: The testimonial statement was not praise about QuiBids but a rebuttal statement by a different provider.]

There is no possibility that users can "snipe" an auction at the last moment, because a few seconds are added to the clock with every new bid.

That, incidentally, creates the impression of Swoopo auctions that are about to end but last for hours more, a feature of the site that critics say is subtly misleading.

In that regard, the company behind Swoopo is not taking chances, retaining a well-known gambling lawyer, Anthony Cabot of the Las Vegas law firm of Lewis and Roca, as an adviser. "Lotteries are games of chance, and an auction does not have what you would call any systematic chance, a random event that determines the winner," Mr. Cabot said in an interview.

I. Nelson Rose, a consultant to the gambling industry and professor at Whittier Law School, said federal regulators would probably evaluate Swoopo and its ilk not as games of skill or luck, but as auction sites. In that respect, he said, the law on the topic is somewhat of a gray area.

"It turns out the idea of paying for bids does not seem to be specifically allowed by states, as it is in most of Europe," Professor Rose said. "But it doesn't seem to be explicitly prohibited either." – Source
The Testimonial attributed to the BBC says "Successful bidders can win anything from a television to a car or a cash sum for a fraction of its real cost."
But let's see what the BBC article was really about.
Penny web auctions under scrutiny

The sites auction new items, often for a fraction of their retail price, and bidders pay up to £1.50 for each bid.

Professor Mark Griffiths of Nottingham Trent University believes the Gambling Commission "should look into this".

"I think bidding on penny auction sites is akin to a gambling-like experience," Professor Griffiths said.

"Obviously, when people are bidding again and again and again and they don't actually win the item in the end, that's very much like gambling."

Unlike eBay, where you can bid for free, users have to pay between 40 pence and £1.50 to place a bid. Bids automatically rise by 1p at a time, and some people make repeated bids.

Tony Northcott of the Trading Standards Institute believes some people may spend more than they realise on bids.

"My concern about these online penny auction sites is that people will bid for goods and not realise at the end of the day they may spend quite a large amount of money," he said.

The Gambling Commission said it could not comment on individual sites and was not convinced that penny auctions amounted to gambling. – Source
What I found interesting was similar testimonials were used by another site I landed on BidCactus.com. – Source
Interestingly BidCactus.com even uses the same YouTube video QuiBids.com does on their site. Coincidence?
BidCactus, LLC is owned by Marjorie Almansi and is located in Connecticut.
QuiBids Terms and Conditions
I did take a look at the QuiBids terms and conditions and found the following interesting items. – Source
QuiBids reserves the right to limit in its sole discretion the number of user accounts per household and the number of won auctions per user account.
A single user account may only win or be winning a maximum of three (3) auctions per 24-hour period. A user account may win only one of the same item with a value price greater than $285 in value during a 28-day period and may win only one item with a value price equal to or greater than $1,000 during a 28-day period.
A maximum of 20 seconds will be added to the timer and one bid will be deducted from Your account with each bid placed. An auction ends when the timer on the QuiBids server(s) hits zero. The winner of an auction is the last bidder the database recorded before the timer on the QuiBids server(s) hit zero.
QuiBids attempts to limit some auctions to participants of comparable skill, as determined by QuiBids, to enhance user experience and maintain a viable business model. In so doing, QuiBids may limit which auctions are available to particular users based on any factors deemed appropriate by QuiBids in its sole discretion, including experience of the user, historical success of the user, demographic factors, prior bidding and spending activity, and other factors. In particular, QuiBids may limit certain auctions to less experienced or successful users in any manner QuiBids deems appropriate to optimize the overall user experience of all QuiBids users. You acknowledge that You may be, and You consent to being, excluded from auctions at QuiBids discretion.
By agreeing to these Terms & Conditions, You and QuiBids each waive the right to a jury trial or to participate in a class action.
Is QuiBids a Scam?
I'm not certain I'd go so far as to call QuiBids a scam but it definitely appears to be a scheme setup to entice or addict consumers into spending more than they might otherwise. The constant 10 second countdowns and action of the bid can keep people bidding and bidding again for sixty cents a pop.
While there are success stories of people who have come out ahead, you will notice they seem to have a common thread of focus, research and discipline. But even then, according to the QuiBids terms and conditions they could elect to prevent a winner from winning or participating with additional bids.
Unlike auction sites where there is a seller and a buyer that agree on a price, QuiBids is the seller of the item and makes money by generating a flurry of bids. The deal looks too good to pass up so the consumer keeps on bidding on it. The transaction fees that QuiBids makes at sixty cents a bid can easily add up to many times the retail value of the product, thus resulting in many losers of an item paying money not to win, but to lose.
A losing bidder on site like eBay is out nothing if they lose. A losing bidder on QuiBids is out money for every single losing bid they made. That's a big a significant difference in the way these models work.
There is no easy answer for the question if QuiBids is a scam. It certainly does not feel like a scam for the person that bids a little bit and wins, but since the QuiBids terms and conditions say they can manipulate the auctions and restrict access to some auctions based on bidding or winning history, it seems clear the QuiBids purchasing process can be manipulated for their profit.
There are a few areas that concern me.
There is talk of having to pay $60 to join or buy bid credits. Unfortunately I could not easily find this information on the QuiBids and it was not in the terms and conditions. It appears the only way to find this out is to give up your person information on the registration form first to go to the next step.

The matter of the testimonials bothers me. The testimonials are not about the QuiBids site and are taken out of context. In their current presentation I'd have to say they are deceptive and misleading. That's not something I'd consider a leading company would either do or condone.

And then there is the issue of the Time magazine featured to entice users. If you read the actual article it says: "Before you can participate in an online penny auction — which I'm going to urge you, right here at the top of the story, not to do — you have to buy a pack of bids." – Source

It would be very easy for someone to get sucked into the bidding process and if they were impulsive or uneducated about the process they could easily spend a lot of dollars bidding only to never win.
And what about the BBB complaints, BBB suspicious review, and the 75+ unhappy consumers on RipOffReport.com. People who complained there had some common themes. Some might say those numbers are small based on the alleged size of traffic using QuiBids but it appears the complaints are coming fast and furious.
You would think that if consumers are so confused by the $60 initial fee or bid packs that QuiBids would work hard to change the process to avoid that from happening. But it does not appear that is the case. instead the approach appears to be to minimize the unhappy people as collateral damage in order to continue the same flawed approach.
In fact here is a typical QuiBids customer service response.
I can assure you we are not a scam. We pride ourselves in our ethical business practices and are proud of the fact that we have been accredited by the BBB since September of 2010.

If you purchased a bid pack then yes, we would charge your credit card (that $60). This is made very apparent on the page where one puts in their credit card. It's free to sign up, but when you put in a credit card number to make a purchase, we indeed charge.
Here are some examples of common consumers complaints.
I created an account with QuiBids, entering my debit card information because QuiBids offered a promo for new customers of free bids. I signed in and bid on a $10.00 card for Shell, which I won for $2.50. The next day when I checked my bank account, QuiBids was not only charging me the cost of the gas card which was $2.50 but also $60.00. – Source
To get your trust and lure you to spending big they give a few small beginers prizes when you join. – Source
I would watch live bids for a long time (1/2 to 2-1/2 hours) and it started to occur to me that I would watch these bids for a long time.. click off to look at something else and they would just "happen" to sell in the short time I went off the auction. At first I thought it was just my bad luck but I started watching auctions for different amounts of time.. different categories of auctions etc and it was always the same. – Source
But the complaints against QuiBids don't end there. As I write this there are four federal court lawsuits against the company. I have no idea how many there are in state courts.
[Class Action] THERESA BRYANT, JILL MANNING, SUSAN SNYDER, DIANE ELLIOTT, individually and for the benefit of others, Plaintiffs, v. ENTERTAINMENT SHOPPING, INC. doing business as Swoopo.com and oohilove.com, a California Corp.; BIDCACTUS LLC, a Delaware limited liability company; QUIBIDS LLC, a foreign limited liability company; BEEZID, INC. d/b/a Beezid.com, a Canadian Corp., PROJECT FAIR BID, INC., d/b/a BigDeal.com, a Delaware Corp.,

The complaint states:

This action alleges that Defendants operate illegal Internet gambling websites, by permitting persons to play games of chance for money and/or make a wager upon the result of a game or contest. Defendants operate what is known as "Penny Auctions" websites. Penny auctions first began operation in Europe in 2005 by the parent company of Defendant Entertainment Shopping, Inc. (Entertainment Shopping, AG). Defendant Entertainment Shopping, Inc., launched the first penny auctions in the United States in 2008 under the name of Swoopo.com. Each of the other Defendants copied Entertainment Shopping's penny auction business model and they all have almost identical rules and website designs. The basic features of Defendants penny auctions are that, in order to bid on merchandise, a player must first pay an entry fee by purchasing bid packs ranging in price from $20 to more than $500. Unlike a normal auction, in order to place bids on the merchandise for the chance to win, a player must pay the Defendants a bidding fee of $.60 to one dollar for each bid, (depending on the Defendants' rules). The winner of the auction is not the highest bid, but rather, the last bid when time runs out. In addition, unlike a normal auction, each bid only increases the price of the merchandise by a penny, hence the name "penny auction". Each auction usually starts at $.00 and 15 to 30 seconds is added to the clock with each bid. Every time contestants bid they are playing a game of chance hoping that time will run out before another player bids. Defendants make their money by charging the entry fee and retaining the money from each failed bid. Defendants' auctions are illegal gambling because, among other things, they charge consideration for a chance to win a prize.

Defendants conduct of charging consideration for the chance to win prizes (or something of value), violates all 50 state laws prohibiting unauthorized gambling. For purposes of this lawsuit, the particular laws prohibiting gambling that Plaintiffs allege Defendants violate are described in the state of Illinois criminal statutes, 720 ILCS 5/28, et. seq.; Georgia Criminal Code, § 16-12 et. seq.; Massachusetts General Laws Chapter 271, et. seq.; the New Jersey Code of Criminal Justice Chapter 37, et. seq.; and the Ohio Revised Code Chapter 2915 et. seq. – Source

[Class Action] LAWRENCE A. LOCKE, individually and on behalf of all others similarly situated v. QUIBIDS, LLC,

This lawsuit states:

Under the auction system set up by QuiBids, most consumers using the site will not win the majority of auctions for low ticket items on which they bid and will rarely, if ever, win auctions of high ticket items. Given this, and given that each losing attempt to win an action costs the consumer money (because each bid costs $.60), QuiBids.com functionally constitutes something more like a gambling website than an auction website. Consumers spend money to place bets in the hopes of winning a prize – a consumer product at a significant discount. As is true with traditional gambling, the overwhelming majority of customers who use QuiBids.com will lose money doing so; that is, the total amount they spend between purchasing bids, paying for items in auctions they win and paying for any items they purchase using the "Buy It Now" feature (explained below) will exceed the retail value as stated on QuiBids.com of the items they receive, if any.

QuiBids' failure to disclose the fact that the overwhelming majority of customers will lose money by using the site and the percentage of money returned constitutes violations of the Oklahoma Consumer Protection Act and common law fraud by omission under Oklahoma law. Plaintiff seeks to represent a class of all persons who lost money using QuiBids.com; that is, a class of all customers for whom the total amount spent between purchasing bids, paying for any auction items won and paying for items purchased using the "Buy It Now" feature exceeded the retail values as stated on QuiBids.com of the items they received, if any. – Source
In a Rather Bizarre Twist of Events
I was shocked when this story managed to suck in Intermark Communications and Copec, Tim McCallan companies.
In July of 2010 Alberta Ltd, doing business as Terra Marketing Group sued Matt Beckham personally, QuiBids and Intermark Communications / Copec.
The allegation in the lawsuit is that Beckham engaged in a "national campaign of false advertising involving completely fabricated news stories, fake customer testimonials and the wrongful misappropriate of the images of a French television news anchor.
Claims similar to these landed Intermark Communications it hot water with the FTC for false marketing using fake news sites for acai berry products. You can read about that here.
The complaint goes on to say:
On information and belief, Defendant QUIBIDS, LLC ("QuiBids") is a limited liability corporation organized and existing under the laws of the State of Oklahoma, and maintains its principal place of business in Oklahoma City, Oklahoma. QuiBids is the registrant and owner of the domain names QuiBids.com and ConsumerTipsDigest.org. Upon information and belief, QuiBids is also the creator, owner, administrator, and/or other party responsible for the creation and/or maintenance of a Facebook group entitled "Swipebids.com-is-a-Bloody- SCAM," in which group defamatory statements, discussions, and other postings regarding SwipeBids.com have been posted.

Defendants have engaged in a variety of wrongful misconduct. First, Defendants signed up as an "affiliate publisher" with COPEAC, which is an advertising vendor of Plaintiff. Defendants used this special access through COPEAC in order to steal copyrighted material from Plaintiff. Thereafter, Defendants created virtually identical copies of Plaintiff's copyrighted materials and used them as the primary marketing materials for Defendants, generating hundreds of thousands if not millions of dollars from such stolen copyrighted materials. Defendants committed these acts over and over again for a number of months without Plaintiff becoming aware of them until shortly before the filing of this Complaint. Copies of Plaintiff's copyrighted materials in side-by-side comparison with those copies created therefrom by Defendants are attached hereto for the sake of illustration as Exhibit A.

Second, Defendants have engaged in a sophisticated campaign of false advertising using a variety of methods. Defendants have and currently are marketing their product through the use of a fake blog that purports to be a consumer protection/awareness blog created by an investigative reporter; however, the blog is, on information and belief, entirely fake and a mere shill site for Defendants. The creation, maintenance, and operation of such fake blogs are hallmarks of fraudulent marketing. Defendants have routinely engaged in those activities; conversely, Plaintiff has never owned, operated, or created any fake blogs. As with Defendants' misappropriation of Plaintiff's intellectual property, Defendants' false advertising continued for months before Plaintiff became aware of it.

Defendants have also engaged in a massive national advertising campaign using advertisements containing Mélissa Theuriau, a news anchor from a prominent French television station, who is portrayed by Defendants in the advertisements as having "investigated" and approved or sponsored Defendants' products. On information and belief, these statements are false, and Defendants do not have permission to use Ms. Theuriau's image.

On information and belief, Defendants, despite that fact that they are direct competitors with Plaintiff, proceeded to promote Plaintiff's product, SwipeBids.com, with a fake blog created by Defendants, which included fake customer testimonials, fake user comments and the unauthorized use of photographs of people whom Defendants purport to be news reporters. As a result of Defendants' promotion of Plaintiff's products, at least 1469 clicks and 54 sales were generated. This misconduct not only was in violation of Defendants' contract with COPEAC, which prohibits the use of their system for unlawful reasons, but the misconduct was, at its core, highly deceptive and fraudulent marketing that violated a variety of state and federal laws, subjecting Plaintiff to potential liability to third parties.

Defendants engaged, and continue to engage, in a significant amount of marketing that is not just false but virtually completely fabricated. As background, Defendant Beckham has a long history before his work with Defendant QuiBids in promoting products with fabricated, or "fake," blogs, in the realm of acai berry products and other weight loss products. For example, he, on information and belief, created the fake blogs that were formerly located at and to promote weight loss products, and these, and his other blogs, were complete fabrications, containing fake names, fake testimonials, fake user comments and using photographs of people without authorization (or using stock photography and passing it off as the fake person created in the blog). Defendant Beckham used these same unlawful techniques to create the marketing materials for Defendant QuiBids.

Specifically, Defendants, in their marketing materials, have used two photographs of women claiming that they are news reporters reporting, or who have reported, about the QuiBids product and its supposed success. The use of both pictures is highly deceptive. First, Defendants use a picture of a woman appearing to be a reporter on a newsroom set, with the word, "Featured," above her head, and the words, "Investigating QuiBids.com – A new auction site on the web," next to the photograph. The photograph and the words clearly convey the idea that she a real news reporter, working for an actual news outlet, who has investigated and/or reported about the QuiBids product.

However, this is false. In fact, the photograph is of a French journalist and anchor for the French channel M6, Mélissa Theuriau, who, on information and belief, has never reported on QuiBids, nor has she ever mentioned QuiBids in any sort of media, video, print, web or otherwise. On information and belief, Defendants stole this photograph from this web page, containing many photographs of Ms. Theuriau, including the one stolen by Defendants: http://www.yousaytoo.com/Anwar/the-worst-most-beautiful-news-reporter/8845.

The second deceptive use of a photograph of a purported female reporter involves a picture of a woman holding a microphone with the caption, "Julie's our Consumer Tips Investigator Reporting on New Shopping Trends." The photograph and caption clearly convey the message that there is a reporter who works for the website "Consumer Tips Digest" named Julie, and that she, an investigative reporter, is involved in the publication of a purported consumer protection/consumer awareness website. This is all false. The photograph is a stock photograph licensed from the website, www.istockphoto.com, and, on information and belief, her name is not Julie, and she does not work for the "Consumer Tips Digest" website. Below are the photo from Defendants' website and a photo from the stock photography website.

In addition to making false statements about real news reporters "investigating" or "reporting" on QuiBids, Defendants filled their fake blogs with fake testimonials and fake user comments. Comparing Defendants' two fake blog websites at http://www.consumertipsdigest.org/penny_auctions/vt/index.php and at http://www.consumertipsdigest.org/penny_auctions/as/index2.php, it is clear that Defendants fabricated customer testimonials and user comments, based on how Defendants changed the customer names and photographs, as well as changed the user names in the user comments sections, for each of their two fake blogs. Thus, it is clear that certain customer testimonials and user comments are fabricated; further, on information and belief, other testimonials and user comments –perhaps all of them—are fake.

Interestingly, Defendants have stated to the public that, "All our testimonials are real people who use and received their products from us [QuiBids]." (Posted on complaintsboard.com by admitted employee of QuiBids). This is itself another instance of false advertising because, as stated and illustrated above, it is clear that Defendants have fabricated customer testimonials and user comments in their marketing.

Defendants did not limit their false advertising to fake blogs. In fact, Defendants have flooded the Internet with numerous versions of advertisements that fraudulently feature Mélissa Theuriau. As with the use of Ms. Theuriau's image on Defendants' fake blog websites, it is highly doubtful that Ms. Theuriau has any idea that her image has been hijacked by Defendants and used to hawk laptops, iPads, cameras and many other products on advertisements being run on hundreds if not thousands of websites all over the Internet. Some of examples of just two of the many versions of Defendants' fraudulent advertising are below:
List of documents in this suit:
QuiBids Fake News Site
The lawsuit above make the claim that QuiBids was using fake news sites to promote the QuiBids site. Surprisingly during my research for this story I came across a fake news site to promote QuiBids.
And when you clicked on the links in the fake stories they did indeed take me to the QuiBids.com site.
The fake news site at usaconsumerreviews.com sites on a server with the following sites on it:
24reports.com
5reports.com
americanaidpackage.com
americaneducationaid.com
bid-reviews.com
browserdownloads.org
cashforgoldexposed.com
colossalcoupon.com
consumerauctionreviews.com
consumerreport6.com
dailywrinkledeals.com
dianeswrinklecure.com
dinasdiet.com
downloadfree-screensavers.com
dropmydebt.com
findmoneynewsletter.com
free-e-cards.com
goat.com
healthnews11.com
healthnews17.com
home-reno-pro.com
ipennies.net
jennys-dieting-blog.com
modern-shopper.com
my-diet-story.com
myfreecoupons.org
mymsndownload.com
myowndietblog.com
newdailyherald.com
news6alerts.com
news6reports.com
pornstar-secret.com
qbidreg.com
section8housinginfo.com
socialquizcenter.com
socialquizpanel.com
stimulusrecoveryplan.net
sx-mag.com
thebidwatch.com
usa-consumer.com
usaconsumerreviews.com
usadealreviews.com
The server that hosts this fake news site promoting QuiBids and the other sites above is located in the Bahamas.
You may notice some similarities between some of the domain names above and the ones linked to Beckham in the lawsuit (shirleysdietjournal.com and abbysdietjournal.com).
shirleysdietjournal.com was owned by Matt Beckham (source) and it is now owened by QuiBids (source). And a look back at the site does indeed show it was used to sell acai berry supplements and colon cleanser at least a couple of weeks before QuiBids.com was the name server for the site. – Source, Source
The website, bidreviews.com, lists QuiBids as the best penny auction bid site. I suspect the site is rigged. – Source
Another fake news site on the server actually still uses the fake news reporter on their page. Links go to QuiBids.com. – Source
An Interesting Video of Matt Beckham
Here is a video of Matt Beckham pitching QuiBids at what sounds like a bar.
This slide from the video below caught my eye because it lays out the business plan of QuiBids to make a profit from the bidding on products.
Conclusion
So my bottom line is that if I can't call QuiBids a scam I'd certainly feel comfortable saying it appears to be manipulative and some parts of what they present to consumers could be viewed as deceptive or intentionally vague.
The bottom line that I can't get past is that while there is one winner that might get the product at a low price, the trail of losers who are out cash is what makes the company profit.
My vote; save your money and stay away.
Sincerely,
You are not alone. I'm here to help. There is no need to suffer in silence. We can get through this. Tomorrow can be better than today. Don't give up.
Do you have a question you'd like to ask me for free? Go ahead and click here.
Latest posts by Steve Rhode
(see all)