A catalog is being sent out for Mason Easy Pay. It advertises hats and footwear at easy monthly payment prices. Buy Now, Pay Later the catalog says on the cover.
Anytime I see something mailed to the masses with a "Pre-Approved" message of pay later my radar typically goes up.
I thought I'd take a closer look at this financing offer to see what was up with it.
The premise is that Mason Easy Pay sells primarily footwear to consumers and extends financing to them to allow consumers to purchase footwear goods now and make monthly payment towards the credit extended.
The catalog features items that are mostly less than $20 a month. Products include all types of shoes for me and women.
Mason Easy-Pay Financing
Let's take a look at the Mason-Easy-Pay financing details provided in the catalog.
The cover page reinforces the no money down and approved easy credit.
Rather than a fixed percentage of the balance due per month, the terms show how the minimum monthly payment is calculated based on the range of the balance.

As the balance decreases the monthly minimum payment becomes a larger percentage of the balance. Actually this works out slightly better for consumers than a credit card does since the monthly payments remain higher and thus pay off the debt faster.
According to the terms, the offers are being mailed by pre-screening people against Equifax and the sending offers for credit.
You can see that payments not only have a due date, but a due time as well. All payments are due by 5 p.m. on the due date.
There is a $20 charge for each returned check.
Unlike a credit card company, the Mason Easy-Pay late fees are determined on a state by state basis. There is a very detailed description of what the charges would be in each state.
The is no charge for going over-the-limit.
The interest rates are not all that horrible or out of line with many credit cards. In fact the rate in Arkansas is really good. Generally the interest rate is in the 20% range. They do a good job of laying out the rates by state in their table of terms.
Mason Easy-Pay Products
I expected the price of the products offered by Mason Easy-Pay to be much higher than available elsewhere. And while it is true that will a bit of careful searching and price shopping, you can save some money on the rates. It actually was not as radically different that what Mason Easy-Pay was selling the products for.
Let's take the Stacy Adams Men's Wool Felt Hat. It's not often I see a catalog selling a wool felt hat so it caught my eye.
The best price I could find for the hat was about $39.99 at J.C. Penny.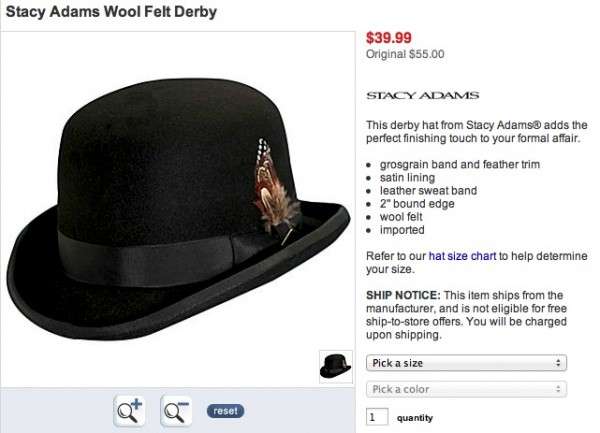 I found the hat to be listed as high as $89.90 on eBay.
The Mason Easy-pay price was $49.95.
Overall, for an offer targeted as a buy now, pay later scheme I found the terms to not be grossly unfriendly and fairly straightforward.
Even the return policy was pretty good.
Customer satisfaction is our #1 priority at Mason Easy-Pay. If you are not completely satisfied with your purchase, please send your item(s) back to us within 120 days and we'll promptly handle your refund or exchange. Returned items must be in their original and unworn condition. (Sorry, shipping and processing charges are non-refundable.)
Mason Easy-Pay is actually part Mason Companies, Inc. out of Wisconsin. The sister trading lines are Auditions, E.T. Wright, K. Jordan Apparel, Maryland Square, Masseys, ShoeMall, and Wissota Trader.
As long as you are aware of the interest that will be charged on the purchase and the terms offered and your choice is between putting this on a higher priced credit card with less friendly rates, it seems the Mason Easy-Pay terms and offers are reasonable.
Sincerly,

You are not alone. I'm here to help. There is no need to suffer in silence. We can get through this. Tomorrow can be better than today. Don't give up.
Latest posts by Steve Rhode
(see all)