For some reason, it appears NoteWorld is changing their name to Meracord on January 9, 2012.
You may wonder, what does Meracord mean? According to the document a tipster (send in your tips here) sent me, "It is associated with the words "merit" and "accord" and represents NoteWorld's passion for integrity and honor. It embodies NoteWorld's philosophy of providing services that reflect trust, expertise and honor."
As of November 12, 2011 the domain name for Meracord.com was registered to NoteWorld, LLC.
NoteWorld says the name change is due to the fact, "NoteWorld has expanded their services so they can process payments in any market or industry."
You may be wondering if this means NoteWorld is leaving the debt settlement industry. "NoteWorld is not leaving the debt settlement industry. They will continue to provide the valuable service of accurately and efficiently processing your payments and protecting your hard-earned money. They are also currently setting up new clients and will continue to do so."
Meracord is said to be the same company as NoteWorld, LLC with the same owner, employees and telephone numbers. I did a search of the Washington Secretary of State records and there was no separate entry for Meracord.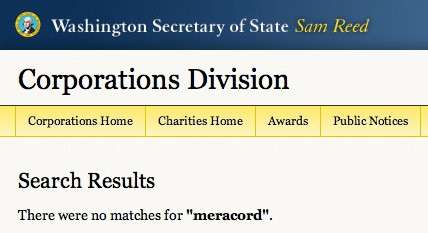 As of the date of the change of name you will still be able to access noteworldreporter.com information by going to my promise.meracord.com and email addresses will change from @noteworld.com to @meracord.com. – Source
If you try to visit Meracord.com right now all you get is:
I think what we are witnessing is rebranding at its finest.
It appears this has been in the works for some time. NoteWorld, LLC applied for the Meracord trademark on August 9, 2011. – Source
Sincerely,

You are not alone. I'm here to help. There is no need to suffer in silence. We can get through this. Tomorrow can be better than today. Don't give up.
Do you have a question you'd like to ask me for free? Go ahead and click here.
I can always use your help. If you have a tip or information you want to share, you can get it to me confidentially if you click here.

Latest posts by Steve Rhode
(see all)