"Dear Steve,
I have several loans that I wish to modify in California … five (5) in total, equaling $3.2 Million in debt. So… I have been following this loan modification industry very carefully. Thank you for being the watch dog for us consumers.
I was watching & remotely considering Mitchel Stein or Philip Kramer until they got raided.
I also read your article about Precision Law Center at:
https://getoutofdebt.org//29591/avoid-precision-law-center-appears-to-be-intentionally-misleading-people
I had been in touch with a Mr. Joe Longo, Legal Branch Manager of Precision Law Center about 6 months ago, who pitched me for a package deal of 4 loans for about $4K each, discounted from $5,500 each (way cheaper than Stein or Kramer at $8K to $10K). PLC wanted a voided check and an agreement to make monthly draws for payments. I declined as I'm current on all my loans and told Mr. Longo, that I wanted to see how things shake out with Ronald v. B of A, and I felt there was no need for me to rush in. Thank goodness, I waited! Then the "Raids" happened.
Then, I spoke with Mr.Longo today and he informed me of the following:
They converted all tort cases in Mass joinder to single cases
PLC does not do any more Mass Joinder cases
In my case there will be no litigation, but restructuring of my loans, through audits, demands, alleged fraud by my lenders (2 loans with Countrywide (CW), now B of A and 2 loans with WaMu (WM), now Chase, all First T.D.'s)
These loans will be modified with ease as in the case of CW and WM, the fraud is always there.
Results will be obtained in 90 days or less.
Many clients have already obtained 80% of FMV (fair market value) at anywhere from 2.0 to 3.8% interest for the life of the loan.
Many clients have gained principals reductions of $100, $200 to $250K. These reductions are conditional by the lender in return for continued uninterrupted payments from the borrower. Case in point that one client was promised $87K per year in principal reductions for 3 years, if her payments continued.
I have a 5th loan, a 2nd T.D. It's on my primary residence. Longo stated that it could be potentially wiped out. He's not the first to tell me that. Anthony Kassas' law office said that as well.
Longo stated the the State Bar and the Attorney General's office have given PLC their blessings.
That their fees are now less, because the Banks are cooperating without the need of litigation…. $1,995.00 for each first t.d; $900 for the 2nd T.D.
There's no need to sign a legal retainer agreement.
Everything is sent now, by digital PDF files, no faxing etc…
The appraisals are performed by the banks. And, many times the Banks appraisals are less than theirs (surprisingly)!!!
My total payments are $13,852.47 per month, and Mr. Longo felt he might get the payments trimmed down by $3,000 per month! Although, he would not get specific regarding, the potential for principal reductions on the First T. D.'s
I told Mr. Longo I'd start him on one property and based on how he performs, give him the others one at a time.
Then Longo sent me, the package from "myshomesupport.org." (pls. refer below … there are attachments… please read). Mr. Longo spoke so matter of factually about the numerous deals they were restructuring and the terms, they were supposedly getting from the lenders seemed great and the price is now cheaper at $2k vs. $4K….. so it all now sounds pretty enticing. Also, with the State Attorney General on everyone's asses, I feel that now may be the time to get going. I.E., it's probably way safer now to deal with these guys, than it was 8 months ago!
Even so, I'm now thoroughly ambivalent… especially, after reading your web link above. What do you know of Mr. Longo or of this new process (PLC?) is engaged in? I checked for reviews and couldn't find much. It's a fairly new concern from what I can tell. The physical addresses are different from PLC and myshomesupport.org. Longo told me lawyers prepare the packages and the demands. Should I know who these lawyers are?
I read somewhere never give an in-taker money, only sign with the lawyer. I told Longo I wanted to sign a contract with the lawyers, but, Longo said that they aren't doing business that way any longer, since there's no litigation and no retainer agreement to sign.
The in-takers for the law firms are all shut down now, aren't they? Wasn't that ruled illegal, by the State Attorney General's Office in California? Can "myshomesupport.org" be considered an in-taker?
Should I forward your web link above to Mr. Longo, and see how he reacts? What questions should I be asking?
A friend of mine suggested that I call the State Attorney General's Office for a referral. What do I do? I realize that I most probably can get all my loans restructured, but I just don't know the best way to go about it, especially without getting burned!
Your comments and insights would be greatly appreciated.
If you'd like I can forward all emails between Mr. Longo and myself to you. Let me know….
PS. My loans are all "investor" loans on apartment buildings, except my primary residence is a 4-plex. (So, the 1st & 2nd there are owner occupied).
Two of the loans, were commercial loans. What do you know of "mods" being granted on "investor loans" on commercial paper, especially, when I've never missed a payment and have a very high FICO score? Longo doesn't see it as a problem, and states they are getting results, even in this type of scenario."
Thank you for providing all the details.
There are a number of issues here that concern me. I have forwarded this article on to the the State Bar of California and State of California for them to review to support the claims made to you by Joe Longo that both the Bar and Attorney General's office have "have given PLC their blessings."
I also did a search to see if the company is a registered loan modification consultant and according to the Attorney General's website there is no listing as a registered mortgage consultant for My Home Support, MyHomeSupport.org, 'Longo, Joe' or Joe Longo.
The Attorney General site says:
After July 1, 2009, with certain limited exceptions, it is illegal to operate as a mortgage foreclosure consultant in California unless the foreclosure consultant has obtained from the Department of Justice a Certificate of Registration as a Mortgage Foreclosure Consultant. In order to obtain the Certificate of Registration required by California Civil Code section 2945.45, a foreclosure consultant must complete the application and provide all required documents to the Department of Justice. – Source
I'm not going to go much deeper here until the above issues raised can be satisfactorily answered.
You might just want to ask the company to provide you with a copy of their Certificate of Registration as a mortgage foreclosure consultant before you do anything.
The issues surrounding the services they seem to be allegedly providing you surround modifying your mortgage and getting you a financial benefit. But the agreement they are asking you to sign says the services they are providing are:
Client is engaging MHS to assist Client in examining, analyzing, and auditing Client's home loan, and to render other services that Client may ask, and MHS may agree to perform when deemed appropriate.
That seems quite different than what you are reporting the representative is portraying to you.
One of the parts of the agreement you sent in that made me chuckle was when they ask you to sign a form that says, "I was not told to cease all communications with bank" and also asks you to sign a "Cease Collection Calls" form. Isn't that almost mutually exclusive?
And even the Cease Collection Calls form is interesting. The form references the "Truth in Lending Law" but unless this is some California law they are trying to claim the actually name for it is Truth in Lending Act (TILA). I'd ask your representative for the specific code they are citing to make this claim. I can't find it.
I'm not aware of any regulation that prohibits the owner of a loan from contacting the borrower directly.
And then they say, "I was not charged for a loan modification either directly or indirectly," and "Client understands that MHS is not charging for the services of a loan modification in any way shape or form." But in their documentation they say, "The information obtained by MyHomeSupport.org attn: Loan Modification Department is to be used for the purpose of facilitating the resolution MyHomeSupport.org of my loan modification." Which is it?
And then there is this on their About Us page. – Source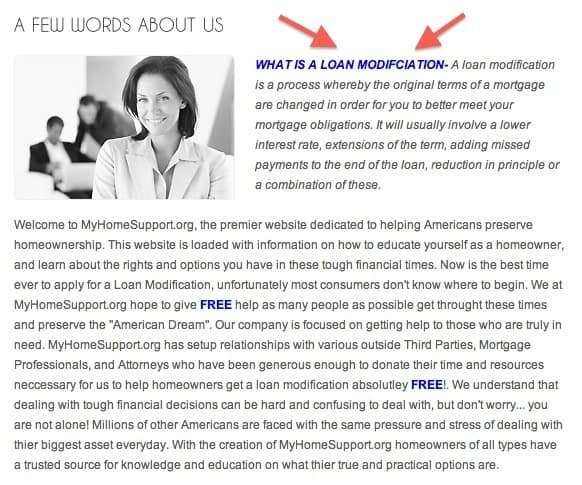 Or how about their FAQ page where nearly every FAQ is about loan modifications. – Source
Seems to me they are involved in loan modifications.
I could go on and on with the reviewing the documents but it seems to make good and logical sense that before you pay nearly $2,000 for services that you pay a little bit to a licensed real estate attorney in your state for a second opinion. Surely that is a prudent move and one that your representative would encourage you to take as well.
One more thing, the address they give on their site of 4000 MacArthur Blvd #900 Newport Beach, Ca 92660 is actually a virtual office. – Source
Oops, one more thing. I did notice that the email you send me that says it is from Joe Longo actually says mjacobs@myhomesupport.org in the footer. Doesn't that seem odd to you as well?
Please post your responses and follow-up messages to me on this in the comments section below.
Sincerely,

You are not alone. I'm here to help. There is no need to suffer in silence. We can get through this. Tomorrow can be better than today. Don't give up.
Do you have a question you'd like to ask me for free? Go ahead and click here.

Latest posts by Steve Rhode
(see all)