"Dear Steve,
I signed up with ClearOne Advantage. I have debt of 16000…now I am having second thoughts.
Their services have not started yet, but from what I am reading….its probably best to file bankruptcy? I am trying to make things better not worst. I am open to your thoughts, ideas, opinion?
Thank you"
Dear Donna,
Frankly I almost skipped answering your question and then noticed you had included the documentation you were asked to sign. Twenty pages? Really? That made me curious to see what they were asking you to commit to.
It's important people understand exactly what they are getting into when enrolling in a debt relief program so I'd like to spend some time going through the pages, pointing out some things, and writing up my thoughts and impressions on the documents you were asked to sign.
After you read all of that I'll leave it up to you to contact ClearOne and discuss your thoughts with them and decide if you are going to stick with the program or maybe change your mind.
I've made every effort to remove any personal identifying information. But I could not help but notice that at one time I actually lived fairly close to your current address. It's a small world.
Whew!
I just finished going through the documents and writing up all my observations, which you will find below. It took me three hours.
I came across some very issues that concerned me so I encourage you to read my entire review. Most alarming is that you actually work for one of the banks that's included in this debt settlement plan. In my opinion, that's crazy to include them and they never should have allowed you to do that. It could negatively impact your employment.
What's surprising as well is that after wading through 20 pages of this document, and the disclaimer that debt settlement may not be the right program for you, is the one piece of information not included here is a statement about your income and expenses. Can you even afford the plan? Is it the right solution for you? One of the disclaimers even says they have not screened you to make sure it is the best solution for you.
As far as taking a look at the major possible solutions for dealing with debt, you can use the free How to Get Out of Debt Calculator to review your options.
At the very least you should discuss your situation with a local bankruptcy attorney to best understand what bankruptcy would mean for you. Bankruptcy is a legally sanctioned tool that is used to deal with unmanageable debt. Since you work for one of the banks included, no matter what option you select, you should confidentially talk to your HR department for advice to understand if it will impact your employment, before you sign anything.
As is typical in documents that grow over time, some of the disclaimers and warnings are repeated, some exist on separate pages and not in the agreement itself, and the most perplexing disclaimer issue is they repeatedly say they are not helping you with your credit but then include the required disclaimer for credit repair organizations. That one I don't understand why it is there at all.
And the credit report authorization form near the end is curious as well. It appears they are using that form to use your identity to pull your credit report as if it is you doing it. Odd.
The biggest irritant for me was the agreement doesn't even get their own company name correct. Seriously. If they get that repeatedly wrong, what else is wrong as well?
The Clear One Advantage Client Agreement
It's important to understand that client agreements are not written for the advantage of the client, but the company. Every company does that. There is nothing wrong with that. It's just important to understand what you are signing, and often times pages and pages of detail can become overwhelming and confusing. So let's go through this entire document with a very critical eye to see what they say.
You can click on any image and see a larger version.
The first thing that I noticed was a chronic inconsistency with their name. It may not be an important issue but you'd at least hope they'd get their name correct. According to the State of Maryland and their organizational documents the company is actually ClearOne Advance and not Clear One Advantage. There is no company registered to do business under the name "Clear One Advantage." – Source. They get the name correct on their website (source) so why not get it right on the contract? Even the abbreviation they use is wrong. It should be CA, not COA.
Next I used the debt relief compliance module to check their licensing. You can register and use it for free as well.
I see the company says it is located at 1501 S. Clinton Street Suite 320, Baltimore, MD 21224. So I looked at the Maryland regulations for debt management providers. They say:
If you intend to conduct debt settlement services in the State of Maryland, you may be required to register with the Office of the Commissioner of Financial Regulation ("Commissioner"). Additionally, on or before March 15, 2012 and ending with March 15, 2014, each debt settlement services provider that is registered with the Commissioner shall report on the debt settlement services business that the registrant conducted in Maryland during the preceding calendar year on a form prescribed by the Commissioner. Please refer to the Maryland Debt Settlement Services Act, Maryland Code Annotated, Financial Institutions § 12-1001, et. seq.
I did an online query with the State of Maryland to see if they held a debt management license. It could not be found.
It appears debt settlement licenses will not be issued until January 1, 2012. So you might want to contact the State at finreg@dllr.state.md.us and ask if they have submitted their license application as required by December 1, 2011.
The services they are contracting to provide you are:
COA will act only as an intermediary between Client and Client's creditors (the "Creditors") for the express purpose of attempting to negotiate with creditors of Client with the intent of settling Debts to an amount that will enable the Client to pay the reduced balance as full settlement of all debt.
The key word in that language is "attempting." They are not promising you they will be able to negotiate a satisfactory resolution, but will attempt to.
The agreement says it is your responsibility to continue to pay your creditors, "Clients understand that it is his or her responsibility to pay his or her creditors."
They say they cannot stop debt collection phone calls or correspondence. They cannot assist you in restoring your credit either, "Client understands and agrees that COA has not represented that it will advise or assist Client in the modification, improvement or correction of any credit entries contained on Client's credit reports, nor that COA can stop all debt collection phone calls or correspondence."
The will also not be responsible for any negative information a creditor reports about you to the credit bureaus, "Client agrees that COA does not claim to be able to improve Client's credit rating or credit report, nor remove any credit reference on Client's credit report and that COA has no responsibility or obligation for any past, present or future credit rating assigned by any of the Creditors or for any information contained in any credit reporting service."
The fee for their service will be 25% of the debt you enroll in the program but will not be due until each debt is individually settled. The fee is due when the, "Client's creditor provides written notice of a settlement offer on an enrolled debt and the Client accepts such offer and makes the first payment on the settlement (known as the "earned fee.")" This means even if you only make one payment towards the settlement, you will owe them the entire 25% of that debt enrolled as their fee.
The 25% of debt fee is a big fee. Others charge less and some charge as little as 15% of the savings they accomplish. Using $16,000 of debt as an example, under a 25% fee structure you would pay $4,000 in fees. Under a 15% of savings model with 50% settlements, you'd pay $1,200. That's a big difference. The less you pay in fees, the faster you can settle your debts.
Now a moment ago they said you needed to be responsible for paying your creditors. The contract also says that of the $350 a month you will be paying into the Global Client Solutions account, "No amount of consumer's funds will be paid monthly to Client's creditors."
The program is not guaranteed to be successful or work for you. They say:
COA makes no guarantees for the success of this program. The creditors are under no obligation to accept settlement offers from the debt settlement company.
If you decide to dropout of the program, the fees you have paid to date will not be refundable. "Client understands that if Client terminates this Agreement, all fees paid by Client up to the date of withdrawal are non-refundable. If Client removes one or more enrolled accounts during program term (except during state cancellation period), then COA may retain fees on that account as "earned" for services provided by COA up to the point of withdrawal.
Then they make an interesting statement, "Limited money back guarantee contained herein may, at COA's discretion and for good reason, be voided." So they appear to be able to change their mind about any refunds you may be due.
You are waiving your right to enter into any class action action later if you are not happy with their services.
You are also agreeing to binding arbitration if their is a claim or dispute between you and CA.
Now the contract says you have voluntarily agreed to not pay your creditors.
Client certifies that Client is currently in a verifiable state of financial hardship. Client is now unable to pay or unable to continue to pay minimum monthly payments on Debts to Creditors without extreme severe hardship, if at all. Client has voluntarily chosen not to continue to attempt minimum monthly payments to creditors.
I find that section interesting because there isn't a check box to acknowledge it and even though they said before that it was your responsibility to "to pay his or her creditors" they are now including standard language that you will not make required payments to your creditors each month. This will land you in collections and leave you subject to potentially being sued by your creditors.
Anything you might have been told over the phone or through emails about the program, does not apply once you sign this agreement. It says, "This written Agreement constitutes the full and complete Agreement between Client and COA. This written Agreement supersedes any and all other agreements or understandings, whether written or oral."
ClearOne Advantage has the right to sell or transfer your account to another company. They can also change the contract terms upon 15 days notice.
COA may assign this Agreement, in whole or in part. COA may modify this Agreement at any time, as long as the modification does not disadvantage Client, by providing Client written notification and a copy of the new agreement with fifteen (15) days prior notice.
The agreement says you will stop making payments to your creditors and then goes on to describe what will happen when that happens and how it will hurt your credit report.
Client understands that not making further monthly payments to creditors will cause Client's credit report to be negatively affected. The negative impact may include unpaid, late, uncollected or charged-off entries on Client's record. Although COA does not give legal advice, Client further understands that if Client does not make regular payments to creditor's added interest, late fees, delinquencies, collection efforts, and legal action could result.
And now for a page of all caps type. I'm exhausted already reading all this stuff. But let's keep going.
They want to make sure you understand that you will be in collections when you stop paying your creditors and there isn't much they can do about that. "CLIENT'S PARTICIPATION IN THE COA PROGRAM WILL NOT, OF ITSELF, CAUSE CLIENT'S CREDITORS TO CEASE ANY COLLECTION EFFORTS."
They give you 30 days to cancel the agreement. If you don't cancel then all fees become non-refundable.
IF THE CLIENT DOES NOT REVOKE THIS AGREEMENT WITHIN THE THIRTY (30) DAY REVOCATION PERIOD, THEN ALL FEES DUE UNDER THIS AGREEMENT BECOME NON-REFUNDABLE.
It's just not clear if they are claiming you would owe the full 25% on the enrolled debt if you cancelled after day 30.
Just shows you are making a $350 payment each month.
You are enrolling $16,679 of debt in the program. The settlement fees for the program will be 25% of the enrolled debt, or $4,169. But what's interesting is that they claim the program will save you $4,405. This does not even include the monthly fees for your Global Client Solutions account.
This page gives you an even darker picture about what may happen to your debts and balances in the program:
Client is responsible for paying all of their creditors and for any late fees or other charges assessed. If you do not make required minimum payments to your creditors you may be breaking the terms of your agreements with them and your actions will probably be reported to consumer reporting agencies as late, delinquent, charged-off or past due balances. Your creditor may also raise the interest rate on your account and impose other penalties. Your account balance may continue to grow as your creditor adds accrued interest, late fees, over-limit fees and penalties. Your balance may continue to grow until a settlement is reached with your creditor; and, if negotiations are unsuccessful, you could be called upon to pay the entire balance.
It would be entirely reasonable, with the bleak and dark picture they paint, for you to demand a written document that gives you proof of their success rate with past consumers. Do they even have a proven track record of settling debts with these creditors 10% of the time or higher? We just don't know. This is important because you should know how successful they have been so you can weigh the downside risks they paint. Are the likely to occur? We just don't know.
This page says you are giving them permission to reach into your savings account with Global Client Solutions and take their fees.
This page gives you and an estimate of what ClearOne Advantage feels they will settle the debt for. A good faith estimate is nice but this one is lacking. It gives you no idea what percentage of past clients have received these estimated savings. Is this based on actual performance data or their a best guess. It gives no idea either about what percentage of clients enrolled in the program achieve these estimates or even how those figures are calculated.
Now I figured out what their previous estimated savings was. It's the amount they think you will save when you settle after including their fees and the amount you might pay the creditor. They are estimating that no settlement will be arrived with Barclays Bank for two years or Citibank for three years. Your balances will have grown significantly by then from late fees and interest. The actual amount you will most likely pay in a settlement by those dates will be higher due to the growing balances. If that's the case the estimated $611 saving for Capital One may have vanished completely and you might just owe more on that debt than the balance when you enrolled it.
This is the first time I think they've said that in settling the debts it will probably result in a negative mark on your credit report. "Upon completion of the Program, a debt settled for less than the full amount owed may result in a negative notation on Client's credit report."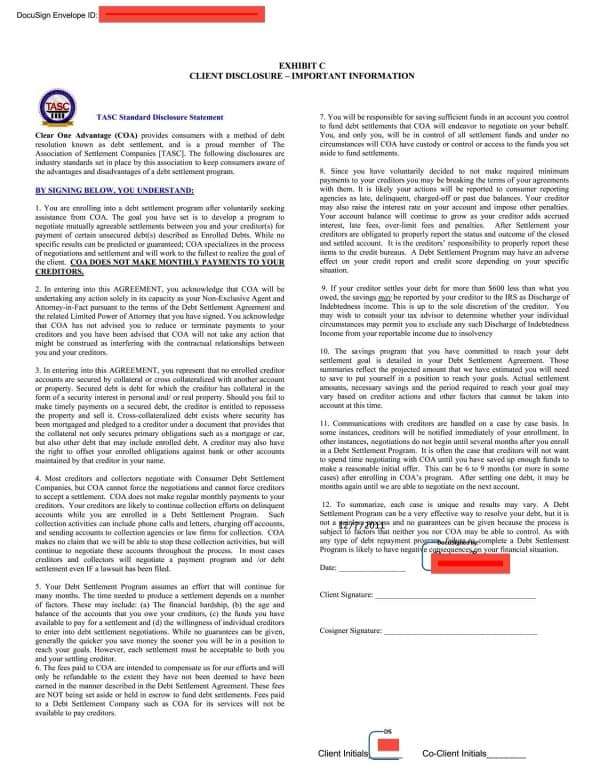 ClearOne Advantage is a current member of TASC. – Source
It's confusing that TASC announced they had changed their name to American Fair Credit Council but TASC still exists as a separate or continuing entity. So I guess they didn't really change their name at all. But that's a different issue.
This disclosure agreement you are being asked to sign includes some new warnings we have not seen up till now. These include:
"You acknowledge that COA has not advised you to reduce or terminate payments to your creditors and you have been advised that COA will not take any action that might be construed as interfering with the contractual relationships between you and your creditors." Then why was that in the contract?
"A creditor may also have the right to offset your enrolled obligations against bank or other accounts maintained by that creditor in your name."
"COA cannot force the negotiations and cannot force creditors to accept a settlement."
"Your creditors are likely to continue collection efforts on delinquent accounts while you are enrolled in a Debt Settlement Program. Such collection activities can include phone calls and letters, charging off accounts, and sending accounts to collection agencies or law firms for collection. COA makes no claim that we will be able to stop these collection activities, but will continue to negotiate these accounts throughout the process."
"If your creditor settles your debt for more than $600 less than what you owed, the savings may be reported by your creditor to the IRS as Discharge of Indebtedness income."
This page marks the halfway point in the documents were were asked to read and sign. Even I can't believe we are only halfway through.
This is a limited power of attorney form that can give CA the authority to act on your behalf. However, no creditor is required to accept this. It has no force or authority over the creditor.
This form also says CA has the authority to access your credit report but I'm not sure why since you've already identified the creditors and balances for them.
Then there is this curious line, "CONTACT PRINCIPAL'S CREDITORS AND CREDITORS' AGENTS, REPRESENTATIVES AND EMPLOYS FOR THE PURPOSE OF NEGOTIATING FINANCIAL SETTLEMENT ARRANGEMENTS ON CREDITORS' CLAIMS OF INDEBTEDNESS BY PRINCIPAL IN FAVOR OF CREDITORS"
I think they meant to say employees instead of employs but why are they acting "in favor of creditors?"
Here you are being asked to sign an agreement with another company that will provide you with your special purpose savings account in which your money will be deposited and settlements and fees will be paid out of.
More fine print for Global Client solutions. I didn't review their agreement at all.
OMG DONNA
This form reveled you work at a bank that is included in your settlement program that is not scheduled to be settled for an extended period of time. Before you do anything you MUST talk to your HR department about how this might impact your employment of job future with the bank. I can't imagine anything good coming out of include that account from your employer.
And this is the first time I've discovered you are married. Hopefully none of these accounts are joint accounts. If so that opens up a whole new set of problems and issues.
Your program is estimated to last for 36 months, during which time you will pay about $324 in just Global Client Solutions fees for this account.
This page says, "all disputes between you and CLEAR ONE ADVANTAGE will be resolved by BINDING
ARBITRATION. You thus GIVE UP YOUR RIGHT TO GO TO COURT to assert or defend your rights under this Agreement (EXCEPT for matters that may be taken to SMALL CLAIMS COURT."
You need to be aware of the rights you are giving up. They do give you a way to get out of this.
IF YOU DO NOT WISH TO BE BOUND BY THIS ARBITRATION PROVISION, YOU MUST NOTIFY CLEAR ONE ADVANTAGE IN WRITING WITHIN 30 DAYS FROM THE DATE THAT YOU FIRST RECEIVE THIS AGREEMENT BY MAIL TO 1501 S. CLINTON STREET, SUITE 320 BALTIMORE, MARYALND 21224. YOUR WRITTEN NOTIFICATION TO CLEAR ONE ADVANTAGE MUST INCLUDE YOUR NAME, ADDRESS AND CLEAR ONE ADVANTAGE ACCOUNT NUMBER AS WELL AS A CLEAR STATEMENT THAT YOU DO NOT WISH TO RESOLVE DISPUTES WITH CLEAR ONE ADVANTAGE THROUGH ARBITRATION. YOUR DECISION TO OPT OUT OF THIS ARBITRATION PROVISION WILL HAVE NO ADVERSE EFFECT ON YOUR RELATIONSHIP WITH CLEAR ONE ADVANTAGE OR THE PROVISION OF SERVICES TO YOU BY CLEAR ONE ADVANTAGE. IF YOU HAVE PREVIOUSLY NOTIFIED CLEAR ONE ADVANTAGE OF YOUR DECISION TO OPT OUT OF ARBITRATION, YOU DO NOT NEED TO DO SO AGAIN.
More arbitration stuff.
And just when I thought it was getting really boring, up pops this privacy policy page. The privacy policy part at the top is fine, it's the bottom part that perplexes me.
You see the bottom part of the form is the notice that is required to be given to consumers by credit repair organizations. But all through this agreement ClearOne Advantage has been saying they don't engage in credit repair. So why the disclosure? And even then, the disclosure is incomplete. It's missing the required contact information at the bottom. It should say:
The Federal Trade Commission regulates credit bureaus and credit repair organizations. For more information contact:
The Public Reference Branch
Federal Trade Commission
Washington, D.C. 20580
Why the Credit Repair Organizations Act disclosure is on the privacy page, escapes me. And then to include it but not describe what it is there for is another mystery. Even the bolded section of this form seems to apply to the Credit Repair Organizations Act and not privacy policy requirements.
And now we are on page 17 and we are still dealing with disclosures and waivers. I've been looking over this agreement for hours now. How many things need to be waived and disclosed?
And frankly I'm just really annoyed they can't get their name right. It says right at the top that it is ClearOne Advantage and then they get it wrong on the first line of their own form.
This form requires joint borrowers to acknowledge that any joint account included in a debt settlement program can negatively impact the credit report of both parties. Even though your bank account is a joint account, there has been no other information provided to determine if your accounts included are joint.
ClearOne Advantage says that with your Citibank account, which they are not planning to settle for three years, is likely to settle for a higher percentage and engage in legal collection actions. I think they are saying you might be sued on that debt.
This is now the second form you've signed that authorizes ClearOne to pull your credit report. And they even say they are going to use your free annual credit report if it is available. I'm curious. It appears they are going to pull your credit report as if it is you doing it. That's the only explanation I can come up with that would then use up your free annual report you are entitled to.
If they had a permissible business purpose to pull your credit report directly it would not use up the one free report each consumer is entitled to per year. They say, "you expressly allow ClearOne Advantage, LLC to utilize your one (1) free credit report for the year"
And the logic of the form escapes me as well. It says, "You understand that the information contained in the credit report will be used to communicate with your creditors and confirm your debt balances and account numbers for your program."
But you've already given them the account numbers and balances. And if they wanted more detail on your debts they could ask you to supply copies of the most recent statements on those accounts. The balances you give are more accurate than those on the credit report which can be a month old. Hell, even just using the automated telephone systems with the creditors can give the current balance on that day. So what is really the point of this form that uses up your free annual credit report?
And just when you thought we were done, here is yet another full page of disclosures. This one required by yet another trade association, United States Organizations for Bankruptcy Alternatives (USOBA).
This form contains some interesting statements.
We determine your eligibility for a debt settlement program, but we do NOT evaluate your unique credit and debt situation to determine the best debt relief option for you. It is your responsibility and choice to evaluate and determine which option is best
for you
So the company has apparently not bothered to determine if debt settlement is the best option or solution for you. At least that's what they are saying with that statement. Does that concern you at all?
By failing to pay creditors in accordance with the terms of the contractual agreements with those creditors, you may be in violation of the agreements with those creditors, which may result in litigation. If a judgment has been obtained, a creditor may garnish your wages or seize any available assets or property. State laws regarding judgments vary.
This is the first time it has been expressly stated that participating in this program may result in a lawsuit, judgment, wage garnishment, or asset seizure.
And the last page is the form to cancel your agreement.
Please post your responses and follow-up messages to me on this in the comments section below.