A tipster (send in your tips here) send in an email they've recently received from Paul Paquin that claims the company has an A+ BBB rating. But here's the catch, the company, Golden Financial Services, appears to currently have no BBB rating.
Here is the marketing email that was sent out and forwarded to me.
I hope this email finds you well, AND it's a must read.

If you're not making at least six figures a months, you need to focus on providing/selling attorney based debt settlement. Everyone is out of the Industry (no competition), and yet the demand is going higher! Moreover, we've got an A+ Accredited BBB Rating that will catapult the amount of deals you do each month. Credibility goes a long way.

OurDebt Settlement Affiliates are Literally Making "Change Your Life Kind of Money."

This is a multi-million dollar business model, and we'll show you how to duplicate exactly what we do.

FYI: We have several Affiliates making $250K+ EVERY month with 10 agents, on average.

REMEMBER: Our Multijurisdictional Law Firm Does All the Work!

There's NO "Face to Face!" Just take the Application, Literally.

A+ Accredited BBB Rating – 9 years | Full Reporting – CRM

Please Call Me Now – 888.505.1792

What are you waiting for? Call me, and I'll explain EXACTLY how we're going to "Change Your Life" TOO! Within 5 Minutes, you'll understand why we're #1 in the Attorney Based Debt Settlement Industry.

Thank you!

Paul Paquin – Affiliate Director

+ 888.505.1792

http://Debt-Affiliates.com
Golden Financial Services is even in more denial about their BBB rating and appears to deceptively prompt it in a press release they sent out three days after their BBB rating was changed from A+ op no rating. – Source
They even still list the statement "Golden Financial Services Customer Service department has a membership with the USOBA!," yet USOBA denies that they issue any department level membership.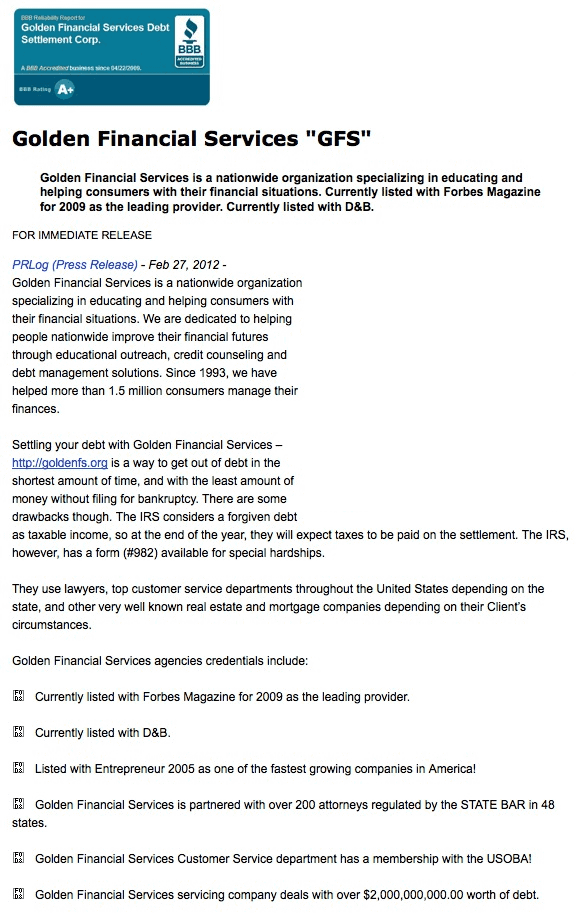 If this company will state misinformation in an attempt to recruit sales people and associates for the company, what will they tell consumers?
Sincerely,

You are not alone. I'm here to help. There is no need to suffer in silence. We can get through this. Tomorrow can be better than today. Don't give up.
Do you have a question you'd like to ask me for free? Go ahead and click here.
I can always use your help. If you have a tip or information you want to share, you can get it to me confidentially if you click here.

Latest posts by Steve Rhode
(see all)