The other day in an article I wrote, "Receiver Asked to be Appointed in TX to Collect Judgment Against Lloyd Ward Judgment Debtors" there was a mention at the very end about a company called Camden Debt Solutions.
Later the background information arrived that I had initiated in researching that piece. What just flat out surprised me is that the State of Texas lists the management of Camden Debt Solutions, Inc. as directors Jordan Olsen and Ashley L. Eichelberger and Ashley Eichelber as the organizer of the company. – Source
They also list the business address as 12655 North Central Expressway, Suite 1000, Dallas, TX 75243. That is also the office address for Lloyd Ward and Associates.
Camden Debt Solutions states they are located at 5050 Quorum Drive, Suite 700, Dallas, TX. – Source. But wait, that's the address that Lloyd Ward and Associates uses with the BBB? – Source
They also state they are a 100% performance based debt settlement service and their phone number is 877-275-9797.
I have met and know both Jordan and Ashley. I considered them friends and I vouched for them with others. Was I played? You be the judge.
I first met them at the Rally in Raleigh meeting held in November, 2010. At that time they were both with SilverLeaf Debt Solutions.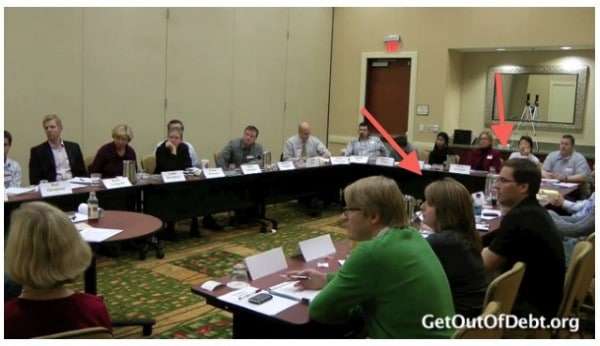 Following that meeting, both Jordan and Ashley were very enthusiastic about starting a new association to create strong standards for debt relief companies to follow to put consumers first and they were staunch advocates of making sure that no matter what, the consumer needed transparency, truth and data upon which to make good and informed decisions when selecting debt relief services.
They've always struck me as honest people, with their hearts in the right place, who wanted to make sure people were more important than profits.
So knowing all of that you can imagine my surprise when I first reviewed the Camden Debt Solutions website, following the revelation that Jordan Olsen and Ashley Eichelberger were listed as the sole directors of Camden Debt Solutions, and discovered some issues that struck me as not entirely consumer friendly.
Take this statement for example on the Camden Debt Solutions website.
Bankruptcy

This is usually a last resort since it has the most negative and long term affects. Bankruptcy stays on your credit report for 7-10 years. With all the changes in the bankruptcy laws, it is more difficult to qualify for Chapter 7 bankruptcy, which can completely absolve a filer's debt. In most cases, people can only qualify for Chapter 13, which is more of a restructuring of the debt and you still have to repay it over time. – Source
For the life of me I can't see how bankruptcy could be considered a "last resort." For many people it should be the first option they use to deal with problem debt.
The Camden Debt Solutions website states, I imagine as a sales tool, that "in most cases, people can only qualify for Chapter 13…" That is just a flat out untrue statement from my research. The majority of bankruptcy filings, around 70 percent, are Chapter 7 bankruptcy cases.
The site also says that bankruptcy will stay on the credit report for seven to ten years, and that's a factual statement, but they don't mention that the impact of debt settlement will also be reported on the credit report for seven years as well. Certainly not a transparent position.
And speaking of a not so consumer transparent statement, the sales language for debt settlement says it can be the cheapest way to resolve your debt, that's not true for many people seeking urgent debt relief. For many the cost of filing bankruptcy is far less than most debt settlement programs and certainly it's a quicker way out of debt with a Chapter 7 bankruptcy discharge received in just a few months as opposed to potentially years with a save and settle debt settlement approach.
The website also appears to omit the entire possible consequence in debt settlement of being sued, having a judgment placed against you, and potentially having your wages garnished. I could not find a mention of it on the Camden Debt Solutions site.
Also I could not find any information about the success rate of their client in comparison to bankruptcy filers to support any claim that settlement was a more successful solution.
The debt consolidation section on the same page sees to provide misinformation as well.
I find the following statements to be misleading:
To qualify for a consolidation loan, you typically are required to have a higher than average income, and good credit.
The common form of a consolidation loan is through a mortgage refinance.
I have repeatedly written about the main stream peer-to-peer lending networks of LendingClub.com and Prosper.com who make unsecured debt consolidation loans down to a 660 credit reading.
So how does this all square with their stated goal on the page, "Our goal is to help you analyze your options and find the right solution for you."
Frankly, this has me stumped. How can two people that seemed like such upstanding and consumer focused shining stars in the debt relief industry make such basic rookie mistakes in disclosures so as to not appear to be fair and balanced?
The other thing that I find odd is that if both Jordan and Ashley are directors of Camden Debt Solutions, then why does the site not proudly mention them. It could, based on the Jordan and Ashley I thought I knew. Those were people to brag about.
Instead the only entity with any sort of identification or bio is the Lloyd Ward Group. I could not find a single mention of Ashley or Jordan on the website at all. Just this about the people behind the company.
The site says:
The Lloyd Ward Group is our partner and a leading law firm in the debt reduction industry. With over 25 years of experience in the industry, Lloyd Ward Group provides us with the legal backing to aggressively pursue negotiations to reduce our client's unsecured debt. By partnering with such an experienced firm, we are able to save the most amount of money for our clients. They can now feel safe and secure knowing they have the backing of a law firm with a proven track record who is committed to ensuring their overall success.

For more information, please visit www.lloydward.com/ – Source
Puzzling Results
The Camden Debt Solutions website has a page under "Proven Results" called "Client Settlements." The page lists a few settlements in each month, January – December, 2011. At the top of the page it says:
2011 CLIENT SETTLEMENTS

Camden and the Lloyd Ward Group are proud to present a sampling of the many settlements negoitiated on behalf of our clients. These do not represent a guarantee of results which may vary from case to case.
According to the State of Texas, Camden Debt Solutions was formed on May 31, 2011. So this puts their 2011 Client Settlements page into question. How can there be settlements that occurred by Camden Debt Solutions in the months of January – May, 2011? They even list settlements that occurred in May before they were incorporated. – Source
Were they performing debt settlement services prior to being incorporated and registered to do business? If so, that appears to be a huge problem with regulators.
And how can we believe the results are true and if there are so few results, is this an indication they do such little business or are the results not representative of what all enrolled clients received?
But It Gets Stranger
Turns out it's not just the Camden Debt Solutions website that makes the same performance claims. Another site, payingoffmydebts.org does as well using the same settlement numbers. – Source

So who is telling the truth?
Almost Every Page Has Some of These Odd Moments
These perplexing oddities, like the client settlements above, are not restricted to just the performance page.
Take the Our Culture page as an example. – Source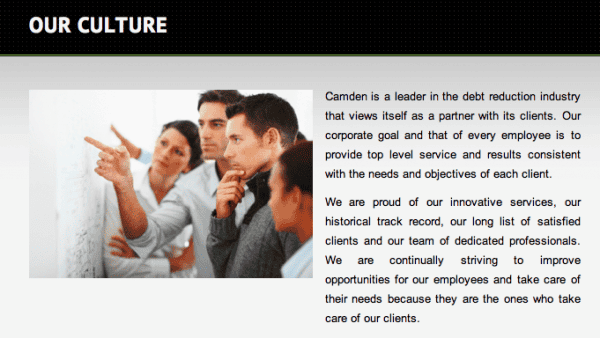 "Camden is a leader in the debt reduction industry" – How can that be, they were formed a little over eight months ago and admit to doing settlement before they were registered to do business?
"We are proud of our innovative services" – What innovate services? You promote debt settlement that appears to be fairly typical. Where is the innovation?
Then there is the Camden Difference page. – Source
"Our program is also strengthened by our partnership with a law firm with years of experience in debt reduction. The Lloyd Ward group is a leader in the debt reduction industry and allows Camden Debt Solutions to provide our clients with the dedication and expertise they deserve. We pride ourselves on following a strict code of compliance with all federal legislation. By working with a leading debt negotiation law firm, we can achieve results that other companies cannot, and can provide the protection our clients need."
But again the puffery seems to be excessive and possibly unsupported.
In the State of Texas there is no company registered to do business as "Lloyd Ward group." There is "The Lloyd Ward Group, PC" which according to court records (which you can see here) the company was primarily owned by shareholders Lloyd Regner and Kevin Devoto, and ex-con who did jail time for securities fraud.
Who says Lloyd Ward group is a leader in the debt reduction industry? According to the BBB there is no company listed under Lloyd Ward group. But Lloyd Ward & Associates, listed at the same address as Camden Debt Solutions, has an F rating with 14 unanswered complaints. Not necessarily a leader in the field. – Source
They "pride ourselves on following a strict code of compliance with all federal legislation" but their client results and sales statements appear to be not in compliance with the guidance of the Federal Trade Commission.

You be the judge. Here is what the FTC says about performance claims:

May I base my advertising claims on the experiences of some previous customers?

Yes, but your sample must be representative of the entire relevant population of your past customers. To accomplish this you must, among other things, use appropriate sampling techniques, proper statistical analysis, and safeguards for reducing bias and random error. You can't cherry-pick the most successful examples to inflate your results.

If you advertise or represent that your customers will save a certain amount of money or reduce their debt by a certain percentage – for example, "We can settle your debts for 40% to 60%" – your statements must be truthful, and you must have objective proof to back them up. Your claims must accurately reflect the results you've achieved for previous customers. It's important to consider the message your claims convey. Under the law, the FTC looks at claims from the point of view of reasonable consumers. Therefore, what matters isn't the literal accuracy of the words you use, but rather your proof to support the "net impression" your message conveys. For example, claiming that your past customers have achieved "up to 60% savings" is likely to convey to new customers that they, too, will get savings of around 60%. If you don't have solid proof to back that up, the claim is deceptive. – Source
Here is the video of the session that Ashley and Jordan attended where we discussed marketing and messages directly with the FTC and Attorney General's Office from North Carolina.
"we can achieve results that other companies cannot" but what results are those really? There has been no transparency or disclosure to give consumers enough information to make those determinations.

"Another advantage of the Camden debt reduction program is there are NO UPFRONT FEES FOR OUR DEBT SETTLEMENT SERVICES." And that's great but they never disclose what their fees are or provide a link to their client agreement so consumers can review it before having to give personal information to the company.

And then there is the list of states they imply, with their contact form, they help consumers in: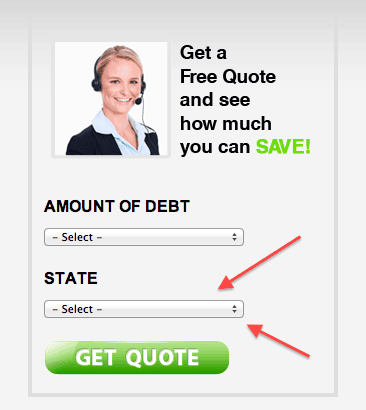 Alabama, Alaska, Arizona, Arkansas, California, Delaware, District of Columbia, Florida, Hawaii, Idaho, Indiana, Iowa, Kentucky, Louisiana, Maine, Maryland, Massachusetts, Michigan, Minnesota, Mississippi, Missouri, Montana, Nebraska, Nevada, New Hampshire, New York, North Carolina, Oklahoma, Oregon, Pennsylvania, South Dakota, Tennessee, and Texas (where they are registered).
I went and did a spot check of some of those states, in bold, and could not find a Camden Debt Solutions registered to do business in those states. Feel free to check the rest yourself.
I'm Not Going to Go Through All the Pages. I've Seen Enough.
There is no need for me to go through all the pages on the site but as you can see the divergence from the Jordan and Ashley I thought I knew as staunch consumer advocates that wanted to be leaders in putting consumers first in the debt relief industry and the claims made on this site are staggering. Some of the statements made on the Camden Debt Solutions website are almost perfect examples of how to NOT treat a consumer fairly with full disclosure and transparency.
Something odd is going on here. I just don't know what it is. Maybe there is an innocent explanation for all these discrepancies. That, I've love to read.
Bonus Oddity
In looking around for additional information I came across a page that listed Jordan Olsen as a debt buyer with a Texas company called Blue Ridge Recovery, Inc. – Source
So is Jordan both buying bad debt and then selling debt settlement services to consumers?
That little bit of information begrudgingly sent me looking for information on Blue Ridge Recovery. Sometimes stories like this never stop, it's one rabbit hole after another and before you know it you've spent eight hours researching one article.
According to the State of Texas, Blue Ridge Recovery, Inc. was registered on March 30, 2011, the registered agent is Lloyd Ward personally and the address is that of Lloyd Ward and Associates. – Source
Why does there have to be more stuff that involves Lloyd Ward? Hell, he's already suing my wife and I for millions of dollars for reporting about him on this site. (See An Open Letter to Lloyd Ward and Amanda Ward)
State of Texas information says the directors of Blue Ridge Recovery, Inc. are Chris Garrison, previously from SilverLeaf Debt Solutions and Lloyd Ward personally.

As much as I did not want to write more about Lloyd Ward, this all got me a bit more curious so I decided to look at see what other companies Lloyd Ward is an officer or director of as well.

According to State of Texas Records the following active companies list Lloyd Ward as a director or officer:

Settlement Compliance Commission with Chris Garrison and Mike Miles.

Brainbridge Management, Inc.

Cramer & Ward, P.C. with Michael R. Cramer.

The Lloyd Ward Group, P.C.

Lloyd Ward, P.C.
I welcome Jordan, Ashley, or anyone else from Camden Debt Solutions to post a comment to clear up these issues. Please.
Sincerely,

You are not alone. I'm here to help. There is no need to suffer in silence. We can get through this. Tomorrow can be better than today. Don't give up.
Do you have a question you'd like to ask me for free? Go ahead and click here.
P.S. Not to confuse you but there is also a Camden Credit Services, Inc. registered in Texas on May 16, 2011 with directors listed as Christopher J. Garrison, Jordan C. Olsen, and Ashley L. Eichelberger.

As you can see, the business address is listed as: 13901 Midway Rd. Suite 102-160
Dallas, TX 75244. That appears to be a UPS store location. – Source
I can always use your help. If you have a tip or information you want to share, you can get it to me confidentially if you click here.

Latest posts by Steve Rhode
(see all)