A reader has sent in a mailer by Brookstone Law titled "Notice Regarding Mass Tort Litigation Lawsuits."
The mailer claims that potential claims made against lenders by consumers participating are:
Fraudulent Mortgage Note Origination
Fraudulent Concealment and Misrepresentation at Time of Origination
Patriot Act Violations/Unlawful Funding of Note
Improper Securitization of Loan/Note
Improper Assignment of Mortgage/Deed of Trust/MERS
Breach of Contract Regarding Trial Modification Agreement
The mailer also states, "You may become a joined plaintiff in a significant lawsuit that will seek, among other things, to void your note(s), and/or to award you relief and monetary damages."
While bearing a different format, the stated benefits appear to be similar to those made in many of the discredited Form 1012 mailers that others have sent out.
On a positive note at least the mailer does state it is an attorney advertisement and openly names the attorney, Vito Torchia, Jr. who is responsible for the mailer.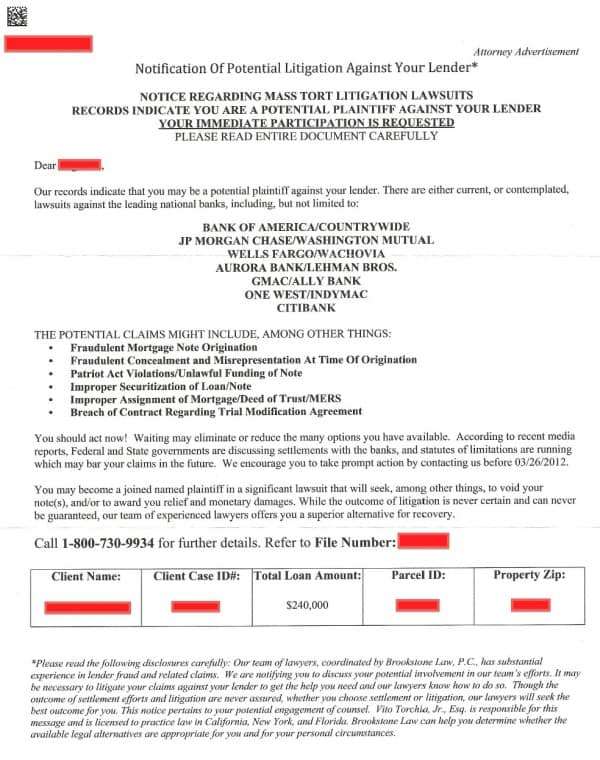 Sincerely,
You are not alone. I'm here to help. There is no need to suffer in silence. We can get through this. Tomorrow can be better than today. Don't give up.
Do you have a question you'd like to ask me for free? Go ahead and click here.
Latest posts by Steve Rhode
(see all)