A debt settlement insider forwarded over to click here the following fax they received from Portfolio Recovery recently. It appears the Portfolio Recovery is getting tough with settlement companies and law firms.
The correspondence from Joseph Hood III even says that effective 3-1-2012 Portfolio Recovery will no longer generate agreement letters for arrangements. That could be terribly dangerous for consumers if there is not a written agreement in place before any settlement payments are sent.
Portfolio Recovery is asking companies to complete the following questionnaire. The questions are certainly very leading and appear to be an effort for Portfolio Recovery to cover their ass(ets). It actually reminds me a lot of what credit counseling groups were asked to complete at one time.
Please complete this questionnaire and return it to the email addressed below within 5 days.

What do you charge for this service to our customers and when is it due?
Do you have a POA on file for each account and mutual client?
If we do not agree to the settlement offer, will you be sending us the signed Cease and Desist on the account?
Are your employees allowed to work from home? If yes, please provide a summary of the security controls in place.

How are your employees vetted?
Do they undergo background checks?

Tell us about data security;

How do you plan to get data back and forth and confirm that you can execute with our security parameters.

Tell us about any litigation that you have had or have related to your business.
Have you ever been a party to an enforcement from any regulatory authority? – Source
It's interesting they ask about the cease and desist letter and that they inquire about fees. Presumably some decision will be made about working with some companies based on fees. I can see how they may elect to not work with enrolled debt fee companies or advanced fee companies if they perceived it would cut into their recovery.
It's interesting that Portfolio Recovery was interested about vetting and background checks but only for employees working from home. You would have thought those questions would have applied to all employees and officers. Especially with the number of people with felonies or convictions working in the debt relief industry. In fact I was tipped to one yesterday that is currently on probation but running a debt relief agency.
Portfolio Recovery Settlement Terms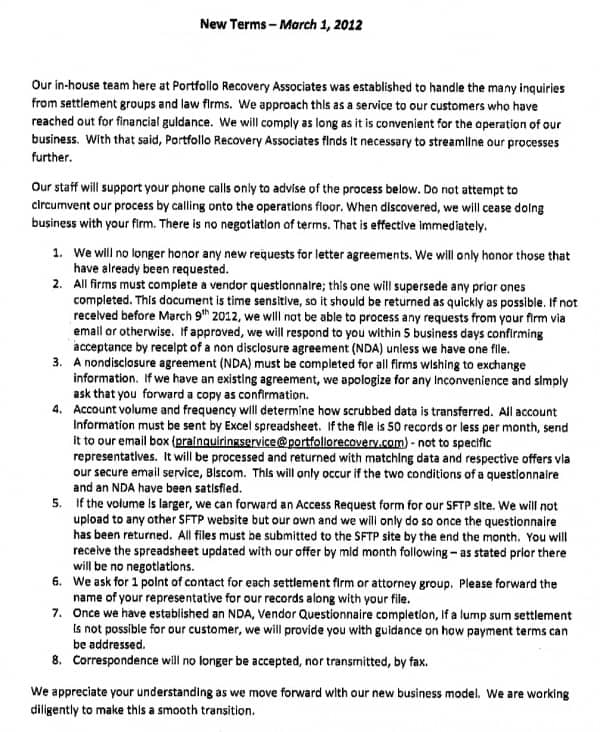 Sincerly,

You are not alone. I'm here to help. There is no need to suffer in silence. We can get through this. Tomorrow can be better than today. Don't give up.
I can always use your help. If you have a tip or information you want to share, you can get it to me confidentially if you click here.
Latest posts by Steve Rhode
(see all)