A reader sent me in a website to look at It looks like the fake news sites are back up and running in an effort to fool consumers into giving up personal information for yet another sales pitch. This time the site is a total CNBC fake scam site.
The site looks legit enough but it's not CNBC, it is cnbc27web.com. The site is actually registered in Panama, has name servers out of Russia with a server located in Singapore at The Planet, Global Datacenter, 29A International Business Park, S180, Jurong East.
Other sites on the same server include:
business13online.com, businessjournal13.com, businessnet13.com, cnbc13online.com, cnbc14news.com, cnbc18web.com, cnbc25web.com, cnbc27news.com, cnbc27web.com, cnbc28news.com, cnbc28web.com, cnbc29i.com, cnbc29news.com, news13covered.com, news13nowonline.com, newsnow13.com, newsnowl3.com, newsonline13.com, newswebl3.com, onlinebusiness13.com, onlinel3.com, onlinenewsl3.com, onlineweb13.com, onlinewebl3.com, web13now.com, webnews13.com, webnews13.net, webnewsl3.com
The domain name was registered on April 10, 2012 so this is a relatively new version of a similar scam the FTC cracked down on with fake news sites.
All of the domains I sampled from the above list resulted in the same site below.
The bottom of the screen falsely says the content is from the Associated Press and directs people to Break Out Income Systems.
Clicking on the link takes you to breakoutincomes.com which was just registered on April 6, 2012 and is served up from a U.S. based server at Rackspace.
The Breakout Income website appears to target several countries. Their FAQs say, "We accept new customers from the following regions: United States of America, Canada, United Kingdom, Australia, and New Zealand." The offer as they described it in their FAQ is for:
We provide the tools and information you need to become an eBay power seller allowing you to operate a work from home business. After you sign up we provide free support through phone and email.
This is interesting because the fake news site shows a earnings screen for Google Adsense but if this is an offer to sell on eBay then you would not be paid through Adsense.
Despite the fact the landing page graphic says your information will never be shared with third parties, the terms say it will.
The site terms states:
However, by submitting your information to the Website, you grant Freedom Agency Online and any third party affiliates or subsidiaries of Freedom Agency Online the right to use that information for marketing purposes, and agree to receive email marketing from the Website.
The Freedom Agency Online website is no longer active.
The sales pitch that results when you put in your personal information results in a page that targets people in debt or struggling with their finances. – Source
The pitch page leads you to the payment page where you can put $99 on a credit card.
The security logos on the bottom of the page are not linked to any legitimate source and are most likely fakes.
But in hunting around a bit more you can find other pages with different pricing. Here is one for $79.
Or even $49.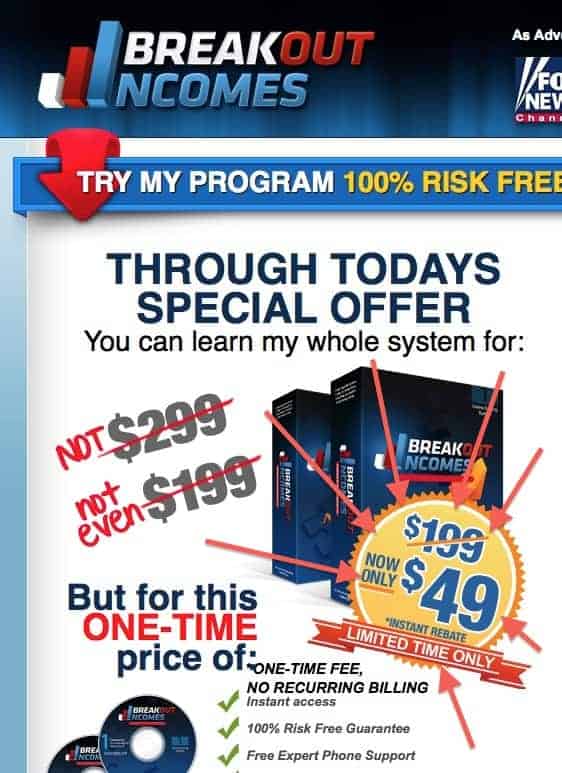 My advice, anything that starts with a lie, like the fake news site, should be avoided like the plague.
Sincerely,

You are not alone. I'm here to help. There is no need to suffer in silence. We can get through this. Tomorrow can be better than today. Don't give up.
Do you have a question you'd like to ask me for free? Go ahead and click here.

Latest posts by Steve Rhode
(see all)