On May 4, 2012, I was the unfortunate recipient of getting my YouTube account terminated, and I wanted to share the experience with you.
Earlier that day, I had created a video below as a promotion for a post that I published, Debt Relief Options – What In The World is Going On?. (See the play in the title for this post?)
As a result of posting the video, I received the following email from YouTube.
"Regarding your account: GetOutOfDebtGuy
The YouTube Community has flagged one or more of your videos as inappropriate. Once a video is flagged, it is reviewed by the YouTube Team against our Community Guidelines. Upon review, we have determined that the following video(s) contain content in violation of these guidelines and have been disabled:
Debt Relief Options Story – (GetOutOfDebtGuy) [The video you can watch above.]
Your account has received one Community Guidelines warning strike, which will expire in six months. Additional violations may result in the temporary disabling of your ability to post content to YouTube and/or the permanent termination of your account.
For more information on YouTube's Community Guidelines and how they are enforced, please visit the help center.
Sincerely,
The YouTube Team"
The "sincerely" was a nice touch!
Why the YouTube Termination is Perplexing
Interestingly, I do not have any previous strikes in the past six months, and this was the first strike I am aware of.
The video in question was created using content or programs which I own. The audio was created with the Songnify app which permits for public sharing. I do have an email from the Songify folks letting me know that the use of their audio in my video was, "No Problem!"
The extent of the focus of the video was nothing more than the title of an article I published.
The use of the name Debt Relief Options in the article and video is not a copyright violation. It is permitted under "fair use" since the title falls squarely under Section 107 of the copyright law.
Notwithstanding the provisions of sections 106 and 106A, the fair use of a copyrighted work, including such use by reproduction in copies or phonorecords or by any other means specified by that section, for purposes such as criticism, comment, news reporting, teaching (including multiple copies for classroom use), scholarship, or research, is not an infringement of copyright. – Source
In fact, it could be argued that "debt relief options" are merely a generic and descriptive expression. As I demonstrated in my story, it's not even a registered assumed name for the company I wrote about. That was one of the issues I raised in the story.
A search of YouTube shows at least 95 videos that use the term "debt relief options" in either their title or description, and a Google search says there are 292,000 results.
If you search YouTube for another company name, like "Bank of America," there are 20,400 videos that use "Bank of America" in the title or description. Certainly, if the use of the name of a company were a problem, even for non-journalists, those videos would have been flagged, and their accounts terminated as well.
I Admit the Video Was Silly
I'll give you the fact the video was silly and a bit ridiculous with the auto-tuned background music in it, but I was bored and wanted to play with the new app I purchased. In essence, the video was just the title of a story I previously published and gave the link to it.
YouTube Guidelines
YouTube has certain community guidelines that are put in place to protect against:
Pornography
Bad Stuff – animal abuse, drug abuse, bomb making, etc.
Graphic of Gratuitous Violence
Gross Stuff – like dead bodies
Copyright Respect
Hate Speech – "But we don't permit hate speech (speech which attacks or demeans a group based on race or ethnic origin, religion, disability, gender, age, veteran status, and sexual orientation/gender identity."
Predatory Behavior or Stalking
Spam
http://youtu.be/ZA22WSVlCZ4
According to the community guidelines:
"YouTube staff review flagged videos 24 hours a day, seven days a week to determine whether they violate our Community Guidelines. When they do, we remove them. Sometimes a video doesn't violate our Community Guidelines, but may not be appropriate for everyone. These videos may be age-restricted. Accounts are penalized for Community Guidelines violations and serious or repeated violations can lead to account termination." – Source
I can certainly understand if there is an issue with that one video. But according to the email from YouTube my account "received one Community Guidelines warning strike, which will expire in six months."
And therein lies the problem. My account received one flag, and rather than being contacted or having the video in question suspended while the issue was being addressed, my entire account was terminated.
But even the YouTube terms don't seem to govern my account termination.
YouTube will terminate a user's access to the Service if, under appropriate circumstances, the user is determined to be a repeat infringer.
I am not a repeat infringer.
The spoken and textual link in the video does not appear to violate the terms of service. YouTube says, "The Service may contain links to third party websites that are not owned or controlled by YouTube." – Source
If anyone tries to access my YouTube account at this point, they get the following message.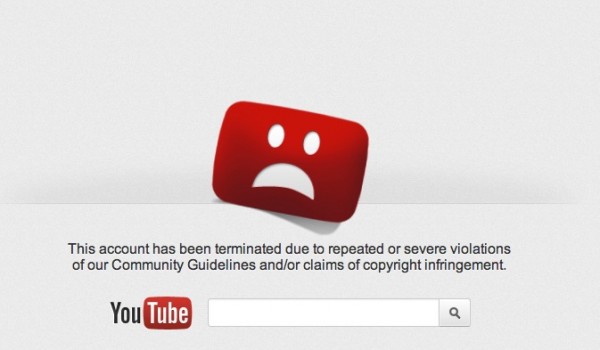 I have no idea who flagged the video in question. Maybe it was actually someone from Debt Relief Options. But, interestingly, nobody from Debt Relief Options has commented on the post Debt Relief Options – What In The World is Going On? to raise any issue nor used the "Report an Error" form to bring to my attention anything incorrect or factually wrong in the article.
For me, the troubling issue is that it appears there is nothing in the video that violates the community guidelines, this was the first strike, and yet my account was immediately terminated with no warning.
If this can happen to me, it can happen to you as well.
The most I have been able to get out of YouTube has been:
Penalty 1: "Debt Relief Options Story" formerly at http://www.youtube.com/watch?v=viaTOWlxXiI
Removed for violating our Terms of Use on 05/04/2012.
Please see http://www.youtube.com/t/terms and http://www.youtube.com/t/community_guidelines
If you try to any of the other 77 videos I had on my YouTube channel, you get this message.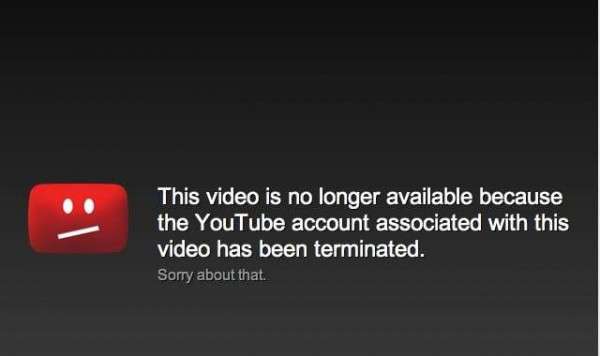 Getting My Account Terminated Was Actually a Positive Experience
I know it's completely off to think about this as a positive experience. Most people would probably be outraged and really pissed off.
Others, like me, have had their YouTube accounts terminated similarly without warning or seeming to violate the community guidelines. And I will admit that it does feel grossly unfair. It does allow me to contemplate the video approach for the website moving forward. In essence, it's better to get the account terminated with 77 videos on the channel than 577.
Rather than relying on YouTube moving forward, I'm taking the harder route of putting solutions in place to stream video directly from the site. Since YouTube does not seem to allow the embedding of clickable links in annotations anymore back to the original post, there was always a little possibility that the video in question would have resulted in any traffic to the site.
YouTube is well within their right to enforce whatever rules they want, and the YouTube community guidelines don't say anything about the rules being a fair and reasonable policy. It's their ball, and they can take it and go home any time they want.
This sort of action makes me wonder how much time, energy, and effort should one actually put into uploading videos to YouTube if access to them can be terminated without notice.
Once my account has terminated, all access to all my other videos was prohibited as well. I have no way to download my other 76 videos.
I'm not the only one that has experience this. Other with 500+ videos have faced the same experience. See GideonShalwick.com or Darren Rowse from ProBlogger.com.
As Darren says in his post Dear YouTube – You Broke My Heart – An Open Letter to @YouTube.
"Your little note 'sorry about that' at the end of your declaration and the cute little face next to it only dig the knife in deeper.
In other places, it says, "darrenrowse has been terminated due to multiple or severe violations of our Community Guidelines."
There's no mention that I'm 'perceived' to have broken your terms of service and that you're looking into it – just a declaration to those who've come to trust me after many years of hard work that I have violated your policy against things that I detest and which I have campaigned against.
That doesn't seem like you're playing fair."
I have filed an appeal with YouTube, but who knows how long that process will take or if I'll even get a personal response back from anyone.
But in case anyone at YouTube is reading this, I would be most appreciative to have access to my account to download my other long-form videos we spent so much time writing, shooting, editing, and posting.
Latest posts by Steve Rhode
(see all)