Financial domination is the erotic fantasy in which the submissive (or money slave) gives gifts and money to the dominant person, the financial dominatrix or fin domme. The attraction may involve being treated poorly, teased, erotic spanking, blackmailing, slapping, whipping and other punishing behaviors. But there may be virtually no further intimacy between the individuals and no physical sexual contact.
I have no idea how widespread this fetish behavior is but it could certainly result in money troubles if the erotic fetish overpowered the prudent use of money, credit, and debt.
Ever heard of financial domination? It's a little known fetish. (

Click to Tweet

)
The advertisements for this service appear to be mostly women who target men for financial humiliation. This one came to light by a site visitor. It sparked this article.
I'm a Princess in every sense of the word. I'm beautiful, thin, tall, busty, with long dark hair and olive skin. I am a financial Domme and a greedy spoiled bitch. Do you deserve to pay tribute to me? Are you worthy enough to be my money slave and take me shopping or give me large amounts of cash whenever I demand it? If interested in financial domination with the gorgeous Goddess, Princess Michelle then email me. – Source
One site, GoddessGreed.com claims that women who are shown on the site are interested in "I Want Everything You Own." The site has at least one story from the perspective of the man who is addicted to financial domination.
The man anonymously explains his infatuation with this erotic stimulation:
"There is something so powerfully attractive in all this.
Financial slavery. For some who roll those two words off their tongue, it will have a rough, alien sound to it.
A repulsion, perhaps, with shades of disbelief creeping in around the edges. But for others, myself included, it has an entirely different sound to it.
Part sensual, part audacious, part compulsive.
Those two little words – financial slavery – can make my pulse race like nothing else.
In those moments when I am farthest from the world of Female Supremacy, when I suddenly think of the whole thing again, it instantly alters my brain chemistry and makes me feel very submissive regardless of what I happen to be doing at that moment. Which can be most awkward if I happen to be speaking to a Woman at the time!
I have been owned this way in the past, and hope to again someday.
In some cases it takes the form of casual gifting – quietly listening and learning what pleases a particular Woman, and then sending Her a gift without any fuss. No expectation of reward, just appreciative of a quiet "Thank you, born to be used" – and no implied ownership as a result.
Other times, I have knelt before a Woman and offered Her deeper access into my life. I have had the experience, in my past, of handing a Woman an envelope with all my most personal details – bank account numbers and online access passwords; credit card details and balances; online (Yahoo, aol, etc) passwords – things like that.
The first time you log on and realize that She has been prowling through bank accounts and credit cards – it is the most amazing feeling.
A real to-the-bone experience of being utterly owned.
And very addictive.
There are areas of this fetish that I have only glimpsed at, but have never experienced. Aspects that I have thought about again and again, but have never put into reality.
It must be so liberating to be free of all financial worries. Free because every single dollar/pound/peso of your earnings are whisked away within microseconds of arriving in your bank account. Having Her pay your monthly bills, and keeping you on a tight budget – the balance staying with Her. Never having to worry about taxes again, or fret over your financial future.
Knowing that all your basic needs will be taken care of, and having first hand experience watching Her flower and grow with the fruit of your labours. Seeing Her become more and more used to it being there – becoming dependent on it's reliability. A connection made, that can endure the times and tides of change.
What must it feel like to look back on a decade of serving Her that way? To add up how much you have contributed to Her life, and to still feel the hunger to continue to the end?
How would it make Her feel, having a slave on a severely tight budget, and seeing that he has still managed to save up enough to buy a small present?
There are other aspects of financial slavery that float around inside this financial slave's brain.
Contrasts are a big thing with me. Appearances – like an Aero bar. Solid on the outside, hollowed out on the inside.
Giving off the appearance of being a "typical" male – running in the rat race like everyone else – but living the reality of zero savings after decades of work.
Feeling Her eyes boring into you whenever a friend or acquaintance mentions the subject of money or financial planning.
The flush of blood to the cheeks as you look Her in the eye, both of you knowing the truth of the situation.
I have never experienced that – but I'll bet there would be such a look of confidence and power in Her. Real confidence, real power. Quiet satisfaction.
There IS something so powerfully attractive in all this.
Knowing that She is free to indulge Herself – and the price to be paid is that I must sacrifice and cut back. Live without.
Worshipping Her – if shopping for shoes makes Her happy, for example – then drawing comfort from knowing that She can spend many an afternoon indulging in Her passion.
For some of us, it sure beats an afternoon out with the boys getting pissed-faced drunk three times a week, no question about that.
… born to be used. – Source"
Financial Domination Blackmail
But then there is the more public side of playing in the financial domination world, apparently you get outed or it could be argued that some find erotic pleasure in being blackmailed. (The red boxes were placed over the images by me. Their full information was published online.)
Those that engage in selling financial domination are not afraid to be very open and direct about what they intended to do; treat you badly and take all of your money.
This submissive behavior of primarily men is said to be rooted in the underlying issues of inadequacy and self-esteem issues. However I can see that some people would be intrigued by the stripping of money from their life and being given a tight budget. For some those tight boundaries could give them some comfort and feelings of security knowing that someone else is keeping them on track, in a way. Of course the reality is not that at all. While the financial slave is giving up all of his money to the financial domme they are of course giving up their financial security and living on a very dangerous ledge. But maybe that brings some excitement as well.
Another Financial Dominatrix Site
Another site is GCupBitch.com.
Her site lists the open money slave positions.
House Boy – to pay $150 a week for maid service.
Shoe Boy – for $75 a week you can get a picture of the shoes being worn and a web chat.
Boot Slut – is $200 per month.
Hair Slut – to cover salon visits at $75 a week.
Online Cuckold – to pay for her dates at $200 a week.
Adopt My Bills
I did get a chuckle out of the fin domme need and prudence for savings. The goal of GcupBitch is $850 a month. Well at least she's being financially responsible.
And apparently the relationship between the "findomme" and money slaves is working.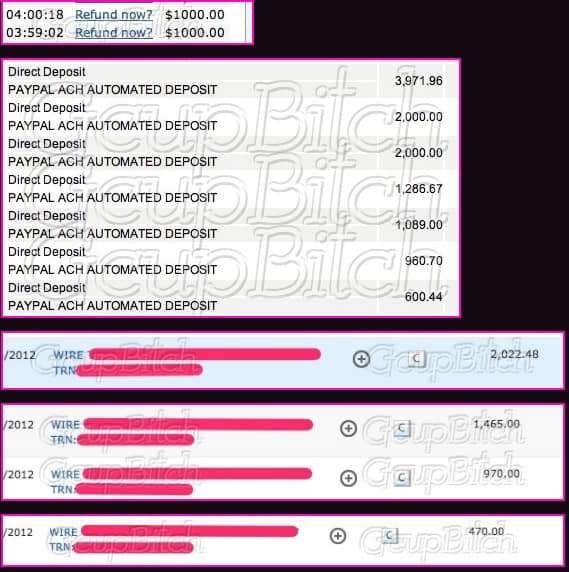 It certainly can't be said that those selling financial domination don't provide very obvious disclaimers about what is in store. Take the site of FinancialDomme.com:
Welcome to My world loser! Do you think you have what it takes to be My human ATM?

I am an evil, greedy financial domme who will take everything you own and leave you begging to give me more. I know you can't get that teenie thing off without paying. The more you pay, the more humiliating it is for money slaves like you, which leads to addiction and adoration to the cruelest financial dom on the web.

If you are looking for true financial domination, I'm more than you could imagine. You're going to treat me like the Princess I am, handing over your paycheck and maxing out your credit cards to give me what I want. While most losers just want to hand it over because they know there is no other way to get MY attention, some of you crave and actually need a hot, young financial domme to control every aspect of your finances.

You will show me your paycheck each time you get paid as well as give me a list of your bills. I will decide what you do with that money and how much of it goes to ME. I am going to GET YOUR MONEY anyway I CAN. I DONT GIVE A FUCK about your wife, kids, bills, obligations or job.

I will rape your wallet & drain you dry piggy! Know your place. I have no tolerance for timewasters. you will bow at my perfect feet and never get up. you know you need to worship me. you know you want to give me all of your (MY) money. you can't stop yourself. you are under My control. Pay Me what you owe Me pig! your money is all that matters to Me. I expect you to cater to My every whim without hesitation. I am your reason for living and before you know it I will become your addiction, wrapping you around my little finger. – Source
The FinDomme – "Therapists get paid why shouldn't I?"
After looking at a number of site it seems clear the women who are selling financial domination are very clear about what they are offering and apparently they are filling the erotic needs of generally men who wish to be "wallet raped" as some say.
This is a classic example of a money issue not being about the money but about the underlying issues that create it.
Financial domination is just a different mechanism to allow the willing participant to experience their erotic pleasure but by trading their financial well being for that which stimulates them.
If it wasn't for primarily men who want to be financial slaves there would be no need to the financial dominatrix to exist.
I'm not condoning the behavior in any way but it looks like the financial dominatrix position is a good job if you can get it to extract money from others driven by baser needs that bypass logic and driven by body chemistry.
But some women involved in this state that it is not quite as easy as it looks.
" I have only two slaves and I understand what your saying about how demanding and time consuming that they can be … and I've only got two!!"
"I love getting to know my slaves and building a relationship but if its not going anywhere financially it is stupid. Therapists get paid why shouldn't I?"
"It sounds fun and easy…but actually it's alot of work. You need to have time to sit down and really get to know your slave. You need to find out what he likes and dislikes about being a slave….some like to be humiliated, some like to be forced to be bisexual with other men, some like to be cuckholded, others just like to be used and abused by a woman that would never talk to them if they didn't have money…" – Source
Some alleged fin dommes even say they have a certain reputation in the domination world. "I'm a financial dominatrix, and yes as desjardins has mentioned a lot of the real BDSM community does consider money dommes to be absolute whores which is for the most part true.
There are those of us who truly do enjoy what we do (abusing pathetic males who have a weakness for handing over their cash to superior dominant women like Myself)! I've been at this since 2003, and many girls flow in and out of the scene thinking it's a great way to get some easy cash." – Source
How to Get Started as a Financial Dominatrix in the Financial Domination World
The best place to get started seems to be to reach out to other women in the financial domination world and ask about being an intern. Some will help and share. But you should not expect to just launch a cheap website and the money will start rolling it. It takes work, knowledge and experience in knowing what you are doing.
Apparently being good at financial domination takes some study, "As a financial Domme myself one of the best things that you can do for yourself is start learning and have a true interest in BDSM. It's not fair to anyone of you are out there just trying to get guys to give you money. You will find it more fulfilling for both parties if you have a true interest in BDSM as finacial domination is usually used in culmination with other forms of domination." – Source
In order to run a successful financial domination site others recommend you learn about BDSM, fetishes, psychology, and humiliation. Like many other things in life, success is the byproduct of hard work.
There is even an online getting started guide that offers advice in becoming a financial domme.
Obviously every woman who enters Financial Domination would love to receive thousands of dollars in tributes from their subs. Not every domme who enters will make bank. It comes easy to some because it's natural. Other people have to work hard on it. I will tell you give yourself three months before giving up. I would advise you to give up if you haven't made at least a thousand dollars within that three month time limit. I bet you would love know what they have that you don't have. There are few qualities the most successful girls has that HELPS them be as successful as they are today.

Confidence is the most important thing. You know the saying confidence is sex. It's true. Men can tell when someone has confidence. I saw a study where two woman who were equally attractive go in a bar. The one with the most confidence got the most head turns. There was two other woman who one was more attractive but didn't have any confidence. The other one who was less attractive and had a lot more confidence got more attention. They can sense if you're confident in what you're doing. Don't let your lack of confidence ruin you.
Personality is also very necessary! No one wants to serve someone who is boring. Be creative and exciting. Do put your slaves to sleep. They will leave you soon. You might have them hooked but they will not stay if they feel like you don't have a personality. Let your personality shine through your website, blog, clips and design. You need to stand out from all of those other hundreds of women in financial domination.
Creativity! I know I mentioned creativity in personality but it's more than just personality. Creativity is having your own idea or using an old idea and turning it into something new. Don't copy other ladies ideas and work. It's a big rule not to copy anyone else. You will be called out and might as well crawl under a rock and disappear. Be creative in your assignments, graphics, sites, blog, clip's site, niteflirt and other social sites you use.
Allure…make them want to approach you. You want to be approachable and never approach them. Create tantalizing photos and make them want to see more. You know the saying less is more? Have mystery. Have an attractive look.
Risk taker. Entrepreneurs are risks takers. That's what you need to be. Yes, I am looking at this as a business for a second. It is like a business. Many of the slave are just customers and are not truly in the fetish so you need to look at it both ways. Don't be too afraid to try something new. Take the risk.
The Look! You don't have to be skinny, long silky hair, big boobs and ass to be hot. You just have to have a look that will attract new slaves. You should always look nice in your photos. Being sexy will help lure them but you need the other qualities to keep them. – Source
How to Get Started as a Money Slave
Apparently those wanting to become money slaves just have to use Google. There are certainly a number of financial domination websites out there.
Closing
Before the flame comments begin, this article is not intended to make any opinion about the world of financial domination or money slavery. And it is certainly not intended to condone being a financial dominatrix or money slave. The goal is to present a condition or business that already exists which people participate in on both sides. It is what it is.
And let's be clear, it takes two to play this game. It is unclear exactly who is using who here. Could it be possible that the balance in this fetish is to create a symbiotic relationship that serves both parties?
As I said before, money problems are not about the money. They are the result if the underlying issues that create problem debt. The debt is just the symptom.
Sincerly,

You are not alone. I'm here to help. There is no need to suffer in silence. We can get through this. Tomorrow can be better than today. Don't give up.
Latest posts by Steve Rhode
(see all)