"Dear Steve,
I was contacted by Real Estste Law Center to join a mass tort lawsuit against Bank of America.
Attached, please find the retainer package. My husband and I would love your feedback.
We hope this will either help validate a legitimate service or help protect us and others from being scammed.
Teresa"
Dear Teresa,
Thank you for sending this in. I'll go through this page by page and give you my opinion on each page and point out any issues that I think you should be aware of or clarify with Real Estate Law Center.
Nothing unusual here.
Nothing unusual here.
Starting from the top of the page:
Any case filed on your behalf will be filed in California.
The agreement "does not cover all possibilities and specifically excludes representation on appeal or in execution proceedings after judgment." This seems to indicate you could owe more money for services if this requires additional services not covered in this agreement.
The attorneys are not licensed in your state if you do not live in California. This may create an issue with the Federal Trade Commission guidance on Mortgage Assistance Relief Services which says:
It's illegal to charge upfront fees. You can't collect money from a customer unless you deliver – and the customer agrees to – a written offer of mortgage relief from the customer's lender or servicer. – Source
If you do not live in California then the FTC says an attorney may only charge you advanced fees if "They are licensed to practice law in the state where their client or their client's home is located." – Source
You may be required to travel to California for an undetermined period of time at your expense "when necessary at legal proceedings."
No case will be filed until the entire retainer is paid and the retainer paid is not refundable. If you don't pay the full retainer Real Estate Law Center reserves the right to sue you to obtain the balance due.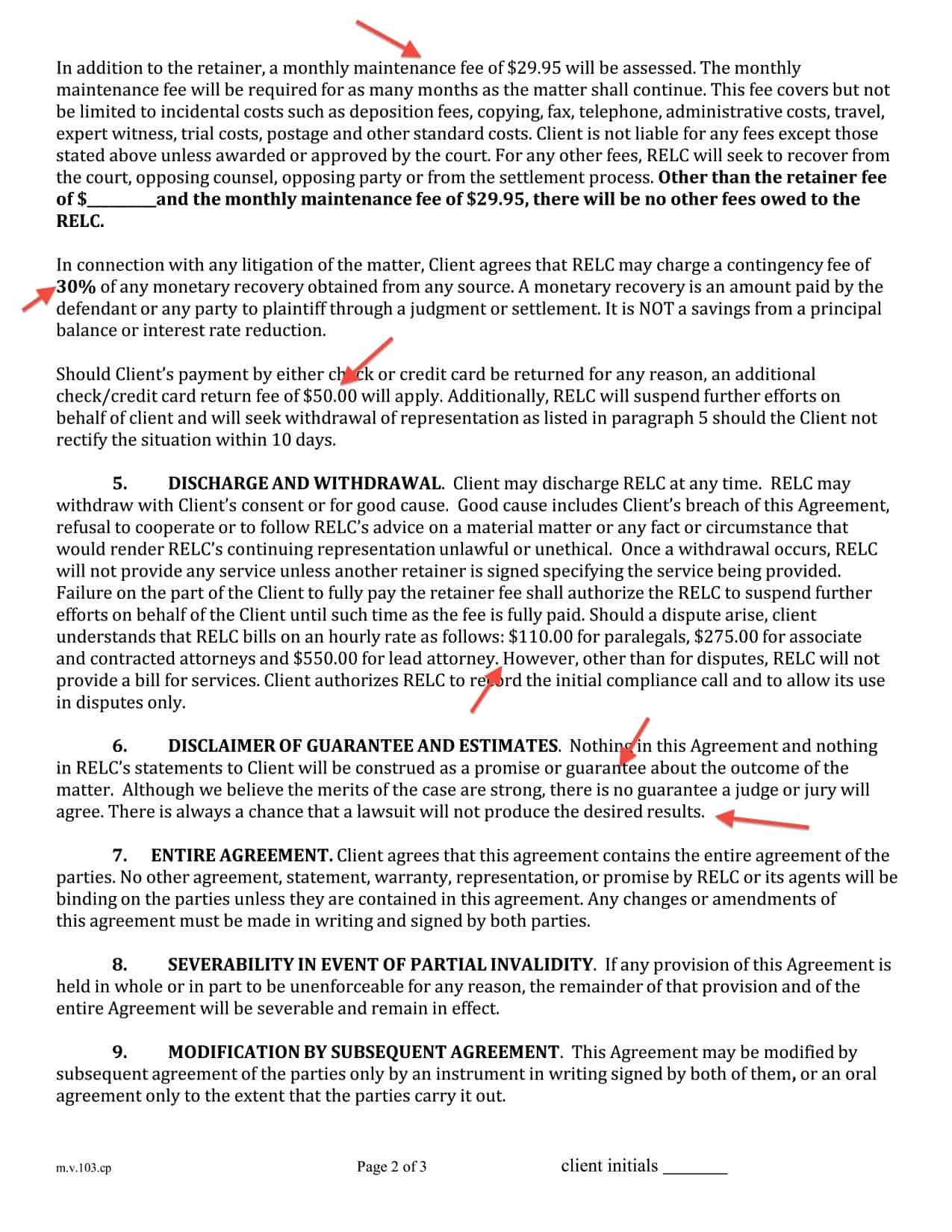 On top of the non-refunable retainer you will have to pay $29.95 per month, ongoing.
Real Estate Law Center may take 30 percent of any money recovered on your behalf from any source.
If a payment should bounce from you they will charge you $50.
If you run into an issue with this company and have a dispute, they may charge you $550 an hour for lead attorney services.
There is no guarantee at all of any outcome. There is the possibility you will not win anything or get any relief or award.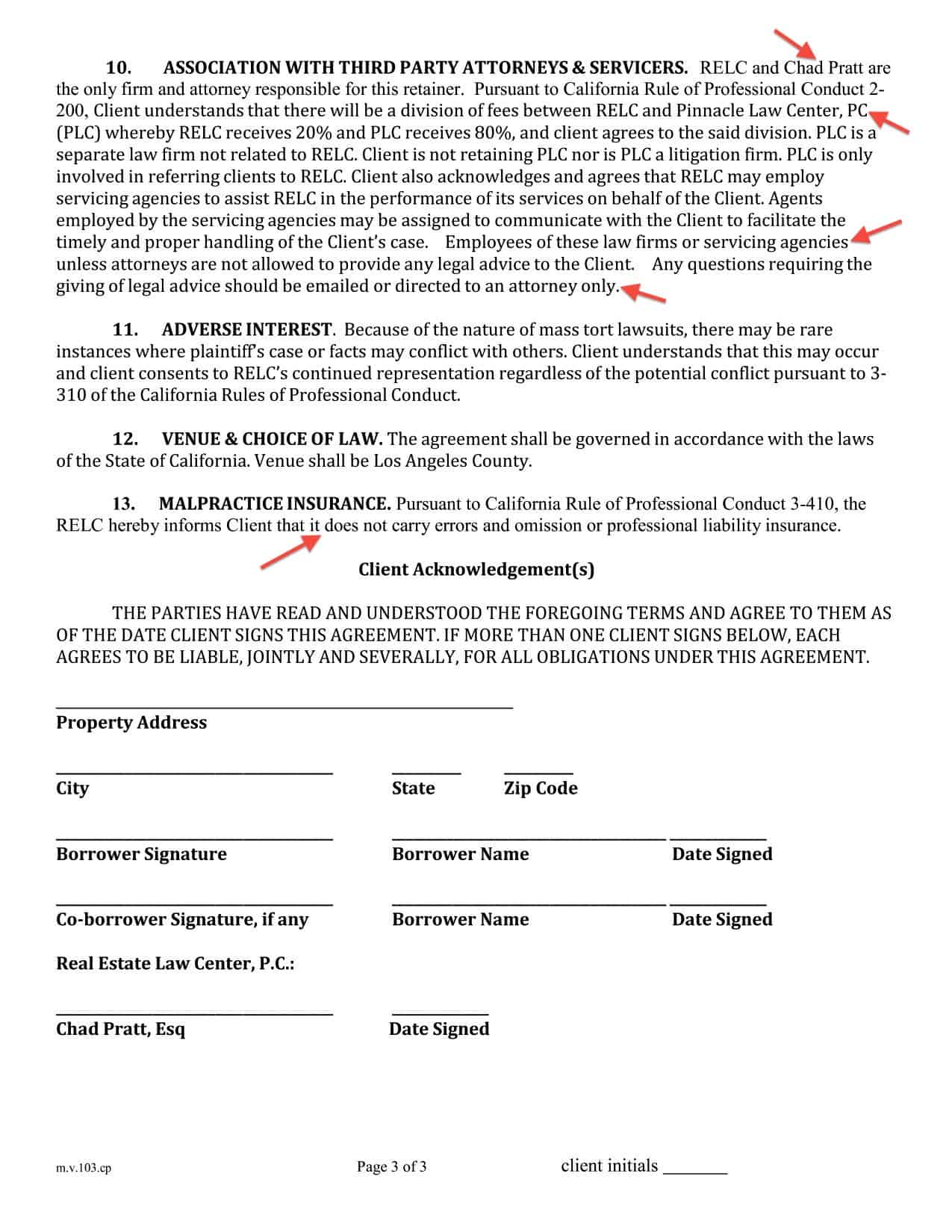 This is the first time we learn that Chad Pratt, Esq. is the attorney behind this.
The agreement says that Real Estate Law Center will split the fees you pay with Pinnacle Law Center getting 80 percent of the fees.
It appears that all Pinnacle Law Center is doing is getting paid 80 percent of the fees for referring you to Real Estate Law Center.
Real Estate Law Center may hire outside non-legal companies to service your account. "Employees of these law firms or servicing agencies unless attorneys are not allowed to provide any legal advice to the Client." Your questions should be asked only of the attorney but they've indicated the Real Estate Law Center attorneys are only licensed in California.
Real Estate Law Center does not have any malpractice or errors and omission or professional liability insurance.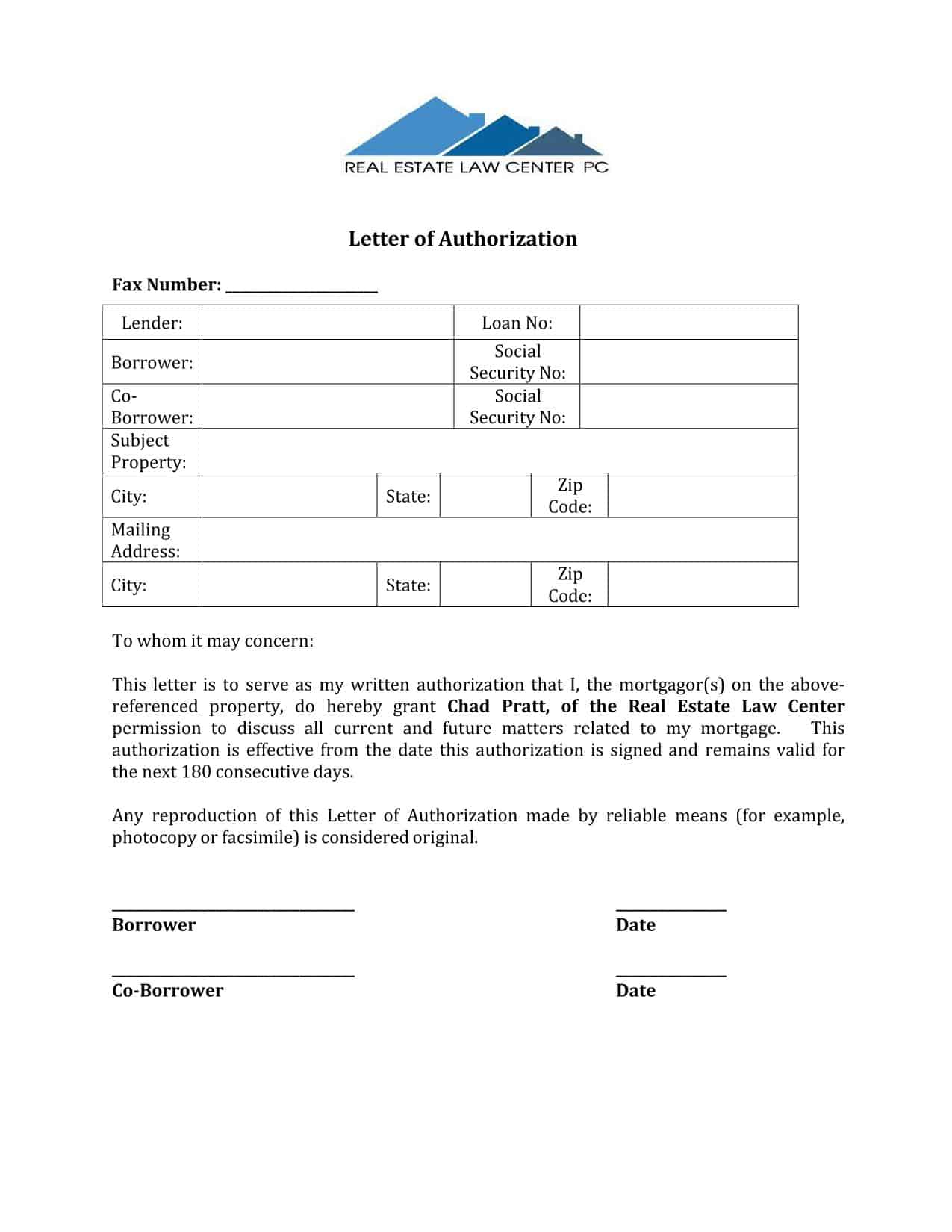 Appears to be an information release form.
Appears to be a form to allow Real Estate Law Center to debit your bank account. This form says the bounced payment fee is only $49. Congratulations, you saved $1.
A form to allow Real Estate Law Center to debit your bank account for the $29.95 monthly fee.
A form to debit your bank account for the full $5,000 non-refundable retainer.
Very Troubling
This next document they sent you concerns me deeply.
Click image for larger view.
This page, the first of two, appears to have been provided to you by Josh Kramer, Senior Consultant at Real Estate Law Center as an example of the reduction of a mortgage. It troubles me because there is no indication if this is either a typical result or given to you to create an expectation that this is what is expected to happen.
I could not help but notice that the date of this example letter is 2008, almost four years ago. Have they no current such examples? What percentage of their clients have received such results?
Additionally, the letter does not appear to be written or sent to Real Estate Law Center but to a consumer who we don't even know was a client of Real Estate Law Center. Is the four year old one example even a case that was produced by them?
This is an extremely important point especially since the State of California says Real Estate Law Center didn't even exist at that time and was formed August 18, 2011.

The second arrow on this page says what the original balance was.
Click image for larger view.
This page has two circled items showing a new interest rate and a lower balance due. This seems to be used as an example of what you should expect but all of my objections over the use of this letter still stand from the other page. Is this a typical result? Is this even obtained by Real Estate Law Center? And this isn't even with a mortgage company but with a loan servicing loss mitigation department. Is Litton even the mortgage lender on this property? If not, who was?
Conclusion
I hope the review of this information was helpful and pointed out some issues you may want to clarify with them before proceeding. At the very least it seems prudent to discus your situation with a licensed real estate attorney in your state and a free HUD Housing Counselor before proceeding. No attorney should object to you getting a second opinion and if they do, RUN!
Please post your responses and follow-up messages to me on this in the comments section below.
Sincerely,

You are not alone. I'm here to help. There is no need to suffer in silence. We can get through this. Tomorrow can be better than today. Don't give up.
Do you have a question you'd like to ask me for free? Go ahead and click here.

Latest posts by Steve Rhode
(see all)