A commenter stated, "if you go to www.thedebtanswer.com and call 866 446 0969 the message says the debt answer is now part of lloyd ward."
There has been much confusion lately who actually owns the clients from the debt settlement company The Debt Answer or attorney Lloyd Ward. The public fighting back and forth has reached ridiculous proportions, leaving consumer lost and confused. You can read about this here and here.
A check of The Debt Answer site did confirm that if you call the client service number 866-446-0969 you do hear a message that tells people their account is now being service "by the Lloyd Ward law firm." It also says consumer should call 888-850-2525.
I'd love to say things bring some clarity to the issue, but for me, it doesn't.
LloydWardLawFirm.com was listed in a warning email from Lloyd E. Ward, Esq. to clients.
If at any time, you believe you have been contacted by any third party claiming to be Lloyd Ward & Associates, its affiliates or agents, or receive any emails about your account from an email or web address from "lloydwardlawfirm.com" please call our office immediately at (855) 366-0156. – Source
Notice that even the telephone numbers given are different. In Ward's email he instructs people to call 855-366-0156 and The Debt Answer says the number is now 888-850-2525.
You can listen to the phone message below when you call The Debt Answer.
And if you call 800-899-9003, the number The Debt Answer told consumers to now call to reach them, you hear the same message you hear when you call 888-850-2525 for "The Lloyd Ward Law Firm." – Source
The Debt Answer site still lists the number called, 866-446-0969, as the client service number for The Debt Answer.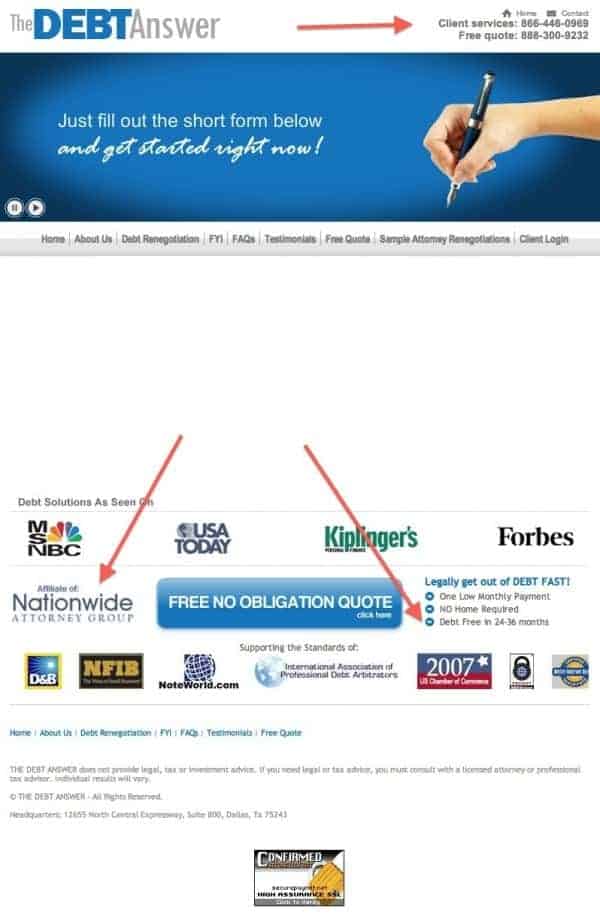 Interestingly they say they are an affiliate of Nationwide Attorney Group, but I don't believe that actually exists, and they list program benefits that appear to not be in compliance with the FTC Telemarketing Sales Rules.
The name the "Lloyd Ward Law Firm" is horribly ambiguous. It is impossible to tell what company, if any that is in reference to since there is no company registered to do business in Texas under that name.
Unfortunately, the mystery and dispute between The Debt Answer and Lloyd Ward appears to continue.
And if you are confused by all the telephone numbers and where they lead, join the club. I'm afraid we still have no clarity in this mess.
If anyone can shed some light on where the mess now stands between The Debt Answer and Lloyd Ward, please post a comment below.
Just out of curiosity I did a search of Dallas County Court records and I see no suit between Lloyd Ward and Lloyd Regner has been filed in this matter to help clear things up.
A search of Federal Court cases does not show anything there either. Apparently the parties don't believe this needs court intervention to clear up the mess between them.
Sincerely,

You are not alone. I'm here to help. There is no need to suffer in silence. We can get through this. Tomorrow can be better than today. Don't give up.
Do you have a question you'd like to ask me for free? Go ahead and click here.

Latest posts by Steve Rhode
(see all)