The National Foundation for Credit Counseling Recently put out a press release celebrating their clients of the year who, in my opinion, should never have been put into a debt management plan to begin with. See NFCC Celebrates Utter Stupidity and Puts Older Dementia Patient in Debt Management Plan.
My goodness, I hate to make this issue about Jim and Francine named in the NFCC press release, who I assume are wonderful and loving people. My comments are not specifically about them. I don't know them.
Others noticed this press release as well. The Wall Street Journal MarketWatch site ran a story Should seniors bother paying off debt?
In that article the questions were raised if it even made sense for the older couple to pay off their debt and the couple was praised for doing the ethical thing.
Based on their age, they should have explored filing for bankruptcy, some experts say. "I think the couple did the ethical thing, but it probably was not in their financial best interest to do what they did, especially at their age," says Wade Westhoff, a financial adviser based in Danville, Calif. Couples facing retirement – especially if they have already paid off their mortgage – have less reason to worry about the impact of a bad credit rating, he says. "They could have wiped the slate clean." – Source
The credit counseling agency that signed up these older Americans into the debt management plan were quoted as saying, "The Bosticks were offered bankruptcy as one solution, says Marilyn Stanley, COO of the Housing and Credit Counseling Inc., but they chose not take that route." "Bankruptcy is used as a management tool for some people," Stanley says. "but the Bosnicks felt responsible for their debt."
David Hefty, CEO of Hefty Wealth Partners in Auburn, Indiana is quoted as saying the couple didn't have any medical emergency and took the right course of action.
The Ethical Issue
It appears the issue for me is still unresolved by these additional arguments. The fact that the credit counseling group "mentioned" bankruptcy and the couple chose not to go that route is a copout in my opinion.
In this situation the couple should have been encouraged to speak with a local bankruptcy attorney and explore specifically what bankruptcy would mean for them so they could then make an informed decision that was not based on emotional assumptions. We have no way of knowing how the debt management plan was sold to these consumers nor do we have any way of knowing how bankruptcy was presented.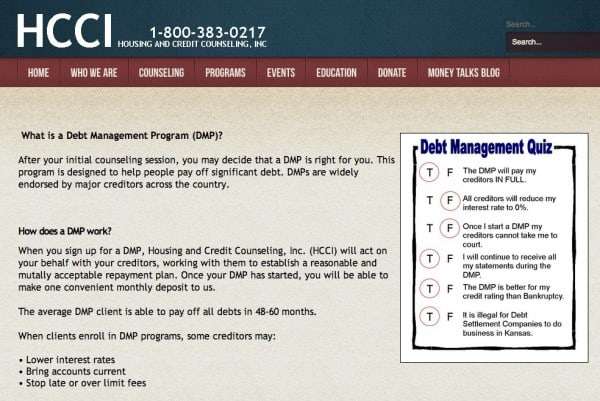 Wade Westoff, in the MarketWatch article is quoted as saying, "…it probably was not in their financial best interest to do what they did, especially at their age."
The author of the MarketWatch piece presents two alternative views. First, the older couple did the ethical thing by repaying their debt. Second, there was no pressing medical emergency.
So let's talk about that for a moment, the ethical thing.
What is the ethical thing when repaying debt? First we must evaluate to whom people have an ethical duty to first. Is it their creditors or themselves.
When creditors extend credit they assume some level of risk and people enter into a promise to pay based on what the future looks like at the time. While credit agreements might be absolute, life isn't. I'm certain the couple at the center of this discussion did not know they would wind up in debt crisis, with no real savings, and Jim's declining health.
And are the couple prepared for Jim's declining health?

According to the international association, Alzheimer's Disease International, caring for a dementia patient is only going to become increasingly more expensive. In their 2010 report they estimated the average cost was "$32,865. According to current ADI estimates, the total costs will increase 85 percent until 2030." – Source
There is no blanket ethical answer for every situation and rather than jump to a conclusion, people should take a moment and examine what is the best course of action based on their situation at the time.
There are two components to this decision; emotional and numerical. Emotionally people may face, as this couple may have, the question of what is the "right" thing to do. I've written about this before at length in Is Bankruptcy Sinful and Bad or Right and Moral? An Examination.
But is doing the "right" or "ethical" thing a one sided affair?
Let's say that in the case of this couple, the creditors included in their DMP did not cut their interest rate to 0% and reduce their monthly payment to allow them to save as they dug themselves out of debt. What is the creditors "ethical" responsibility or is it only one-sided and rests totally on the consumer in a disadvantaged position?
The ethical slope is even more complex.
Is it more ethical for someone to not prepare for a rapidly accelerating near retirement and looming medical care in their declining income years or to spend what limited resources may be available to fix a past financial mistake.
The alleged daughter of the couple that became the focus of this entire situation posted a comment on this site. She said:
These 2 people are my parents and you know what they didn't want to declare bankruptcy. They wanted to pay of the debt they occured. This wasn't HCCI pushing them to pay of their debt that is what THEY wanted to do. Yes they could have declared bankruptcy but that was not an option for my mother. She wanted to pay off what she spent. They now have a great savings account, bought a new car because they have excellent credit. Now here's my question would they have gotten 0% interest for the life of their car loan if they would have filed bankruptcy, no so get the facts straight. My mother still has lots of time left with my step father and she gets to retire in December debt free!!! – Source
The comment brings up a common misconception that you can't have excellent credit following bankruptcy. That's not true. Granted the credit will have to be rebuilt but it takes far less time than people assume, a few years. See How to Easily Rebuild Your Credit and Have Good Credit Again.
Let's use the CCCS chart they use to promote their debt management plan and see how bankruptcy might stack up.
The full debt can be repaid in bankruptcy at 0% interest and creditors will not be able to take you to court for the debts.
So if the couple had filed bankruptcy they would have had an additional five years of building their savings, an additional five years of time as Jim slipped into further dementia, and protected themselves better moving forward. They could have also repaid their creditors following bankruptcy in a balanced way based on their income and situation. Bankruptcy does not mean you can't repay what you can reasonably afford to if that's your goal. And let's not forget, they could have easily repaired their credit and rather quickly.
At some point people have become emotionally brainwashed to believe what is best for creditors is best for them. So to whom do we have an overriding ethical duty to?
I stand behind the couple in question if they made a fully informed decision and met with a local bankruptcy attorney to learn, not assume, what bankruptcy would mean for them. If they then elected the path of less savings for retirement and less financial protection while enrolled in a debt management plan, that's their personal choice.
I guess the point here is that when digging out of debt there are a number of factors to consider and assumptions to correct before someone can make the best and right decision for them.
I wish the Bostwick's all the best as they move forward with their lives. My issue in this situation is not with the Bostwick's or even that a CCCS enrolled these good people, but that somehow this situation is a blazing example of client of the year.
This entire episode got me thinking about what people should expect when looking for debt help. So I wrote 10 Must Do Steps to Find the Best Credit Counseling or Debt Settlement Company for You to help people know what to look for.
Sincerely,
You are not alone. I'm here to help. There is no need to suffer in silence. We can get through this. Tomorrow can be better than today. Don't give up.
Do you have a question you'd like to ask me for free? Go ahead and click here.
Latest posts by Steve Rhode
(see all)