Documents recently unsealed by the court show that on November 6, 2012 the Federal Trade Commission filed suit and asked the court for a Temporary Restraining Order to seize assets of American Business Builders, ENF, Network Market Solutions, UMS Group, United Merchant Services, Universal Marketing and Training, Unlimited Training Services, Shane Michael Hanna, Shane Michael Romeo, and Stephen Spratt.
This case to focus on home based business opportunity sales, and merchant and credit card processing services.
The FTC says:
Defendants have carried out an illegal business opportunity scam which has defrauded consumers out of hundreds of thousands of dollars.
In telemarketing calls to consumers, Defendants represent that that they provide low-cost credit card and other payment processing services and related products (e.g., credit card terminals and merchant cash advances) to small businesses. Defendants tell consumers that, for a fee that typically ranges from approximately $295 to $495, the consumers may operate their own home-based business selling Defendants' payment processing services and products to small businesses.
The consumers to whom Defendants solicit their business opportunity are not currently engaged in the payment processing industry.
In their initial contact with consumers, Defendants often represent that Defendants will obtain or assist the consumer in obtaining small business customers or accounts. Defendants tell consumers that the consumer will assist Defendants in identifying merchants that might be interested in Defendants' services including, in some instances, by distributing flyers to or collecting merchant account statements from local merchants. In numerous instances, Defendants represent that Defendants will convert merchants that the consumer either identifies or refers to Defendants into customers or accounts. In other instances, Defendants represent that all merchants located within specific geographic territory and which enroll with Defendants or use Defendants' services will be the customers or accounts of the consumer.
Defendants also represent that consumers will receive support from Defendants ino perating their new business. In numerous instances,D efendants represent that such support will include training or coaching, the provision of printed marketing materials such as flyers or brochures, business cards, business licenses, or the creation of a websitew here consumers can review the status of pending accounts or customers. Defendants have also represented that they will provide consumers with sales lead lists.
Typically within several days of Defendants' initial call to consumers, Defendants market and sell to consumers telemarketing sales leads (consisting of the names and telephone numbers of merchants that may be interested in purchasing Defendants' payment processing services) and a telemarketing campaign in which Defendants will call the merchants (the "leads" ) to promote consumers' new business.
Defendants represent to consumers that Defendants will contact and market Defendants' services to each of these leads and that this telemarketing campaign will generate new customers or accounts for the consumer. Defendants typically charge consumers $10 for each lead. The total charge to the consumer is often greater than $10,000, and, for some consumers, has been as high as $40,000.
Defendants represent that consumers will earn income on each merchant that Defendants convert into a customer or account. Defendants represent that consumers will make a commission (e.g., $500) on each payment processing terminal that Defendants sell or lease, a percentage of each merchant cash advance that is funded, and a percentage of each merchant's monthly sales volume for as long as the merchant remains a customer or account. In some instances, Defendants represent that consumers will also earn income on each merchant customer or account located within the sales territory that Defendants have purportedly assigned to the consumers.
Defendants also make representations, either expressly or by implication, about the earnings potential of the business opportunity. Some of the representations Defendants make include the following:
Consumers will begin to earn income within weeks;
Consumers will earn thousands of dollars in income per month;
Consumers will earn back the cost of their initial investment within weeks;
Consumers wille arn back the cost of the sales leads they purchase from
Defendants within months; and
Defendants will convert a certain number or percentage of sales leads into customers or accounts.
Defendants also make additional representations that make consumers believe that these earnings are likely. For example, Defendants have represented that Defendants are part of a multi-billion dollar merchant service industry, Defendants offer the lowest payment processing rates in the industry, and there is a lucrative market for merchant cash advances because conditions in the commercial credit market have prevented many small businesses from obtaining loans. Defendants have also represented that the sales leads Defendants supply have already applied for merchant cash advances or have been denied bank loans and are, thus, already familiar with or interested in Defendants' services.
Contrary to the representations Defendants make to consumers, in numerous instances, Defendants do not obtain accounts or customers for consumers and consumers do not earn income from this business opportunity.
The Disclosure and Earnings Claim Statement
Defendants have failed to provide a written disclosure document to consumers prior to their purchase of Defendants' business opportunity, as required by the Business Opportunity Rule. Defendants have failed to disclose in writing their name, business address, and telephone number; the name of the salesperson offering the opportunity; whether Defendants, any affiliate or prior business of any Defendant, or any of their key personnel have been the subject of any civil or criminal action for misrepresentation, fraud, securities law violations, or unfair or deceptive practices; material terms and conditions of any refund or cancellation policy; and the contact information for at least ten people who have purchased the business opportunity from Defendants. Defendants have failed to provide this information to consumers at any time and in any format, including as a single written document in the form and using the language required by the Business Opportunity Rule.
Although Defendants and their representatives have made claims to consumers about their likely earnings, they have failed to provide consumers with an Earnings Claim statement as required by the Business Opportunity Rule.
Defendants have engaged in the foregoing business practices since at least March 1, 2012. – Source
Business Opportunity Rule
The Business Opportunity Rule provides an outline of the specific information every business or enterprise must provide to prospective purchasers of their business opportunity.
If you are considering purchasing a business opportunity then you must be provided with at least the following disclose statement.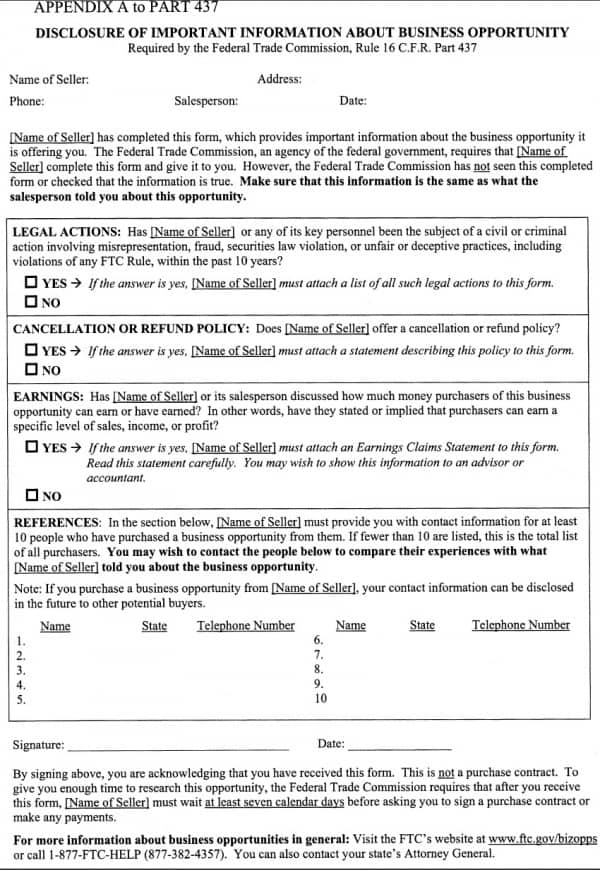 If the seller of a business opportunity makes earnings claims they must provide you with a separate document that says in big type across the top: EARNINGS CLAIM STATEMENT REQUIRED BY LAW.
This document has to include:
the name of the person making the claim and the date;
the specifics of the claim;
the start and end date those earnings were achieved;
the number and percentage of people who got those results or better;
any information about those people that may differ from you – for example, the part of the country where they live; and
a statement that you can get written proof of the seller's earning claims if you ask for it.
Since the Rule gives you the right to see written proof for the seller's earnings claims, savvy buyers exercise that right and study those materials carefully. Compare that information to what the seller has told you about how much money people make. If the dollar amounts don't line up, your best bet is to walk away. Like the disclosure document, the earnings claim statement has to be in the same language that the seller used to communicate with you. – Source
Business opportunities covered by the Business Opportunity Rule include those which have a commercial arrangement in which:
(1) A seller solicits a prospective purchaser to enter into a new business; and
(2) The prospective purchaser makes a required payment; and
(3) The seller, expressly or by implication, orally or in writing, represents that the seller or one or more designated persons will:
(i) Provide locations for the use or operation of equipment, displays, vending machines, or similar devices, owned, leased, controlled, or paid for by the purchaser; or
(ii) Provide outlets, accounts, or customers, including, but not limited to, Internet outlets, accounts, or customers, for the purchaser's goods or services; or
(iii) Buy back any or all of the goods or services that the purchaser makes, produces, fabricates, grows, breeds, modifies, or provides, including but not limited to providing payment for such services as, for example, stuffing envelopes from the purchaser's home. – Source
If you feel like you've been scammed by a business opportunity, you can file a complaint here.
Sincerely,

You are not alone. I'm here to help. There is no need to suffer in silence. We can get through this. Tomorrow can be better than today. Don't give up.
Do you have a question you'd like to ask me for free? Go ahead and click here.

Latest posts by Steve Rhode
(see all)