Citi has just announced a new program called Price Rewind. On a quick glance it looks like an interesting concept.
It's billed as free service for Citi Card holders who register to let the autmated system hunt for cheaper prices on products they've purchased using the card. If a lower priced item is found within 30 days from purchase you can submit a claim and get back a refund on the difference in price.
A Citi representative described their program benefits by saying, "Just consider: if you bought a dress for holiday parties or a toy for your toddler, and the retailer marked the price down a week after you bought it, Citi Price Rewind is the only program where you could get the difference back! Those savings can add up – with Citi Price Rewind, cardmembers receive an average refund of $80!"
The Large Print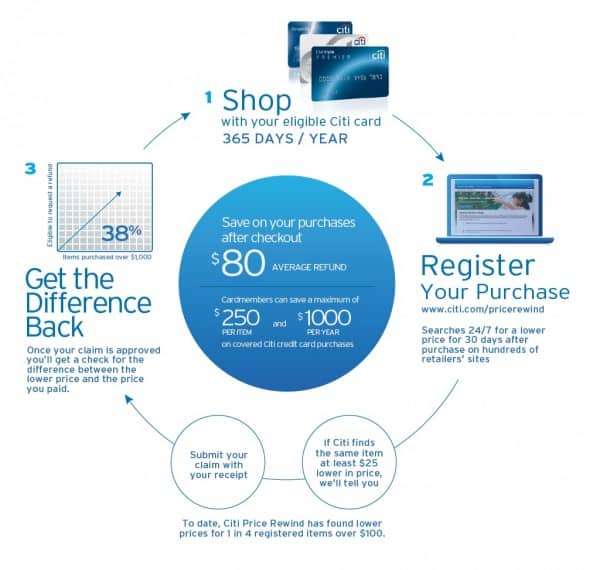 Wow, that offer sounds fantastic. But the devil is always in the details. So let's take a look and see if the fine print lives up to the large print hype.
And the infographic put out by the press department is more descriptive than the Citi Price Rewind site itself.
The Fine Print
The Citi Price Rewind website at CitiPriceRewind.com does not appear to actually mention limits on refunds. The first page of the site is very vague.
If you look on the bottom of the primary page we find our first disclaimer. It says:
Prices are tracked for 30 days from the original purchase date for the same item by the same manufacturer. Citi Price Rewind only tracks online prices. In order to be eligible for a refund, the price difference must be at least $25. Price Rewind refunds are limited to $250 per item and $1,000 per calendar year. Multiple purchases of the same item are limited to a $250 maximum claim payment per sales receipt. The entire purchase amount for the item must be made with your Citi card to be eligible for a refund. This program is not available on all cards. Business cards are not eligible for this program. Items purchased with ThankYou Points are not eligible for this program. For customers who qualify for benefits for the same transaction under Citi Price Rewind, Internet Price Protection and Price Protection coverages, or any combination of those coverages, the Company will only pay under the coverage providing the highest benefit and no benefits will be due under the other circumstances. Additional limitations and exclusions apply. Not every product found on this site qualifies for coverage so please see the Description of Coverage for program details and to learn what items are covered. Citi Price Rewind is underwritten by Triton Insurance Company. – Source
From this we learn:
There are limits to the annual benefits. They are capped at $1,000 a year and $250 per item. That's good to know.
Business cards are not eligible to participate in this program.
Items purchased with reward points are not eligible.
Not every product found on their site qualifies for coverage.
On the description of coverage page there are a number of items that are not covered by this program.
The excluded items include:
Boats;
Motorized vehicles (including but not limited to airplanes, automobiles and motorcycles), or their motors, equipment, and accessories (including but not limited to communication devices intended solely for use in the vehicle);
Consumables and perishables;
Items which the Eligible Person damages through alteration (including cutting, sawing, or shaping);
Land, permanent structures and fixtures (including but not limited to buildings, homes, dwellings, and building and home improvements);
Travelers' checks, tickets of any kind, negotiable instruments, bullion, stamps, rare or precious coins, cash or its equivalent, lottery tickets or tickets to events or for entertainment;
Live plants or animals;
Used, antique, recycled, previously owned, rebuilt, or remanufactured items, whether or not the Eligible Person knew the item was used, antique, recycled, previously owned, rebuilt, or remanufactured;
Items for which the Printed or Internet Advertisement containing the lower price was published or disseminated by the merchant more than 30 days after the Eligible Person's purchase;
Items purchased subject to rebate, redeemable manufacturer's coupon, or any refund of any sort, in which case the purchase price will be determined by taking into account any such rebate or refund;
Customized/personalized, unique and one-of-a-kind items;
Items purchased for resale, professional or commercial use;
Services (including but not limited to the performance or rendering of labor on new parts eligible for this program or maintenance, repair or installation of products, goods or property, or professional advice of any kind);
Jewelry (watches are not considered jewelry for this program), collectibles, art, antiques, special order, rare one-of-a-kind items;
Stuffed or mounted animals, animal or fish trophies;
Airline tickets or transportation tickets of any kind;
Differences in price due to shipping, handling costs or sales tax;
Items purchased by a non-U.S. resident;
Items purchased and/or delivered from merchants outside of the United States;
Merchandise offered through special offerings by Citibank, N.A. – Source
Claims are not limited to just prices tracked online by Citi. If you find a lower price on the same item you can submit a claim manually. It's important to note that manually submitted claim forms will require:
Your original merchant or credit card receipt showing the item purchased.
Copy of credit card statement showing purchase was made with Citi credit card.
Impression
It appears this free program could offer some benefits to Citibank credit card holders that participate, since there is no additional fee.
However, two issues stand out to me. There is no specific description of the online sites the Citi program will monitor for lower prices.
Apparently Citi has a list of sites they will monitor because they say, "That's fine. You still can request a refund if a price difference of at least $25 is found on retailers' sites in the Citi Price Rewind database." We just don't know what sites are in the database. – Source
And it is possible that some purchases may be excluded from coverage. Be sure to check the excluded items before purchasing to make sure your item is covered.
Overall it seems like an interesting inducement program to attract people to spend for the upcoming holiday season on their Citibank credit cards in hopes of getting some cash back.
Sincerely,

You are not alone. I'm here to help. There is no need to suffer in silence. We can get through this. Tomorrow can be better than today. Don't give up.
Do you have a question you'd like to ask me for free? Go ahead and click here.

Latest posts by Steve Rhode
(see all)