"Dear Steve,
I have $43,540 in student loan debt. They are charging 1% of the payment and a monthly maintance fee.
Is this legal? How are they doing this? Seems to be a legit company and have a good BBB rating.
www.studentloanservice.us/services
Ryan"
Dear Ryan,
If you want to pay some money for something you can do yourself. That's your choice to do that. However I can't see how it benefits you if you are paying a monthly fee.
Just today I wrote an article that talked about the rise of student loan assistance programs. See Student Loan Assistance Rescue Scams On the Rise – Buyer Beware.
All of the benefits Student Loan Service mentions on the front page of their website, you can get yourself for free without paying anyone. The money you save can be used to payoff your student loans faster.
A search of Student Loan Service with the State of California, where they are located, could not find any LLC or corporation registered under that name.
There is a company, NDP Services, Inc. that is listed at 4747 Viewridge Ave, Suite 220, San Diego, CA 92123 that the BBB lists as a related company.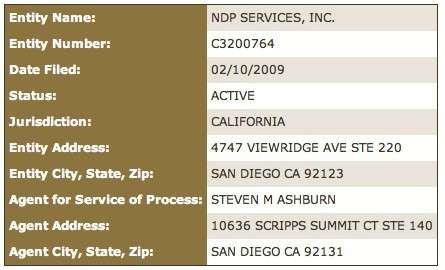 That also happens to be the location of Five Star Escrow and debt settlement company L3V3L (Level Thirty Three) as well. – Source, Source
While the BBB reports Coastal Credit Solutions is located in the same office as Student Loan Service and that the debt settlement company Level Thirty Three is a related company. – Source
Student Loan Service claims they are located at:
4747 Viewridge Ave
#200
San Diego, CA 92123
And according to the Better Business Bureau the company owner is Anthony Murigu who we've written about before.
The director of operations is listed as Jason Blackburn, who has also appeared in other stories. – Source
I would suggest you call the Department of Education and talk to them about the consolidation services they offer for free.
I'm curious of Student Loan Service even mentioned to you these services are available for free from the Department of Education? Did they?
Please post your responses and follow-up messages to me on this in the comments section below.
Sincerly,

You are not alone. I'm here to help. There is no need to suffer in silence. We can get through this. Tomorrow can be better than today. Don't give up.
Latest posts by Steve Rhode
(see all)