Texas Attorney General Greg Abbott has charged a Dallas-based debt management firm with defrauding its customers. The State's enforcement action sought an asset freeze and temporary restraining order against Shane V. Garner and Credit Alliance Group (CAG) dba Credit Services Today.
The complaint filed alleges Garner and Credit Alliance Group operated as an unlicensed debt management service provider in Dallas, Texas for over six years.
Texas law prohibits any person from providing such debt management services without first obtaining an approved registration from the Texas Consumer Credit Commissioner.
According to state investigators, the defendant marketed its services through a now-defunct website and direct customer emails. Utilizing purchased leads on individuals with debt-related problems, CAG contacted prospective customers claiming it would eliminate 20 to 60 percent of their outstanding balances within three years. CAG promised that customers would not owe the firm "a dime" if the firm failed to deliver on its claims; however, the State's investigation revealed that customers were nonetheless charged up-front fees, sometimes up to 35 percent of the debt they owed, and that CAG failed to deliver on its services.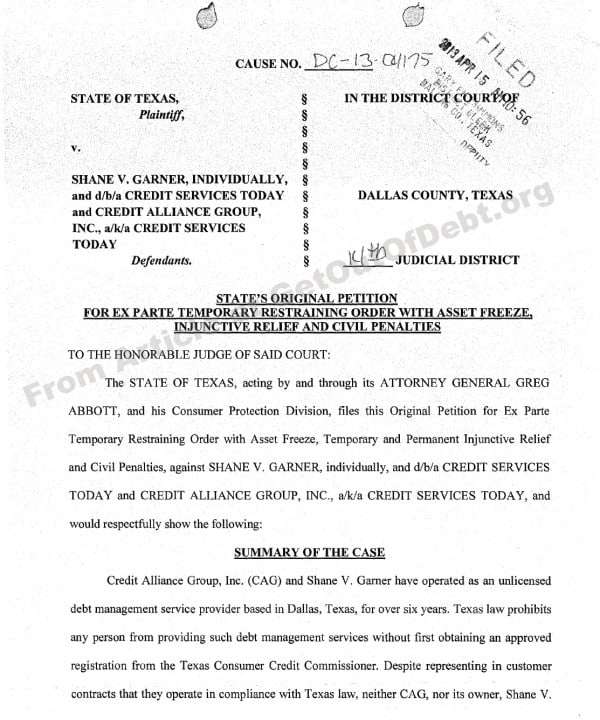 According to court documents filed by the State, CAG customers were promised that their payments to the firm would be deposited into separate accounts subject to their control and managed by the firm. State investigators learned, however, that those promises were not honored and that CAG deposited/commingled customers' funds into its own operating account. As a result, customers had no actual control over their own money. Further, defendant Garner used customer funds to pay his personal bills.
Affected CAG clients eventually discovered they could not receive refunds on advance fees paid, nor on the accumulated funds the defendant promised to hold in trust to help manage and resolve their debts.
The Office of the Attorney General's own review of 52 CAG clients' accounts – out of an estimated 800 total accounts – revealed that CAG owes these 52 clients more than $180,000 in escrowed funds alone.
The Office of the Attorney General brings this action under the Texas Deceptive Trade Practices Act. The defendant also failed to register as a debt management services entity with the Office of Consumer Credit Commissioner, a violation of the Texas Finance Code.
According to the suit filed, "Texas law is well settled that corporate agents may be held personally responsible and individually liable under the Deceptive Trade Practices Act for wrongful acts." It also states, that Deceptive Trade Practices Act violations may include both current misrepresentations as well as a failure to perform a future promise.
Credit Alliance Group charged consumers up to 35 percent of the client's total debts along with additional monthly fees.
If you would like to read the full complaint, click here.
Sincerely,

You are not alone. I'm here to help. There is no need to suffer in silence. We can get through this. Tomorrow can be better than today. Don't give up.
Do you have a question you'd like to ask me for free? Go ahead and click here.

Latest posts by Steve Rhode
(see all)