The American Fair credit Council (AFCC) recently released a couple of documents they hoped would persuade people about the value of debt settlement.
I was asked to review the findings in the documents and offer my opinion.
The first presentation is one that was supposedly given to the Federal Trade Commission and Consumer Financial Protection Bureau, at least judging from the name of the file.
This presentation focuses on data commissioned by the AFCC by "Greg Regan, one of the nation's leading forensic accountants, to analyze consumer outcomes over a statistically significant portfolio of debt settlement accounts." – Source
The report and presentation divide consumers up into two groups. The first is the group before the Telemarketing Sales Rules went into force in October, 2012 and the second group, Version 2, are the post-TSR consumers.
Ironically, what the report omits is that the parent organization of the AFCC, The Association of Settlement Companies (TASC) is the group that tried almost everything to lobby against the new legislation and wanted to continue the old ways.
I'm struck by how little transparency there is in the underlying data used in the report. The presentation says "The analysis presented below addresses the outcomes of more than 1 million individual Accounts that were enrolled in debt settlement programs from January 1, 2006 through December 31, 2012. These Accounts were associated with approximately 170,000 individual Clients." – Source
But we really have no indication from the data of the completeness of the client data nor an apparent certification by the author that the underlying data is accurate and includes all accounts.
In the past some debt settlement companies were known to omit consumers that failed to settle debt in their calculations.
There is No Doubt That Debt Settlement, Settles Some Debt
Let me be clear that there is no doubt that for the right consumer that is poised to settle their debt and is appropriate for settlement, debt can be settled. The issue has been and continues to be the inappropriateness of settlement as sold to mass consumers.
Let's Dive In
The FTC and CFPB presentation claims:
AFCC members deliver significant value to their clients. Across the entire pool (Active, Terminated and Completed, for both 1.0 and 2.0), AFCC members delivered $3.15 in debt reduction for every $1.00 in fees charged.

Client across all vintages are achieving substantial reductions to their account balances.
The TSR amendments cleared out many (but not all) companies that were not delivering value to consumers.
Post-TSR, we have seen a significant shift to faster settlements for clients.
Post-TSR, clients receive substantial savings (debt reduction minus fees) regardless of tenure.
Pre-TSR, clients achieved savings (i.e., debt reduction minus fees) after ~7 months of program tenure.
AFCC members deliver substantial value to clients (even before the TSR amendments).
What the bullet points fail to say is there is little evidence presented regarding how many consumers settle all their debt or what the outcomes are after enrollment. Or what percentage wound up filing bankruptcy, getting sued, getting judgment, etc.
Poor Results
Understanding the presentation is a sales job, it claims the completion rate for AFCC debt settlement clients is only 50 percent. This means that either half of all accounts or half of all clients do not "complete."
Completion rates (account level) for 2.0 programs are expected to stabilize above 50%, based on 26 months of data. – Source
In the post-TSR world of companies that do not charge an advance fee, there is still significant risk to the consumer for not fully dealing with their debt, even after 26 months. A delay in eliminating the underlying debt sets the consumer up for lawsuits from creditors and more concerning is the future cost to the consumer in extended repayment plans. See The Hidden Real Cost of Credit Counseling and Debt Settlement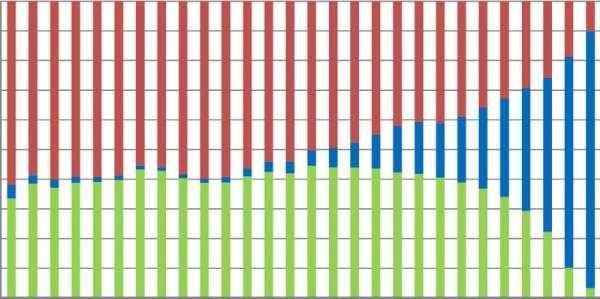 The AFCC presentation continues on with a number of pretty charts but unless we know the underlying data is accurate then the charts are essentially meaningless.
Most telling for me in the report and presentation is this one slide.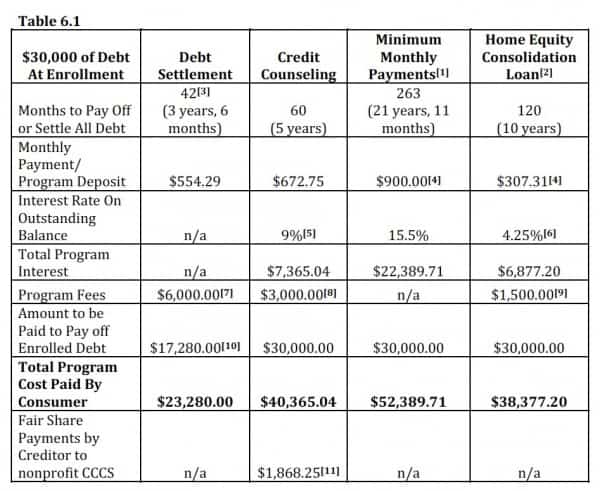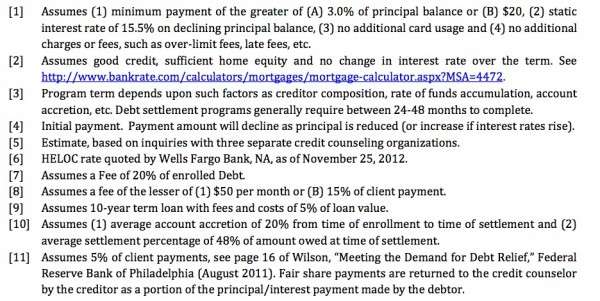 The report and the presentation both appear to compare debt settlement to an incomplete list of other options consumers can use to deal with their debt.
You will notice that both chapter 7 bankruptcy and unsecured debt consolidation loans are missing from the list.
If we added one more column to the list to include chapter 7 bankruptcy, which 70 percent of consumers file, the results would look like this:
Months to Pay Off – 1.5
Monthly Payment – $0
Interest Rate On Outstanding Balance – 0%
Total Program Interest – $0
Program Fees – ~$1,800
Total Program Cost Paid By Consumer- ~$1,800
There is also no statement in the presentation about the tax liability costs incurred by those that settled. While those that are insolvent may complete IRS Form 982 to waive their tax liability, certainly not all debt settlement clients are exempt or file to waive their liability.
Consumer Bankruptcy
A search of the entire 31 page report could not locate any statement about chapter 7 bankruptcy. There is one section on chapter 13 bankruptcy but in my opinion it does not do a fair job of presenting the facts.
The report says, "This type of bankruptcy is similar to debt settlement programs in that it enables individuals to establish a plan to repay part or all of their debts, and similar to credit counseling, in that it requires participants to pay a monthly amount to the bankruptcy court for distribution, after fees, to approved creditors."
But what the author fails to take into account is that a chapter 13 bankruptcy has the power of law behind it to stop all collection calls, prevent lawsuits, stop wage garnishments and has no tax liability for discharged debt.
The report also appears to try and make the claim that the completion rate for chapter 13 bankruptcy cases is worse than that for debt settlement. "Nevertheless, the completion rates appear unlikely to match the equivalent for debt settlement clients." – Source
But what the data does not disclose is why the chapter 13 case terminated. A large number of these cases convert to chapter 7 bankruptcy discharges and the consumers debt is discharged. It would be a stretch to label that as a failure when in the end the consumer debt was eliminated.
Additionally, the report does not also include any qualification about the reason why the chapter 13 bankruptcy was filed in the first place. During the recent years of housing problems, many chapter 13 bankruptcies were filed to stop foreclosures, a power that debt settlement does not have.
Based on feedback from bankruptcy attorneys, and looking at the total number of bankruptcy cases filed by chapter, it appears that nearly 90% of bankruptcy filers are able to repay what they can afford or discharge their debt through bankruptcy. – Source
In the end those foreclosure stopping chapter 13 bankruptcies may have failed but comparing them to debt settlement is like comparing the power of an entry level car to a race car. While they are both cars, they are not equal.
The report also cites the completion rates of credit counseling programs using an article I wrote, nice touch. But the conclusion of my article, The Truth About The Success Rates, Failure Rates and Completion Rates of Credit Counseling, Debt Settlement, and Bankruptcy was that the most effective program to address problem debt as far as debt eliminated was bankruptcy.
The article also said that the debt settlement success rates were all over the board and as low as 8 percent.
I'd Love to Say I Was Wowed
I'd love to say the report and presentation shared something miraculous and new but sadly it has not.
The missing information and incomplete facts presented also make me very concerned that the message is a positive sales message rather than a balanced look at all consumer debt relief options.
If they are hiding presenting all the facts, what else does the report hide.
Latest posts by Steve Rhode
(see all)