An interaction yesterday with a Kevin Jackson from Thomassen Law Group (if that is even a real entity) sparked my interest in Fresh Start Legal Advocates.
Kevin referred to the party identified on the post card sent to consumers as "Fresh Start" and appears to indicate they are an affiliate or lead generator for Thomassen Law Group (I'm still unable to verify they are a real entity). Checkout this story.
Kevin said, "The prospect when calling into Fresh Start is greeted by someone answering as Fresh Start. They make a clear distinction in the call that they are referring them to another party. In fact the prospective client must then contact Thomassen law group directly to request consideration for enrollment." And, "You would have to contact Fresh Start and ask them any questions concerning their practices."
When I asked Kevin to clearly identify the group he was referring to as Fresh Start he did not answer the question. I asked him, "Is the affiliate you are stating sent the card "Fresh Start Legal Advocates Inc has a location in League City, TX. Active officers include Robert Hutchison. Fresh Start Legal Advocates Inc filed as a Domestic For-Profit Corporation on Monday, May 09, 2011?"
So Who is Fresh Start Legal Advocates?
I really don't understand why this has become such an obscured task. Kevin should immediately know who Fresh Start Legal Advocates is that sends out marketing material to disadvantaged consumers in debt and promotes Thomassen Law Group services. After all it's not like Kevin is some new employee at Thomassen Law Group, he's "responsible for the development and implementation of all marketing efforts for the firm." – Source
So since Kevin did not respond who Fresh Start Legal Advocates is I decided to go and look myself. There is obviously no way to confirm the information below since the postcard bearing the name Fresh Start Legal Advocates has no return or business address on it.
There is no website for Fresh Start Legal Advocates I was able to locate.
Florida
According to the State of Florida a company was registered on May 10, 2013 under the name Fresh Start Legal Advocates. The company president and director is identified as Robert Hutchison of Sugarland, Texas. The company says it is a Texas corporation and their mailing address is 10500 University Drive, Suite 120, Tampa, Florida 33612.
Texas
According to the States of Texas, Fresh Start Legal Advocates has had their right to transact business in Texas forfeited.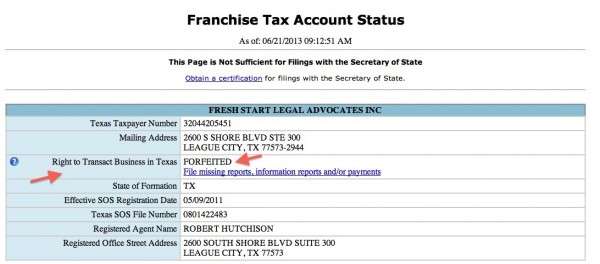 The company was formed May 9, 2011 and the registered agent is Robert Hutchison. The company mailing address is listed as:
2600 S Shore Blvd
Suite 300
League City, Texas 77573 – Source
The company also filed to use the assumed name Fresh Start Advocates as well. – Source
But that address is also used by Regus, a virtual office company that rents out a place for people to get mail. A virtual address like Thomassen Law Group appears to use as well in California. – Source
So since the company uses a virtual mailing address we really don't know where they are located.
Google says the company is located at:
12808 W Airport Blvd
Sugar Land, TX 77478
And so does a Google+ page.
But a Bill Hutchison identifies himself as the president of Fresh Start Legal Advocates. – Source
And he also says Fresh Start Legal Advocates is his new company. – Bill Hutchison (freshstartlegal) on Twitter_new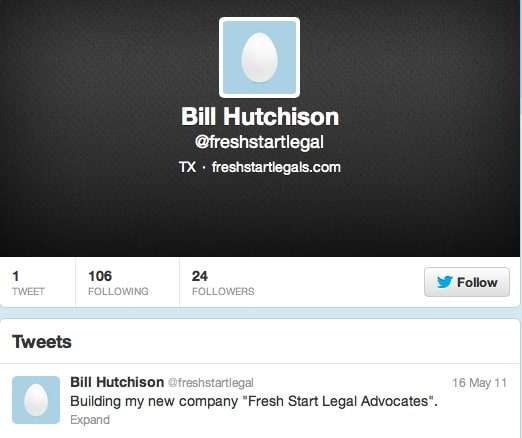 Are Bill Hutchison and Robert Hutchison the same person?
In 2010 a Bill Hutchison said he owned Community Debt Resolution at the same South Shore address. – Source
And Then It Gets Weird
But you want to make this extra odd? Thomassen Law Group says Bill Hutchison is one of their senior directors. You would think Kevin Jackson would know who Fresh Start Legal Advocates was without having to do any checking.
A Thomassen Law Group website identifies Bill by saying:
"Bill Hutchison has had a long and successful career working in the financial services industry, including debt negotiation, mortgages as well as finance & insurance. Bill is one of the senior directors with Thomassen Law Group. In this role Bill supervises a team of analysts helping to educate clients on their options as it pertains to consumer debt. Bill considers his greatest attribute pursuant to his profession to have a genuine concern and empathy for his clients. When Bill is not helping clients out of financial distress he enjoys relaxing with family (especially his beloved dogs Buster & Sarj). Bill also enjoys golfing, boating and many other outdoor activities."

You can contact Bill at Bill.Hutchison@thomassenlawgroup.com – Source
Thomassen Law Group Site
Bill Hutchison, Nicole Standly, Marilyn Thomassen, and Troy Serrano are all identified on the same page.
And according to this site Thomassen Law Group and Bill Hutchison is actually located at the same address the URL take you do on the postcard Kevin Jackson says was sent by the affiliate.
"Our corporate offices are located in San Diego, California.
402 W Broadway
Suite 400
San Diego, CA 92101
Phone: 866.450.1440" – Source
Not in California
But Fresh Start Legal Advocates sent the postcard the reader sent in to an address in California. According to the California Secretary of State website, Fresh Start Legal Advocates is not registered to do business in California.
Call Me Cynical
All of the facts I've covered in this article and the one above begin to paint an odd picture and make me wonder if Thomassen Law Group isn't really just a marketing group and not the law practice of Marilyn Thomassen.
Thomassen Law Group does not seem to be able to identify their affiliate but they identify the man who says he is the president of that affiliate company as "one of the senior directors with Thomassen Law Group."
And then there is the odd issue with Marilyn Thomassen practicing law and filing bankruptcies for consumers and her law practice is Marilyn Thomassen & Associates, P.C. and is located at 2670 South White Road, Suite 119, San Jose, California 95148 yet Thomassen Law Group is located 457 miles away in San Diego.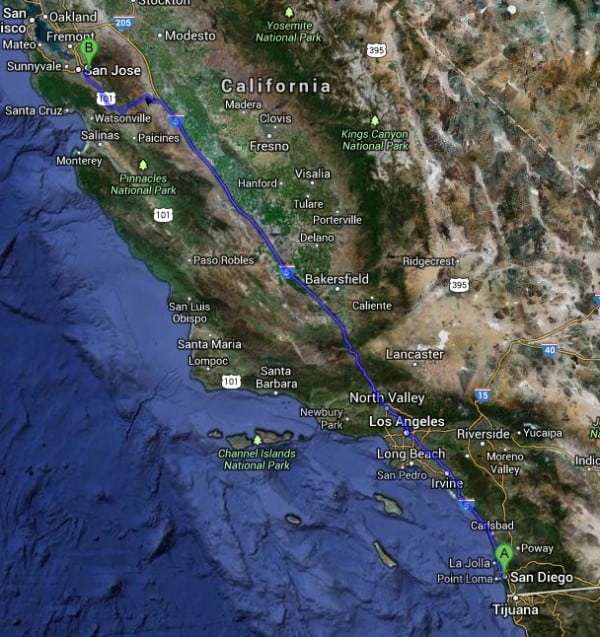 But am I the only one that finds this perplexing and odd about Fresh Start Legal Advocates. Who are they really? I absolutely still don't know and as of the posting of this article, Kevin Jackson of Thomassen Law Group still hasn't answered.
I invite anyone, even you Kevin, to help me correct any fact above that you feel is incorrect. I even make a nifty little form available.
Latest posts by Steve Rhode
(see all)