Is the Wells Fargo Home Rebate Credit Card a smart card to use?
Despite an initial flurry of rebates, 3% rebate on gas, grocery, and drugstore net purchases for the first 6 months, cardholders will get 1% rebates that will pay down Wells Fargo home mortgage.
So let's do the math here. First off, a perfunctory hooray for rebates. But it's hard to get all excited about a 1% rebate, which seems like the lowest real rebate possible above 0%.
If you spend $100,000 a year on your Home Rebate Credit Card you will get $1,000 knocked off your Wells Fargo mortgage.
But let's look at the terms of the card. While the introductory rate is 0% for the first 12 months, the rate then goes to 11.15% to 25.99% variable APR. – Source
Rebates will not accumulate on ATM transactions, cash advances of any kind, balance transfers, SUPERCHECKS, casino gaming chips, wire transfer, off-track wagers, lottery ticket transactions, or bets or wagers transmitted over the Internet.

When You have made at least $2,500 in eligible purchases with your Wells Fargo Home Rebate Card, Wells Fargo Card Services will forward to Wells Fargo Home Mortgage (WFHM) a $25 rebate payment to be applied to the principal balance on the eligible WFHM loan specified at Account opening.

The following Wells Fargo home mortgage loans are not eligible for the Wells Fargo Home Rebate Card: commercial first mortgages, farm loans, FHA second mortgages, VA second mortgages, piggy back mortgages, CNVN insured and uninsured second mortgages, HUD second mortgages, reverse mortgages, and loans that are in process or not yet fully funded.

Additionally, if the servicing rights to Your WFHM loan is sold to another mortgage servicer, you may be disqualified from participating in the Program, and such disqualification may result in the loss of Your accumulated rebate. You are responsible for any applicable taxes on rebate payments.
And what about that variable interest rate. Want to know how it's calculated? Well, Wells Fargo takes the U.S. Prime Rate, go on, and then adds 7.90 to 22.74 percentage points, based on your creditworthiness. Ouch!
So basically, it sure seems like the average person carrying a balance will never get the benefit of any rebate due.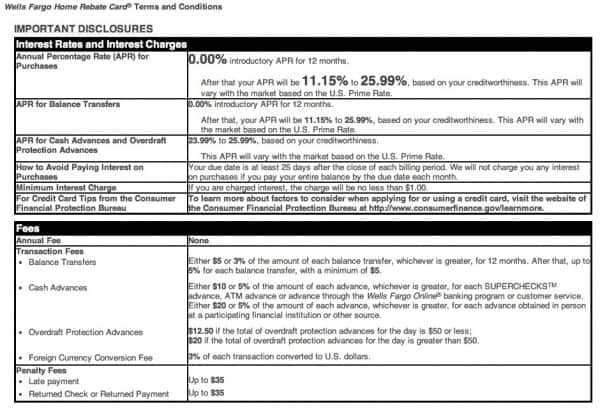 It's an interesting idea but at 3% continuous rebates it might rate more than a yawn.
Now normally I wouldn't kick a rebate card out of bed for eating crackers but with someone only putting $1,000 a month on the card, the annual rebate would be $120. It just seems that by eliminating just one impulse purchase throughout the year and applying that money saved towards the mortgage payment, the outcome would be better.
Sincerely,

You are not alone. I'm here to help. There is no need to suffer in silence. We can get through this. Tomorrow can be better than today. Don't give up.
Do you have a question you'd like to ask me for free? Go ahead and click here.

Latest posts by Steve Rhode
(see all)