Yesterday I had a consumer complaint and a story about Consumer Assistance Project, a company claiming to offer student loan elimination services.
After writing my story I received a copy of a consumer agreement that was sent to them by Consumer Assistance Project.
What follows is a plain language review of what the agreement says. And this one is a doozie.
Page 1
At the very top they mention again they are a non-profit 501(c) organization. But which kind? They fail to identify themselves as a 501(c)3 and as shown yesterday, a search of the IRS website for them could not find a recognized charity.
I don't have a clue what "who will be providing CAP Member, shall be referred to as CAP
Member service provider" actually is supposed to mean.
The Consumer Assistance Project website is focused on student loan services. Ironically, after our article yesterday the Consumer Assistance went offline. Maybe they are just having server problems.
But while the Consumer Assistance Project website was all focused on student loan issues, the agreement says it is for, "the purpose of providing legal and financial Consumer right
resources to improve overall legal & financial status of At-Risk Consumer or At-Risk Taxpayers." It doesn't even mention student loans at all.
Probably my favorite line on the first page has to be this one. "The undersigned understands that CAP's legal and Financial Participants professionals and or In-House Counsel do not provide legal advice. CAP's Participants may assist CAP's Member with financial & legal matters." So the lawyers don't provide advice while they are assisting you with legal matters? Can anyone figure that out? If so, post it in the comments below.
If you enroll in the program and get sued, you will have to pay your own legal fees.
There are no guarantees and no refunds of any kind.
Page 2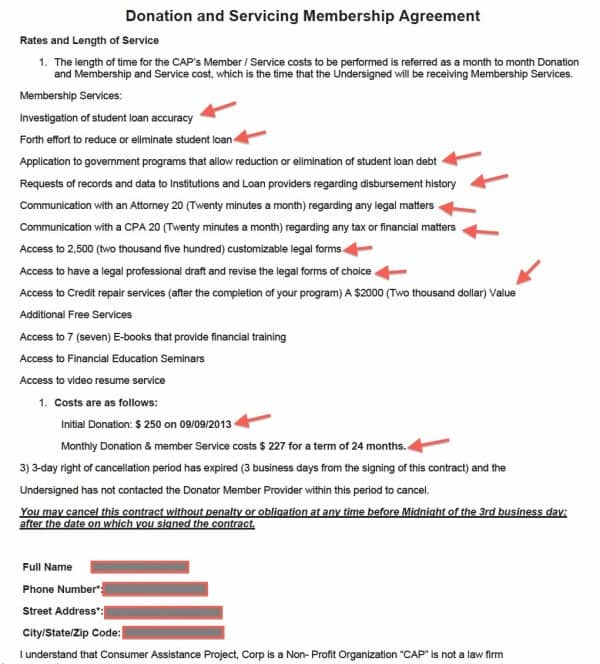 This poor consumer is being charged $5,698 for the Consumer Assistance Project services and what do you get for that money.
Investigation of student loan accuracy (???)
Forth effort to reduce or eliminate student loan (What does that even mean?)
Application to government programs (Which are free to consumers.)
Requests of records and data (Which are free to consumers.)
Twenty minutes a month with a lawyer and CPA (What is that going to accomplish?)
2,500 customizable legal forms (Now they are just padding the services.)
Credit repair.
Seven ebooks that provide financial training. (Now they must be just joking.)
My Opinion
Just on a value for money scale this agreement is a pure utter joke in my opinion. It does not provide the consumer with something they can't get themselves and it provides seemingly no real benefit for the money paid.
But that being said, if you want to pay $5,700 for seven ebooks that are probably free, don't let me stop you.
Sincerely,

You are not alone. I'm here to help. There is no need to suffer in silence. We can get through this. Tomorrow can be better than today. Don't give up.
Do you have a question you'd like to ask me for free? Go ahead and click here.

Latest posts by Steve Rhode
(see all)