Over the past few months I've attempted to gets statistics, facts, and figures from the Department of Education to better understand the performance of their income based repayment programs and get better clarity on their collection process for delinquent student loans.
After multiple Freedom of Information Act requests the results are less than optimal.
To my request for payment performance data for consumers enrolled in Income Based Repayment programs, including the number of applications, approvals, on-time payments and drop outs, I received the following statement:
"In subsequent searches, FSA located 8 additional pages of documents that may be responsive to your request. However, these documents are withheld in their entirety pursuant to the FOIA exemption specified below:
Records or portions of records relating to certain intra-agency information exempt from disclosure pursuant to FOIA 5 U.S.C. $ 552(b)(5) and Departmental regulation 34 CFR 5.73(a). This exemption authorizes an agency to withhold documents in accordance with the deliberative process and allow Department employees to engage in frank and open discussion of issues, and to express their views, opinions, and recommendations without fear of outside pressure. Moreover, deliberative materials are released as a matter of administrative discretion to the extent the release of such information would not have a foreseeable chilling effect on the Department's ability to obtain frank commentary and cooperation from advisors to Department decision-makers."
I am perplexed how the simple performance data for these beneficial Department of Education program is either not readily available or such a secret that they can't be disclosed. I'm disappointed by the response. Is the repayment performance good or bad?
On the question of clarity on the Department of Education collection process using private collection agencies (PCA) I was able to obtain a copy of the PCA Procedures Manual which was updated on March 20, 2013. A link to the manual is below.
However there are large sections of the manual which are redacted. The claim is the manual contains information that falls under exemption 7(E) of the Freedom of Information Act. The statement is the disclosure of this information "would disclose techniques and procedures for law enforcement investigations or prosecutions, or would disclose guidelines for law enforcement investigations or prosecutions if such disclosure could reasonably be expected to risk circumvention of the law."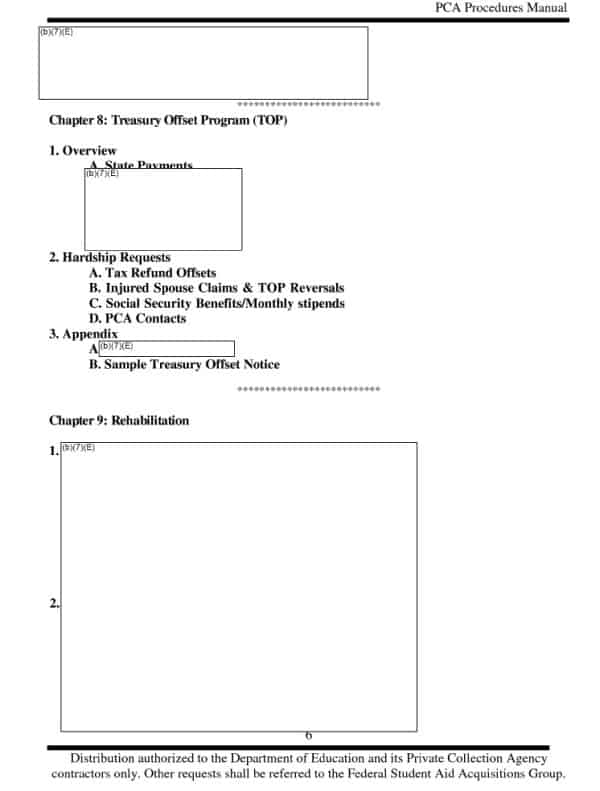 I'm on board with the need for law enforcement to have processes and procedures to carry out their work but are private collection agencies considered to be law enforcement?
Sections redacted out of the PCA Procedures Manual cover so many topics it seems simply impossible to fathom so much of the standard collection process is used for law enforcement.
Even sections about what the process when the Department of Education receives a complaint about a PCA are redacted so we can't see them. How does that involve law enforcement?
There are some interesting facts to be learned from the manual. For example, collection cost on an account assigned to a PCA is 24.34% and the use of cellphones by regular collection staff is prohibited. But up to three high-level managers are allowed to use a personal or business cellphone to call borrowers or third parties under certain situations.
The manual only covers federal guaranteed student loans and not private loans. But what is surprising is how clearly, at least what we can see, the process is to help students into special programs that could reduce their payments or eliminate their loans. Yet consumers complain their loans servicers are not offering these special repayment programs to assist them.
The manual even includes a section saying the collection agency should be offering a pre-garnishment settlement agreement. Unfortunately the sample settlement agreement letter is redacted out. It is incomprehensible to even fathom how in the world that letter could have anything to do with law enforcement.
Discharge, forgiveness, and special payment programs are so well documented in this manual it is surprising so many consumers are claiming they are unaware of these options to tackle their problem federal student loan debt. The only logical answer must be the collection companies are not forthcoming with assisting consumers to take advantage of these programs. One reason might be the collection companies make significantly less revenue from doing so. It doesn't even appear the collection agencies are scheduled to report which alternative program they direct a consumer to or the success of enrollment into one of those alternative programs.
If collection companies were paid more to direct consumers to eligible repayment programs rather than collect I'm certain significantly more consumers would know about and enroll in these reduced payment or loan forgiveness programs. Instead some consumer repay loans for years they did not have to. For more on student loan repayment options, click here.
There is so much material that has been intentionally and purposefully blocked out by the Department of Education in fulfilling my FOIA request that it makes transparency in the options available for loan holders, unobtainable.
Another interesting fact found was any veteran that has been determined to be "unemployable due to a service-connected condition" is instantly eligible for a total discharge of their Federal Family Education Loans, Federal Perkins Loans, Federal Direct Loans, or Teacher Education Assistance Grants."
You are welcome to review the PCA Procedures Manual I received, click here.
Those who regularly deal with consumers with debt problems, like myself, know what a growing problem unmanageable student loans are becoming. It seems that steps to provide greater transparency by the Department of Education regarding loan performance and incentives to make alternate loan programs a priority for private collection agencies to promote would be a fantastic step forward. It also seems we don't need more repayment programs at the moment, we need better education and enrollment in the programs and options that do exist and should be provided to consumers without reservation.
Sincerely,

You are not alone. I'm here to help. There is no need to suffer in silence. We can get through this. Tomorrow can be better than today. Don't give up.
Do you have a question you'd like to ask me for free? Go ahead and click here.
If you have a credit or debt question you'd like to ask just use the online form. I'm happy to help you totally for free.

Latest posts by Steve Rhode
(see all)