Thanks to an awesome reader who received this recent debt relief mailer, I can share it with you.
Just when you thought the debt settlement industry had cleaned up their act and was flying right, or at least a lot more level, comes this mailer.
Again we have the standard deceptive mailer that appears to pretend to be an official document, which of course it's not. It comes from Postal Permit 1297 in California like so many others have come.
When you open it up you find a fake check that says "void after 30 days" but the joke is really it's void now because it is NOT a check.
The sender of the mailer and the company selling this debt relief program does not identify themselves in the mailer. All we have is a telephone number, 888-432-2705.
The mailer promises "ZERO UP-FRONT FEES" for the Credit Card Hardship Program that will eliminate your credit card debt in 36 months, has one payment, and will avoid bankruptcy.
The only thing official about this mailer is the bullshit never ends.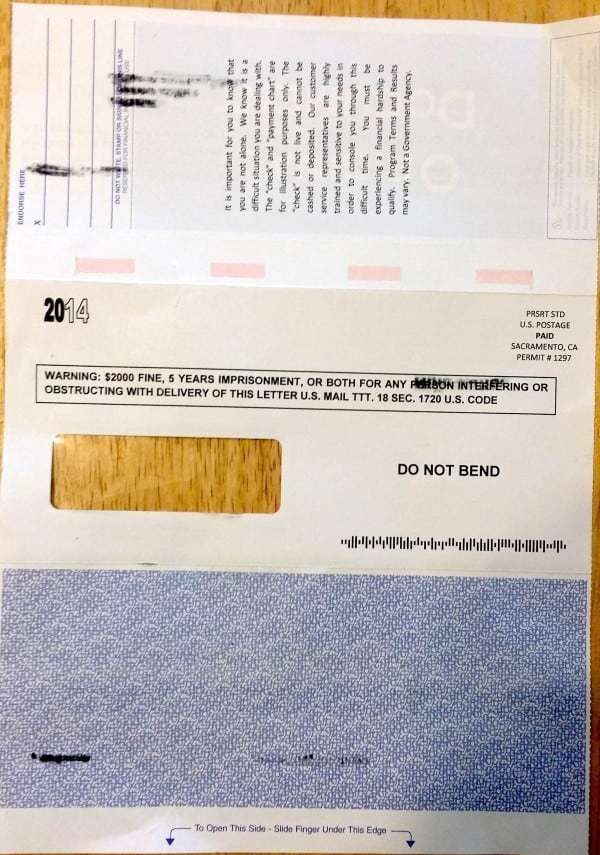 I would recommend that anyone considering using such a company should read the following free guides.
Sincerly,

You are not alone. I'm here to help. There is no need to suffer in silence. We can get through this. Tomorrow can be better than today. Don't give up.
If you have a credit or debt question you'd like to ask just use the online form. I'm happy to help you totally for free.
Latest posts by Steve Rhode
(see all)