Today I had a chance to play with a new app for my iPhone, RedLaser. All I've got to say is A-W-E-S-O-M-E.
RedLaser reads the bar code on a product that you are thinking of purchasing and then, and almost instantly checks prices on Amazon and Google, showing you where you can get the exact same item for less.
I first started playing with the app at BestBuy when we were looking to buy a Blu-Ray DVD player. In about five seconds the app showed me that the exact same player I was looking at was $30 cheaper on Amazon. Only problem is that I didn't think to save pictures of the process.
Our next stop was Target so I hunted for a variety of products to test it on. First off, the Snuggie. Target had it for $14.99.
Da Snuggie.

Turn the box in it's side to find the UPC label.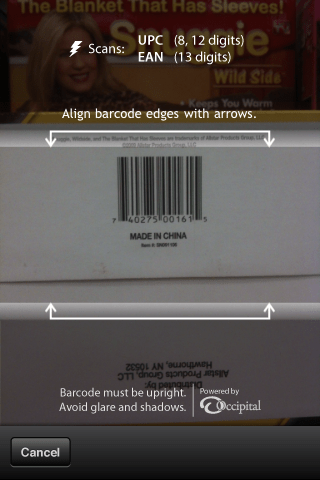 Align the UPC barcode in the window.

Results take about five seconds to appear.
So then of course I had to run around Target checking other items to see if the RedLaser app would read those as well.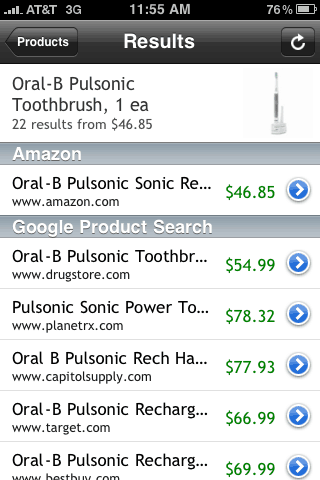 Would This Next Item Work With RedLaser?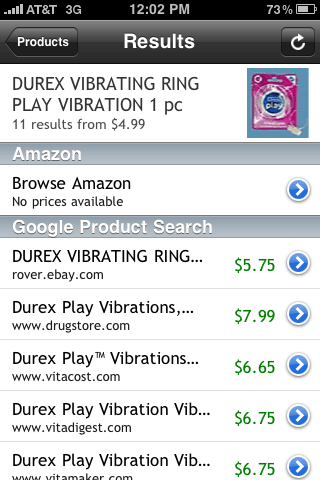 Why yes it does. The Target price was $4.99 by the way.
Bottom line, you could save enough money using just this one application to pay for your iPhone. This app gets a double thumbs up from me for it's ease of use and money saving potential. It's a keeper.
Sincerely,

You are not alone. I'm here to help. There is no need to suffer in silence. We can get through this. Tomorrow can be better than today. Don't give up.
Do you have a question you'd like to ask me for free? Go ahead and click here.
Get Out of Debt Guy –
Twitter
,
G+
,
Facebook

Latest posts by Steve Rhode
(see all)